10 things you need to know today: March 7, 2014
Obama calls Crimea's secession referendum illegal, Massachusetts bans upskirting, and more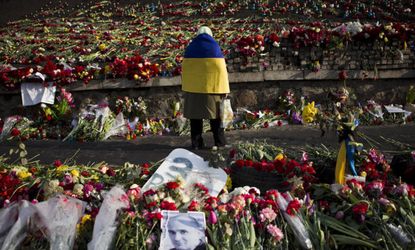 (Image credit: (AP Photo/David Azia))
1. Obama calls Crimea's referendum on leaving Ukraine illegal
President Obama said Thursday that Crimean lawmakers' decision to hold a referendum on breaking away from Ukraine to join Russia violated their country's constitution as well as international law. Crimea's legislature defiantly pressed ahead with the plan, and Russia made a show of force by starting what it said were already scheduled military drills. Earlier in the day, the U.S. announced sanctions against some Russian and Ukrainian officials. [The New York Times]
………………………………………………………………………………
Subscribe to The Week
Escape your echo chamber. Get the facts behind the news, plus analysis from multiple perspectives.
SUBSCRIBE & SAVE
Sign up for The Week's Free Newsletters
From our morning news briefing to a weekly Good News Newsletter, get the best of The Week delivered directly to your inbox.
From our morning news briefing to a weekly Good News Newsletter, get the best of The Week delivered directly to your inbox.
2. Massachusetts lawmakers ban upskirting
The Massachusetts legislature passed a law Thursday banning "upskirting," or secretly snapping photos up a woman's skirt. The vote came a day after the state's highest court ruled that a law criminalizing voyeurism did not apply to upskirting. Gov. Deval Patrick has publicly promised to sign the bill. "We must make sure that the law protects women from these kind of frightening and degrading acts," House Speaker Robert A. DeLeo said. [CNN]
………………………………………………………………………………
3. Military sexual assault bill fails to clear the Senate
The Senate on Thursday rejected a bill proposed by Sen. Kirsten Gillibrand (D-N.Y.) that would have removed commanders from decisions on prosecuting cases of sexual assault in the military. The measure fell five votes short of the 60 needed to overcome a filibuster. Ten Republicans, including Sens. Ted Cruz and Rand Paul, backed the bill, but 10 Democrats, including defense hawks Carl Levin and Claire McCaskill, opposed it. [Politico]
………………………………………………………………………………
4. Grocery chains merge in $9 billion deal
Cerberus Capital Management agreed to buy Safeway, the nation's second-largest grocer, for $9 billion on Thursday. Cerberus plans to merge the chain with Albertson's, which it bought from SuperValu last year. The deal faces one remaining hurdle, though. Kroger, the country's biggest grocery chain, is considering making a competing bid for Safeway. Kroger outbid Cerberus for Harris Teeter last year. [Forbes]
………………………………………………………………………………
5. Texas abortion clinics close due to new restrictions
Two more abortion clinics closed in Texas on Thursday evening, the latest in a wave that began after the legislature passed tough restrictions last year. Forty-four Texas facilities performed abortions in 2011. Now there are 24, and the number could fall to as low as six. The closings have left women in the poorest part of the state without access to legal abortion. Abortion opponents said the shuttered facilities offered substandard care. [The New York Times]
………………………………………………………………………………
6. Apple loses a round in smartphone legal war
Samsung won the latest skirmish in its feud with Apple, when a judge on Thursday rejected Apple's request for a ban on U.S. sales of some older Samsung smartphone models. U.S. District Judge Lucy Koh said Apple had not produced enough evidence to support its argument that its patented features, such as the pinch-and-zoom screen function, were significant enough as selling points to justify yanking Samsung phones off store shelves. [Reuters]
………………………………………………………………………………
7. Expectations are low for February's jobs report
Economists expect federal figures being released Friday to show that nonfarm payrolls increased by 149,000 jobs in February. Federal Reserve Bank of Atlanta President Dennis Lockhart said anything below 100,000 would mark "three months of weak numbers, and certainly that would be a concern." Expectations were low after two months of harsh winter weather that have been a drag on spending, production, and hiring. [UPDATE: The economy added 175,000 jobs, more than expected, but the unemployment rate ticked up to 6.7 percent.] [Reuters, AL.com, The New York Times]
………………………………………………………………………………
8. General pleads guilty to adultery but denies rape
Army Brig. Gen. Jeffrey Sinclair pleaded guilty in a court martial on Thursday to adultery, watching pornography on his computer while serving in Afghanistan, and several other sex-related charges. Sinclair, 51, admitted the lesser charges as he fought the accusation that he forced his former lover, a 29-year-old Army captain, to perform oral sex after their three-year affair ended. He could face life in prison if convicted on all charges. [Los Angeles Times]
………………………………………………………………………………
9. Man denies he created Bitcoin
A California man, Dorian Prentice Satoshi Nakamoto, denied on Thursday that he was the creator of Bitcoin. Newsweek, in the cover story of the relaunch of its print edition, called Nakamato the "face behind Bitcoin," saying he wrote the popular digital currency's computer code. Nakamato said he had never heard of Bitcoin until three weeks ago, when his son was contacted by the magazine. "I've got nothing to do with it," he said. [The Associated Press, Newsweek]
………………………………………………………………………………
10. MLK's daughter agrees to give back "sacred" items
Bernice King, daughter of Martin Luther King Jr., said Thursday that she would hand over the slain civil rights leader's Nobel Peace Prize and personal Bible, which her two brothers, Dexter King and Martin Luther King III, voted to sell in a meeting of the King estate's board. A judge last month ordered her to return the items pending the resolution of a lawsuit. Bernice King urged her brothers to reconsider selling the "sacred" items. [Reuters]

Continue reading for free
We hope you're enjoying The Week's refreshingly open-minded journalism.
Subscribed to The Week? Register your account with the same email as your subscription.