Why are so many elderly Asians killing themselves?
Health workers in countries like China and South Korea are grappling with soaring suicide rates among seniors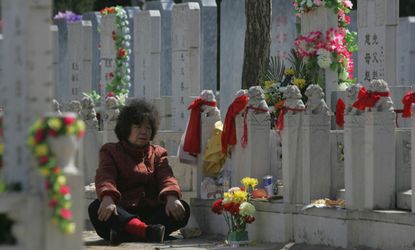 (Image credit: (China Photos/Getty Images))
Sign up to our 10 Things You Need to Know Today newsletter
A free daily digest of the biggest news stories of the day - and the best features from our website
Thank you for signing up to TheWeek. You will receive a verification email shortly.
There was a problem. Please refresh the page and try again.
It is a question that has puzzled mental health experts in Asia for some time: Why are so many elderly Asians committing suicide?
The past decade has seen astonishing spikes in the rate of Asians over 65 choosing to end their lives early, particularly in the region's economically successful countries.
In South Korea, for example, suicides in that age group have risen more than fivefold, from 14 per 100,000 in 1990 to 77 per 100,000 in 2009, according to Hallym University's Institute of Aging.
In Taiwan, seniors took their lives more than twice as often as any other age group, at a rate of 35.8 per 100,000 in 2010, versus 17.6 for the national average.
Suicides among city dwellers in China aged 70 to 74 surged to 33.76 per 100,000 in the mid-2000s, up from 13.39 in the 1990s.
And these numbers are expected to rise.
Subscribe to The Week
Escape your echo chamber. Get the facts behind the news, plus analysis from multiple perspectives.
SUBSCRIBE & SAVE
Sign up for The Week's Free Newsletters
From our morning news briefing to a weekly Good News Newsletter, get the best of The Week delivered directly to your inbox.
From our morning news briefing to a weekly Good News Newsletter, get the best of The Week delivered directly to your inbox.
A 2011 report found that mental well-being would likely worsen over the next two decades in Asia, with suicide rates expected to continue climbing.
The World Health Organization found higher-than-average suicide rates among the elderly in China, Hong Kong, Japan, Malaysia, South Korea, and Singapore. The irony: Wealth and economic growth over the past quarter-century has given families greater financial resources to take care of their elderly.
By contrast, the rate remains both stable and far lower in less-developed countries, such as Pakistan, Sri Lanka, Thailand, and Vietnam.
(Experts stress that government data concerning elderly suicides in Asia is considered to be of poor quality, due to unreported cases. So rates could be even higher.)
The trend contrasts with what is happening in the world's most developed countries.
Among nations belonging to the Organization for Economic Cooperation and Development, a grouping of 30-odd wealthy nations, the average overall suicide rate fell from 16.17 per 100,000 in 1990 to 13.29 in 2010. In the United States, elderly suicides accounted for 14.3 per 100,000 in 2007.
In Asia, experts blame the rapid social and economic changes across the region and scarce mental health services. In some Asian countries a disproportionate number of suicides among elderly has followed financial or health crises, but experts are now looking at the social pressures being placed on the elderly by industrialization and population growth.
An even dimmer future
"Now we are enjoying the best moments of this era. We have three to four young adults to support a family with one or two elderly persons," says Frances Law, a former project director at the Hong Kong Jockey Club Centre for Suicide Research and Prevention, one of the region's leading institutions in suicide prevention.
"The potential risk is that as life expectancy is getting longer and longer, the dependency ratio is getting much larger. That is, there will be fewer people to support the elderly population in the coming 10 to 20 years."
A 2009 Chinese-authored study into 304 elderly suicides found the three life events that preceded suicide were: physical illness or injury (59.2 percent); major changes in diet, sleeping or other daily routines (37.8 percent); and financial difficulties (34.5 percent).
The study found that along with the one-child policy, the elderly had been hit hard by China's booming economy and socio-economic changes. As people flock to urban centers for work, the family unit has splintered.
"In China, because of the one-child policy there are fewer caregivers now," points out Professor Kua Ee Hoek, a senior consultant psychiatrist at Singapore's National University Health System (NUHS), who has extensively researched elderly suicides in China, Japan, Korea, and Singapore.
"Because of the flux of the young migrant workers from the rural parts of China to the industries and cities, there is a problem of caring for the frail and elderly in rural areas," says Dr. Kua. China's elderly population reached 194 million by the end of 2012, and is expected to exceed 300 million by 2025.
China is now taking urgent steps to tackle elderly suicides. In August, Chinese Premier Li Keqiang announced the government would reduce costs and red tape to kickstart more investment in social services for its elderly by 2020.
Included in the government program are services such as daily care, medical care, psychological counseling, and emergency aid, with additional subsidies on land use and taxes. The guidelines offer a 50-percent cut in administrative fees on for-profit organizations.
A new policy also now permits elderly parents, who don't receive regular visits from their children, to sue them.
"Many countries in Asia, because of the rapid industrialization, have a need for workers ... in the past the caregivers [were] often the women, but the women now are all working," Dr. Kua says. "In the homes, the number of caregivers has dropped. Now, it is an elderly man or wife caring for their spouse who is also frail."
"In every country it is an embarrassment to be told that the suicide rate is high, because there are measures to contain the level. Suicide is preventable... it's only that we miss it, we don't detect it, and that person takes their life," he says.
Singapore's suicide reversal
Indeed, initiatives like the one that China launched have been shown to work. Singapore is a case in point.
In 1995, Singapore confronted a serious problem. A global study conducted that year by the American National Institute of Mental Health found that suicide rates among Singapore's ethnic Chinese males were the second highest in the world — a staggering 60 per 100,000.
Remarkably, the same report found elderly Malay Singaporeans had one of the lowest suicide rates, at just two per 100,000.
It baffled mental health experts.
"Within this small island, people asked why there was this discrepancy," Dr. Kua says. "[It was] because of the social transformation of the [Chinese] family; you find many [younger people] don't want to stay with their elderly parents."
This led to swift action by the Singapore government. The Health Ministry organized social activities for the elderly, to reconnect them with their communities. Programs were set up to address isolation, and more care centers were opened promoting activities and engagement.
The efforts appear to have worked. Between 1995 and 2005, Singapore's elderly suicide rates defied Asia's trend, declining every consecutive year, although they have risen since then.
In 2009, the rates for elderly stood at 28.7 per 100,000 for men, and 19 for women, according to the Samaritans of Singapore (SOS).
Preventative focus in Hong Kong
Law says that Hong Kong saw its worst suicide epidemic following the 1997 British handover and Asian Financial Crisis. Elderly suicides increased by more than 50 percent between 1997 and 2003 from 12.1 to 18.6 per 100,000.
The SARS crisis caused another spike. Elderly people took their lives because they "didn't want to be a burden to their families," according to coronary reports.
"That was not true, it was a subjective perception and they didn't want to make themselves a burden… they didn't want to go to the hospital and risk infection, they didn't want any pain and illness — they didn't see any hope for the future," Law says.
But since then Hong Kong has brought in a raft of services that have managed to reduce suicide rates in the past 45 years. "The hospitals set up this one-stop psychiatric clinic to provide assessments, case management and medical treatment to the elderly group at risk… at the beginning it was just a few one-stop clinics across the Territory, now it is everywhere," Law says.
These one-stop clinics were rolled out in every hospital "cluster" with a suicide prevention team directly responsible for the elderly.
"Within seven days they would provide services to that elderly person," she says. "They have built a very good network in the community. They educate the frontline people such as social workers and give them the ability to make referrals to these clinics to provide immediate attention to the elderly."
Suicides among those over 65 is about two to three times that of the general population in Hong Kong but has dropped from the 2003 peak of 40.4 per 100,000 to 23.3 in 2011.
Law says Hong Kong's preventative measures showed that tangible services were just part of the solution to reversing Asia's elderly suicides. Having the people to provide those services as the region continues to age and live longer will be a separate problem in itself.
"When we get to 20 years down the road and we have fewer people able to visit the elderly, it will make the situation worse."
This article originally appeared in GlobalPost.
More from GlobalPost...
Continue reading for free
We hope you're enjoying The Week's refreshingly open-minded journalism.
Subscribed to The Week? Register your account with the same email as your subscription.
Sign up to our 10 Things You Need to Know Today newsletter
A free daily digest of the biggest news stories of the day - and the best features from our website