How the tick-tock of a plant's clock could help fight the effects of global warming
Scientists can learn a lot by hacking a plant's internal timepiece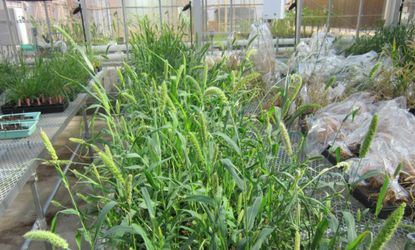 (Image credit: <a href="https://www.facebook.com/DanforthCenter/photos_stream">(Facebook.com/Donald Danforth Plant Science Center)</a>)
Sign up to our 10 Things You Need to Know Today newsletter
A free daily digest of the biggest news stories of the day - and the best features from our website
Thank you for signing up to TheWeek. You will receive a verification email shortly.
There was a problem. Please refresh the page and try again.
Everybody hates Day Light Savings time. In just one night, your body is expected to course-correct against the schedule it's kept for the last six months. On Monday, every cell in your body will wake up screaming, "It's not time yet!"
But humans aren't the only ones that are jarred when their Circadian rhythms are disrupted. Plants, too, live by a finely tuned time-keeping system. For instance, many produce protective sunscreen molecules just before dawn. Seed production and flowering are triggered similarly, a mechanism rooted in the amount of daylight plants detect.
I know, all of this may be difficult to believe, given the way the ficus in your office just sits there. But if you could take a closer look, you'd see an organism feverishly harvesting light, processing carbon dioxide, making sugars, and converting them into starch. At night, the plant turns its focus on growth, which it fuels by turning those starches back into sugar. The plant knows how many hours of light and dark it can expect each day, so it only makes enough starch to get it through the night. Any more or less is a waste of time and energy.
Subscribe to The Week
Escape your echo chamber. Get the facts behind the news, plus analysis from multiple perspectives.
SUBSCRIBE & SAVE
Sign up for The Week's Free Newsletters
From our morning news briefing to a weekly Good News Newsletter, get the best of The Week delivered directly to your inbox.
From our morning news briefing to a weekly Good News Newsletter, get the best of The Week delivered directly to your inbox.
In St. Louis, Mo., scientists are studying these processes so they can learn how to hack into a plant's clock and create more resilient crops and faster-growing biofuels.
At the Donald Danforth Plant Science Center, scientists are able to measure how well a plant absorbs energy through a highly meticulous, sort of crazy conveyor belt system. The center's phenotyping facility allows 1,200 individually potted plants to live on a constantly moving, 671-foot conveyor belt that provides them with everything they need. One station offers a mist of water, another a ray of sunshine, and another a spritz of fertilizer. (Think of it like the plant version of what happens to the human race in WALL-E.)
At the same time, the facility monitors each plant to an amazing degree of specificity. Plants get their picture taken in 3D to measure growth, fluorescent imaging analyzes rates of photosynthesis, and infrared cameras monitor the plants' water content.
Enter Dmitri Nusinow, one of the Danforth Center's principal investigators. Nusinow has been using a combination of cross-breeding and genetic modification to figure out which genes allow plants to adapt to shifts in light, and how we can use that to our advantage.
"Right now, we're running experiments on a number of plants that have had their clocks manipulated through genetics," said Nusinow. "We want to see how they perform under different environmental conditions."
If we can learn how clock-manipulated plants perform under drought or temperature stress, we may be able to identify genes that could be selected for or inserted into other plants. In fact, farmers have been doing this on their own for ages.
"There are a number of commercial varieties of barley, for instance, that have been bred for reproduction in very short growing seasons," said Nusinow. When they looked at these varieties more closely, they found that the barley's genes reflected altered clock function.
In another example, scientists have figured out how to trick the clocks of sorghum plants into thinking it's constantly the season for growing and not the season for flowering. These non-flowering hybrids produce three times as much stem and leaf matter, which can be then converted into biofuel. Other research shows that soybean plants can increase yield if they are imbued with altered clock genes from other plants.
But there's still a lot more to learn. Earlier I mentioned how some plants produce flavonoids just before sunup. These molecules help protect plants against the sun's UV radiation just like the sunscreen you apply at the beach. Conversely, plants can alter their lipid content around dusk in order to prepare for cooler night temperatures, the vegetal equivalent of throwing on a jacket. Given the way scientists expect Earth's climate to change in the next century, it's easy to see why understanding and learning to apply such genes could be crucial to maintaining effective agriculture.
In the end, it seems plants are able to adapt to slight changes in their day/night cycle without too much fuss — which is more than you'll be able to say about me for the first few days of Daylight Savings Time. Plants placed in 24-hour sunlight will even grow better up to a point, but even they have limits.
"They may not sleep like us," Nusinow said, "but they do need some rest."
Continue reading for free
We hope you're enjoying The Week's refreshingly open-minded journalism.
Subscribed to The Week? Register your account with the same email as your subscription.
Sign up to our 10 Things You Need to Know Today newsletter
A free daily digest of the biggest news stories of the day - and the best features from our website
Jason Bittel serves up science for picky eaters on his website, BittelMeThis.com. He writes frequently for Slate and OnEarth. And he's probably suffering from poison ivy as you read this.