9 ridiculous claims in Rolling Stone's cover story on Pope Francis
When it comes to the new pontiff, members of the liberal media can't stop projecting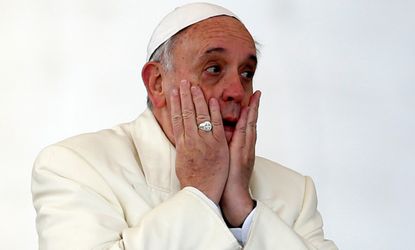 (Image credit: (REUTERS/Alessandro Bianchi))
It's 6:30 a.m. and you're scanning headlines in the morning paper. Your eyes fasten on a major story about the recently elected prime minister of France. As you begin reading, you notice something strange. For one thing, the tone is off. Instead of a typically dispassionate profile of the head of state, the article comes off as arch and condescending, as if France's government, institutions, and history are self-evidently worthy of mockery.
Then there are the strange gaps in knowledge displayed by the author of the story — or perhaps it's a willingness to bend the facts to fit a predetermined thesis. Well-known speeches by the politician are interpreted tendentiously. The ideologies that prevail in French politics are distorted to make the new prime minister's positions appear more radical than they are. The interviews are largely with subjects who openly express disgust at the prime minister's predecessor, while others who express skepticism about the story's thesis invite gentle disdain by the author.
Unthinkable, right? Surely no self-respecting journalistic venue would run such an article about a political figure.
Subscribe to The Week
Escape your echo chamber. Get the facts behind the news, plus analysis from multiple perspectives.
SUBSCRIBE & SAVE
Sign up for The Week's Free Newsletters
From our morning news briefing to a weekly Good News Newsletter, get the best of The Week delivered directly to your inbox.
From our morning news briefing to a weekly Good News Newsletter, get the best of The Week delivered directly to your inbox.
That's probably true. But it's equally true that otherwise professional newspapers, magazines, and websites regularly relax their standards of accuracy and fairness when they publish stories about religion. Especially if the religion is Christianity. And above all if the form of Christianity is Roman Catholicism.
This week's leading example is Rolling Stone's 7,700-word cover story on Pope Francis. Sure, on one level it's the latest in what's becoming a long line of mainstream-media puff pieces (some in surprising venues) that go out of their way to make the new pope look good. So why complain?
Because the piece is chock full of preposterous assertions about Catholicism and its history, the kind of claims that would never have passed muster had the article been written on a different topic.
Here, then, are the articles's nine most ridiculous claims.
1. "Against the absurd, impossibly baroque backdrop of the Vatican...Francis' election represents...'a scandal of normality.'"
Cardinals in red robes and silly hats, acres of marble, secretive conclaves capped by smoke signals — to non-Catholics there are many features of Catholicism that can seem odd, strange, out of touch with modern life, etc. But here's the thing: This could be said about almost any foreign institution or set of practices. And yet, journalists normally wouldn't freely denigrate a foreign institution or set of practices by calling them "absurd." Catholicism apparently belongs in a different category.
2. "After the disastrous papacy of Benedict, a staunch traditionalist who looked like he should be wearing a striped shirt with knife-fingered gloves and menacing teenagers in their nightmares..."
Let's pass over the fact that, strictly speaking, Pope Benedict XVI wasn't a Catholic "traditionalist," which has a specific meaning in the church, but rather a consistent and tireless defender of (a conservative interpretation of) Vatican II. Instead, let's ponder the spectacle of a journalist likening a head of state and the spiritual leader of about 1 billion people to Freddy Krueger. Not because he made a habit of terrorizing teenagers, mind you. But because of what he "looked like."
3. "By devoting much of his first major written teaching to a scathing critique of unchecked free-market capitalism, the pope revealed his own obsessions [as opposed to Benedict's] to be more in line with the boss' son."
So Francis is more Christ-like than the man who wrote a three-volume book about the life and teachings of Jesus? Maybe. But what this statement really reveals is a surprising degree of ignorance of the history of papal pronouncements about economics. Which brings us to...
4. "Francis threw down a real marker in November, with the release of his first apostolic exhortation, or official written teaching. Apostolic exhortations under John Paul II and Benedict tended toward the dogmatic (JPII's Familiaris Consortio restated orthodox Church teaching on birth control and the traditional family) or the wonky (Benedict's Sacramentum Caritatis spent 32,000 words on the Eucharist). In this context, the blistering attacks on income inequality in Francis' Evangelii Gaudium ("The Joy of the Gospel") resonate like a bomb."
Where to begin? How about with the observation that between them John Paul II and Benedict wrote four encyclicals on economics — each one of them carrying greater teaching authority than an apostolic exhortation and typically going on longer than 32,000 words. Every one of these documents contains passages that criticize unregulated capitalism in precisely the ways that Francis has. That's because the church's teaching about economics has been remarkably consistent from the time of Pope Leo XIII's Rerum Novarum (1891) down to today.
That teaching is, roughly, that pure forms of free-market capitalism and communistic socialism are each gravely defective in moral terms. In their place, the church advocates a mixed system of private property, locally controlled private and public charity, worker unionization, and government regulation and welfare programs. Francis' words don't resonate like an bomb. They resonate like an echo.
5. "I figured if any group would express a distinct lack of enthusiasm about their new Jesuit pope, it would be Opus Dei [a staunchly conservative lay organization], and so one afternoon, I met up with Father John Wauck, an American Opus Dei priest... Wauck, who does not seem all that conservative for a member of Opus Dei...downplays the pope's call for a truce in the culture wars."
Journalism 101: If you pursue a source to substantiate your thesis and he undermines it instead, either revise your thesis or don't use him in your final draft. Nothing Wauck is quoted as saying or described as doing indicates that he's anything other than a scrupulously orthodox Opus Dei priest. That he nonetheless failed to express outrage at the new pope should have been taken as a sign that maybe Francis is a little less radical than the author assumes throughout his piece.
6. "[Liberation theology's] Marxist focus on the class struggle and open calls for revolution — some priests actually took up arms and joined groups like the Sandinistas — petrified Catholic traditionalists... [The former Archbishop Jorge Mario] Bergoglio was also hostile to the movement...even though the spirit of liberation theology has clearly influenced his own papacy."
No, it hasn't — as the first quoted sentence should make obvious. Liberation theology was indeed a radical leftist movement deeply influenced by Marx. It sought revolution and, yes, some of its most committed devotees, including priests, did take up arms. Which is why John Paul II denounced it, and why Archbishop Bergoglio did the same. Once again, nothing in Francis' statements about economic inequality or injustice diverges in the least bit from orthodox Catholic teaching.
7. "Though still outwardly orthodox, Bergoglio. . . ."
Does the author know something he's not sharing with us? Because I don't see any evidence in his article that the pope is merely aping orthodoxy for public consumption.
8. "Francis replaced [Vatican Secretary of State Cardinal Tarcisco] Bertone with Archbishop Pietro Parolin, who has said in an interview that priestly celibacy is not church dogma — meaning, it can be changed."
Archbishop Parolin said that priestly celibacy is not church dogma because it's not church dogma. Period. And yes, it can change, and may — though not with a wave of a papal magic wand.
9. "And what is His Holiness' own position on [gay marriage and abortion]? The pope's artful dodge struck me as brilliantly Clintonian. 'That of the church,' Francis said simply. 'I'm a son of the church.' He didn't add, because he didn't have to, that he's the father now, too."
Apparently the dodge was so artful and "Clintonian" that only the author can detect it. To my eyes, it looks like the pope responded to the question by saying precisely what one would expect him to say: My position on gay marriage and abortion is the Catholic Church's position.
No matter how much ill-informed journalists would like to believe otherwise.

Continue reading for free
We hope you're enjoying The Week's refreshingly open-minded journalism.
Subscribed to The Week? Register your account with the same email as your subscription.