5 races that make marathons look wimpy
Winning one might depend on how you handle hallucinations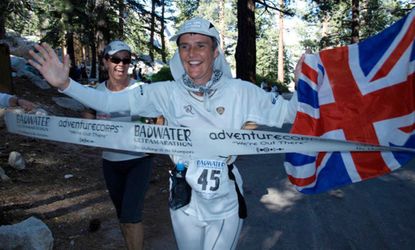 (Image credit: <a href="https://www.facebook.com/photo.php?fbid=438838695567&amp;set=pb.114706760567.-2207520000.1389033802.&amp;type=3&amp;theater">(Facebook.com/Badwater Ultramarathon)</a>)
Sign up to our 10 Things You Need to Know Today newsletter
A free daily digest of the biggest news stories of the day - and the best features from our website
Thank you for signing up to TheWeek. You will receive a verification email shortly.
There was a problem. Please refresh the page and try again.
I'm currently training for a marathon. When I'm on a long training run and start to think, "This is stupid..." I don't stop and remind myself why I'm trying to run a 26.2-mile race. I prefer to comfort myself with "Yeah, but it's nowhere near as crazy as..." and then fill in a truly absurd feat of human endurance that makes 26.2 miles look positively meager. Here are some favorites:
1. The Barkley Marathons
When assassin James Earl Ray escaped from a Tennessee prison in 1977, he was missing for 55 hours. In that time, he only managed to get eight miles away before being recaptured. Race organizer Gary Cantrell heard this statistic and thought he could make it at least a hundred miles in that time. He organized the Barkley Marathons to test this theory.
Subscribe to The Week
Escape your echo chamber. Get the facts behind the news, plus analysis from multiple perspectives.
SUBSCRIBE & SAVE
Sign up for The Week's Free Newsletters
From our morning news briefing to a weekly Good News Newsletter, get the best of The Week delivered directly to your inbox.
From our morning news briefing to a weekly Good News Newsletter, get the best of The Week delivered directly to your inbox.
Since 1986, elite ultramarathon runners have met in the hills of Frozen Head State Park to have a go at one of the world's most difficult races. Cantrell handpicks the field according to his own whims and applicants' essays on why they should be allowed to run the Barkley. Marathoners have 60 hours to complete five 20-mile loops through the park. Each loop contains over 10,000 feet of vertical climb, and if any loop takes more than 12 hours, the runner is disqualified. The runners trudge along through brambles, unmarked trails, and occasionally both snow and blistering heat during the same race.
Don't think that 100 miles in 60 hours sounds so tough? Since the race's inception over 500 elite runners have tried to finish the 100-mile trek. Seven have successfully finished the race. Cantrell's not a total sadist, though; he also offers a companion "fun run" to go along with his monstrous trail run. Fun runners only have to finish 60 miles of the course in 40 hours. Sounds like a lot of fun, right?
2. Badwater Ultramarathon
The Barkley Marathons have some competition for the title of "World's Toughest Race," though. The idea behind the Badwater Ultramarathon is fairly simple: When it's really hot, it's tough to do anything active, much less run 135 hilly miles. Starting in 1987, though, devoted runners have been trying to make a dash from the Badwater Basin in Death Valley to the Whitney Portal, Mount Whitney's trailhead, each July.
That's right, Death Valley in July. Temperatures have been known to reach 120 degrees in the shade, and runners have been known to run on the white lines on the side of the road to keep the soles of their shoes from melting.
The elevation gain in the race is similarly brutal. The race was originally conceived as a trip between the lowest and highest points of the continental U.S. Runners would head from Badwater (282 feet below sea level) to the summit of Mount Whitney (14,496 feet). However, the current race "only" goes to Mount Whitney's trailhead due to Forest Service regulations on climbing the mountain. And that doesn't even take into account the pair of mountain ranges in between the two points.
Runners, who must be invited to participate, have 60 hours to complete the course, and usually 60-80 percent of them do. Some finish much, much faster, though. Last year Brazilian Valmir Nunes destroyed the course record in his first race; he made the trek in just 22 hours and 51 minutes.
3. Furnace Creek 508
This race, started in 1989, is the cycling equivalent of Badwater. Starting just north of Los Angeles in Santa Clarita, CA, cyclists take off through Death Valley and the Mojave Desert in this 508-mile test. Entrants have 48 hours to finish the course, which includes 36,000 feet of elevation gain. For perspective, that's like riding four mountain stages of the Tour de France back-to-back without stopping.
Interestingly, organizers of the event eschew the typical practice of giving each racer a number, opting instead to give entrants animal "totems" by which they can be identified. The totem presumably gives cyclists a head start on picking an animal to hallucinate after spending two grueling days on the saddle of a bike.
4. Race Across America
If pedaling through Death Valley sounds a bit soft, perhaps the Race Across America is tough enough for you. This ultra marathon bike race is exactly what the title makes it out to be; racers get on their bikes in and ride from the West Coast to the East Coast. It bills itself as "The World's Toughest Bike Race."
The race, which began in 1982, is even more strenuous than most long bike tours. Unlike, say, the Tour de France or other races of its kind, there are no stages or designated times to stop and rest in most divisions of the race. Once the clock starts at the beginning of the race, it doesn't pause until entrants start trickling across the finish line. Consequently, there's a lot of pressure to keep riding throughout the night without getting adequate sleep. The time limit for the event is 12 days, so riders can't average more than four hours of sleep a day and expect to finish.
The course changes each year, but the winner usually rolls in around eight or nine days after the race starts. Some years 50 percent of entrants fail to finish due to exhaustion or medical distress. This year's race starts June 8 and will cover 3000 miles between Oceanside, CA and Annapolis, MD.
One of the race website's FAQs compares the event to the Tour de France or climbing Mt. Everest. The Tour de France comparisons are brushed aside; this race is 50 percent longer and doesn't allow drafting or team tactics. On the topic of Everest, the site speaks for itself: "Mt. Everest and the Race Across America are entirely different. Austrian adventurer Wolfgang Fasching has won solo RAAM three times and climbed Mt. Everest. In his opinion, Everest is more dangerous, but RAAM is much harder."
5. Manhattan Island Marathon Swim
Running and cycling aren't the only sports that lend themselves to feats of absurd endurance. Swimmers looking for a ridiculously difficult event need look no further than the annual Manhattan Island Marathon Swim. Each year a small handful of intrepid individuals meet in New York and brave the waters of the East, Hudson, and Harlem Rivers to circumnavigate a giant loop around Manhattan. The course is 28.5 miles long, and takes over seven hours to complete. While continuously swimming for seven-plus hours would be impressive under any circumstances, these athletes have to deal with boats, pollution, and what the event's website describes as "random jetsam and flotsam in the waterways." Probably best not to think about what said jetsam and flotsam might be. To make things tougher, wetsuits aren't allowed, either.
The event is popular, though. When it began in 1982, only 12 people swam the race; last year there were 90 entrants. Due to strong currents and dirty water that hinders visibility, each solo swimmer needs a guide in a kayak or motorboat to steer them in the right direction. There are also unexpected problems. A hard rain during the race can make Manhattan's antiquated sewage system back up into the river, which led to cancellations in 2003 and 2005.
This article originally appeared in 2008.
More from Mental Floss:
Continue reading for free
We hope you're enjoying The Week's refreshingly open-minded journalism.
Subscribed to The Week? Register your account with the same email as your subscription.
Sign up to our 10 Things You Need to Know Today newsletter
A free daily digest of the biggest news stories of the day - and the best features from our website