The executioners' lament
States with the death penalty can no longer get a drug used in lethal injections. So they're improvising.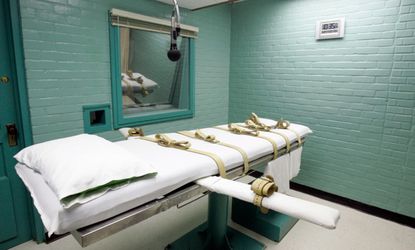 (Image credit: (AP Photo/Pat Sullivan, File))
Sign up to our 10 Things You Need to Know Today newsletter
A free daily digest of the biggest news stories of the day - and the best features from our website
Thank you for signing up to TheWeek. You will receive a verification email shortly.
There was a problem. Please refresh the page and try again.
Why is there a crisis?
Stockpiles of a drug traditionally used in executions effectively ran out this fall. The 32 death-penalty states had been struggling to maintain supplies since 2011, when the sole American manufacturer of the anesthetic sodium thiopental announced it was ending production under pressure from the government in Italy, where its plant is based. Other European manufacturers also refused to provide the drug because of a European Union statute prohibiting the export of any product that might be used in capital punishment — especially since there's evidence that lethal injections sometimes cause agonizing deaths. Now, with hundreds waiting on death row, corrections departments have started desperately trying untested alternatives. "We don't know how these drugs are going to react because they've never been used to kill someone," says Deborah Denno, a Fordham University law professor who studies lethal injections.
Why did states start using lethal injection?
Subscribe to The Week
Escape your echo chamber. Get the facts behind the news, plus analysis from multiple perspectives.
SUBSCRIBE & SAVE
Sign up for The Week's Free Newsletters
From our morning news briefing to a weekly Good News Newsletter, get the best of The Week delivered directly to your inbox.
From our morning news briefing to a weekly Good News Newsletter, get the best of The Week delivered directly to your inbox.
Oklahoma became the first state to adopt the method, in 1977. It was promoted by state medical examiner Jay Chapman as a humane alternative to traditional forms of execution such as the electric chair, which often made witnesses uncomfortable. Those executed in the chair bucked and thrashed within their restraints for long seconds, and sometimes died with smoke and flames shooting out of their heads. Injections were meant to transform executions into a less gruesome affair. To avoid any comparison with "putting down" animals with a single drug, Chapman suggested a three-drug cocktail, and it quickly became a national standard. In 2008, the U.S. Supreme Court affirmed that the cocktail did not violate the Eighth Amendment's prohibition on "cruel and unusual punishment." Today, lethal injection is the primary method of execution in every death-penalty state, and until this fall, Chapman's cocktail was the drug mix of choice.
How does the cocktail work?
An anesthetic, sodium thiopental, is administered via an IV in the condemned's arm to induce unconsciousness. Then a paralyzing drug called pancuronium bromide is added to halt his breathing, while a third drug, potassium chloride, stops his heart. In theory, the condemned shouldn't feel the effects of the second and third drugs, which actually kill him. But in practice, say critics and some scientists, executioners sometimes fail to properly administer enough sodium thiopental to produce full sedation in large inmates or don't inject it properly in a vein. As a result, inmates lie paralyzed but conscious for minutes as they slowly suffocate, feel a burning sensation in their veins, and go into cardiac arrest. In 2007, University of Miami researchers who studied executions concluded that "the conventional view of lethal injection leading to an invariably peaceful and painless death is questionable." In at least three recent executions, a single dose of the drug cocktail hasn't killed the condemned, and more drugs had to be administered. (See below.) "It never occurred to me when we set this up that we'd have complete idiots administering the drugs," said Chapman.
What about the new drugs?
Most have not been used in executions before, so successfully employing them requires guesswork. In October, convicted murderer William Happ was executed in Florida with a new three-drug combination that replaced sodium thiopental with the sedative midazolam, a drug that causes memory loss and relaxation — but not necessarily unconsciousness. Happ took 14 minutes to die rather than the planned seven. His head shook throughout, and his eyes remained open until the 10th minute. Other states have started using a single dose of the animal anesthetic pentobarbital to execute inmates, usually bought from loosely regulated compounding pharmacies. Texas's Department of Criminal Justice — which has carried out 37 percent of all U.S. executions since the death penalty was reinstated in 1976 — has gone the extra mile to keep its death chamber operating. The department allegedly submitted a falsified prescription to one compounding company, Pharmacy Innovations, ostensibly for patient "James Jones" — actually the warden of the Huntsville Unit, which houses the execution chamber. Other states have bought lethal injection drugs with petty cash or individual employees' credit cards.
Is the death penalty in trouble?
In conservative states, support for executions remains strong, so they'll probably go on. But seven states have put executions on hold because of controversy over lethal injections, and support for the death penalty is eroding nationally. A recent Gallup poll showed that support for the death penalty is at its lowest point in 40 years — at 60 percent, down from a high of 80 percent in 1994. Still, for those who strongly support capital punishment, the fact that lethal injections may inflict suffering on convicted murderers is beside the point. "Why should it be FDA-approved?" said New York Law School professor Robert Blecker, an advocate for the death penalty. "This is not medicine; this is a method of killing."
When the drugs fail to work
Numerous executions by lethal injection have gone wrong. But perhaps the most gruesome instance occurred in Florida in 2006, when the state tried to execute Angel Diaz, sentenced to death two decades earlier for the killing of a Miami topless-bar manager. The three-drug cocktail used to kill Diaz was supposed to take three to five minutes to render him unconscious and motionless. But for 24 minutes, Diaz writhed on the gurney, grimaced, shuddered, gasped for air, and even tried to mouth words. Frantic prison officials gave him a second dose of the drug meant to render him unconscious. It took him another 10 minutes to die. It wasn't till after the execution that medical examiners found 1-foot-long chemical burns on Diaz's arms: The IV needle had punctured the 55-year-old man's veins, so that the injected chemicals went straight into his flesh, burning it and causing great pain but not knocking him out. He was apparently conscious as he suffocated to death. Days later, former Gov. Jeb Bush imposed a moratorium on all other executions for the rest of his term. It has since been lifted.
Continue reading for free
We hope you're enjoying The Week's refreshingly open-minded journalism.
Subscribed to The Week? Register your account with the same email as your subscription.