Please, FCC: Don't allow cellphone calls on airplanes
You think having a crying baby next to you is a nuisance?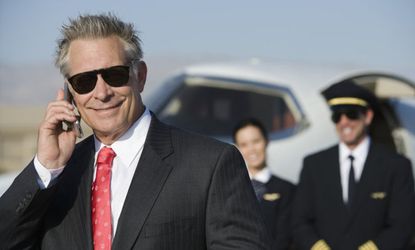 (Image credit: (Thinkstock))
The Federal Aviation Administration has finally approved your use of electronic devices on airplanes during flight. Hooray! It was a decision long-past due. And there's Wi-Fi on more and more flights? Huzzah! Now the Federal Communications Commission is getting in on the action, considering a proposal to allow fliers to use their cellphones during flight. To make calls. To people back down on the ground or, possibly, three rows behind them.
"The time is right to review our outdated and restrictive rules," says new FCC Chairman Tom Wheeler. Um, no, it isn't.
For the sake of fairness, here's Wheeler's argument: First, the FCC's objections to allowing cellphone use on planes is based on concerns that it would disrupt cellular towers on the ground. Now, he says, "modern technologies can deliver mobile services in the air safely and reliably." Planes can be retrofitted with small base stations called picocells that collect all the cellphone data and transmit it down to towers on the ground.
Subscribe to The Week
Escape your echo chamber. Get the facts behind the news, plus analysis from multiple perspectives.
SUBSCRIBE & SAVE
Sign up for The Week's Free Newsletters
From our morning news briefing to a weekly Good News Newsletter, get the best of The Week delivered directly to your inbox.
From our morning news briefing to a weekly Good News Newsletter, get the best of The Week delivered directly to your inbox.
Wheeler also promotes the idea as a victory for consumer choice. Allowing people to talk mid-flight would open up "new mobile opportunities for consumers" and "expand consumer access and choice for in-flight mobile broadband," he notes.
That's the argument warmly embraced by the Telecommunications Industry Association, which also noted in a statement that there's substantial interest from manufactures and vendors and "our members are investing in related opportunities for growth internationally." (Wheeler was head of a different trade group, the Cellular Telecommunications & Internet Association, from 1992 to 2004.)
So, great for cellphone providers and picocell manufacturers. They'll try to sell it as an opening for you to text or otherwise use your non-talking wireless data services while trapped in your seat. I'm not buying it.
Granted, you can already make phone calls back to earth from airplanes, if you're willing to swipe your credit card into the handset on the back of the seat in front of you. Have you ever seen anybody use one of those phones? Me neither. And you can use your cellphone on trains and buses and even some subways. Fine. I may not like it, but at least you're not driving the vehicle yourself — and, in most cases, I can move seats, move to another car, or get off the transport entirely.
On the plane, we're stuck in our assigned seat, in increasingly tight quarters. Airplane flight used to be a luxury, and airlines treated it (and charged for it) accordingly. Now, those of us not in first or business class are sardines stuffed into a metal tube, and we act accordingly. Google "airplanes" and "brats" or "fat people" to get a sense of how irritable today's air passengers are becoming.
"Sitting next to someone who is chatting away for hours could quickly outweigh the common complaint of sitting next to a crying baby for the duration of a flight," say Edward Wyatt and Nick Bilton at The New York Times. Add in some loud jerk obliviously saying stupid things to a faceless person on the ground and you have an explosive situation.
That's why airlines and flight attendants are opposed to the proposal. "Passengers overwhelmingly reject cellphone use in the aircraft cabin," says the Association of Flight Attendants. "The FCC should not proceed with this proposal."
Yeah, "there are bad ideas, and then there's this," agrees Henry H. Harteveldt, a travel analyst with Hudson Crossing. "The constant chatter of passengers on their mobile phones has the potential to further increase tension among already stressed-out passengers. It will be a catalyst for increased cases of 'air rage.'"
"I would rather insert sharp objects under my fingernails than have to sit next to that," Larry Irving, a technology consultant and a former assistant secretary of commerce during the Clinton administration, tells The Washington Post.
Thankfully, it doesn't appear to be popular with the general public, either. "Within hours of the announcement, consumers flooded the agency with protests," says The Washington Post's Cecilia Kang. "One FCC commissioner received hundreds of e-mails complaining that the move would lead to unbearable noise pollution, an aide said." People also started a petition at the White House website to block in-flight cellphone use. Vocal opposition sunk a similar proposal in 2004.
In any case, the FCC will vote on allowing cellphone above 10,000 feet at its Dec. 12 meeting. Here's the good news: "If the agency decides to move ahead with the proposal," say the AP's Joan Lowy and Scott Mayerowitz, "it would be just the first step in a long rulemaking process that includes soliciting public comment."
Well, here's my comment: Don't do it.

Continue reading for free
We hope you're enjoying The Week's refreshingly open-minded journalism.
Subscribed to The Week? Register your account with the same email as your subscription.