10 things you need to know today: November 13, 2013
Typhoon survivors grow desperate for aid, Hawaii lawmakers approve gay marriage, and more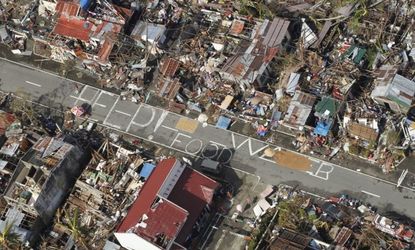 (Image credit: (AP Photo/Wally Santana))
1. Typhoon survivors grow desperate for aid
With devastation from Typhoon Haiyan hampering relief deliveries in the Philippines, survivors are getting increasingly desperate for food, water, and medicine. Eight people were crushed to death Wednesday when a wall collapsed as looters grabbed 33,000 110-lb. bags of rice from a government warehouse. The mayor of typhoon-ravaged Tacloban on Wednesday urged residents to flee, saying local authorities couldn't get help to everyone. [Reuters, New York Times]
………………………………………………………………………………
Subscribe to The Week
Escape your echo chamber. Get the facts behind the news, plus analysis from multiple perspectives.
SUBSCRIBE & SAVE
Sign up for The Week's Free Newsletters
From our morning news briefing to a weekly Good News Newsletter, get the best of The Week delivered directly to your inbox.
From our morning news briefing to a weekly Good News Newsletter, get the best of The Week delivered directly to your inbox.
2. Gay marriage bill passes final hurdle in Hawaii
The Hawaii Senate on Tuesday approved a bill legalizing gay marriage, prompting an ovation from hundreds of visitors in the capitol rotunda. The 19-4 vote was the measure's final hurdle in the legislature. Gov. Neil Abercrombie (D) called the special session in which the bill was passed, and is expected to sign it into law Wednesday, which would make Hawaii the 15th state to extend marriage rights to same-sex couples. [Reuters, USA Today]
………………………………………………………………………………
3. GOP senators filibuster Obama's court nominee
Senate Republicans blocked another of President Obama's judicial nominees using a filibuster on Tuesday. Democrats fell four votes shy of the 60-vote threshold needed to move to a vote on confirming Cornelia T.L. Pillard, a Georgetown law professor who was in line to sit on the U.S. Court of Appeals for the District of Columbia. She was the third Obama nominee in two weeks whose confirmation had been blocked by conservatives. [New York Times]
………………………………………………………………………………
4. Feds to end opposition to American–US Airways merger
The Justice Department has agreed to end its challenge of the proposed merger of American Airlines and US Airways if the carriers give up prime slots at several major airports to encourage competition, according to court papers filed Tuesday. Under the deal, the new airline, which would be the world's largest, would sell 104 takeoff and landing slots in Washington, D.C., and dozens more in New York, Chicago, L.A., and Boston. [Associated Press]
………………………………………………………………………………
5. Egypt ends its state of emergency
Egypt's military-appointed provisional government said Tuesday that it had lifted a three-month-old state of emergency and nighttime curfew. The measures were imposed on August 14 after security forces raided two Cairo camps where Islamists had been holding sit-ins to demand the return of the country's elected president Mohammed Morsi, who had been removed from power more than a month earlier. [BBC News]
………………………………………………………………………………
6. Bill Clinton joins the call for an ObamaCare fix
Former President Bill Clinton, a key ally of President Obama, on Tuesday joined a push for bipartisan legislation to let people to keep their current insurance plans after provisions of the Affordable Care Act take effect next year. Obama has apologized to Americans whose old policies were canceled even though he promised that wouldn't happen, but a White House spokesman said letting insurers keep selling substandard policies is no solution. [New York Times]
………………………………………………………………………………
7. Heart organizations revise guidelines on high cholesterol
The American Heart Association and the American College of Cardiology on Tuesday released new guidelines that could double the number of people on medication for high cholesterol. The new guidelines call for putting patients on cholesterol-lowering statins if they have one of four risk factors — including diabetes and heart disease — instead of basing the decision on their cholesterol level alone, which doctors say is a stark shift in policy. [CNN]
………………………………………………………………………………
8. World Trade Center building is proclaimed U.S.'s tallest
One World Trade Center is officially America's tallest building, the Council on Tall Buildings and Urban Habitat said Tuesday. The group ruled that the spire lifting the building's height to a symbolic 1,776 feet is a key architectural element, which counts in the official measurement, and not just a support for an antenna, which doesn't. The decision knocked Chicago's Willis Tower out of the top spot, which it held for 40 years. [Chicago Tribune]
………………………………………………………………………………
9. Kennedy sworn in as ambassador to Japan
Caroline Kennedy was sworn in on Tuesday as ambassador to Japan, one of the highest-profile U.S. diplomatic posts. Secretary of State John Kerry administered the oath at State Department headquarters. Later, Kennedy was honored at a reception thrown by the Japanese ambassador. [Washington Post]
………………………………………………………………………………
10. Bacon's $142 million painting sets an auction record
A Francis Bacon triptych called Three Studies of Lucian Freud sold for $142.4 million Tuesday night at Christie's in New York, breaking the record for the most expensive artwork ever sold at auction. It fetched $20 million more than Edvard Munch's The Scream, which set the previous record in May 2012. Minutes after the Bacon painting sold, Jeff Koons's Balloon Dog (Orange) sold for $58.4 million, an auction record for a living artist. [Bloomberg]

Continue reading for free
We hope you're enjoying The Week's refreshingly open-minded journalism.
Subscribed to The Week? Register your account with the same email as your subscription.