Breaking Bad: How Walter White became each of his enemies
From his first encounter with Krazy-8 to his climatic battle with the Nazis, Walter White has always wanted what his opponents have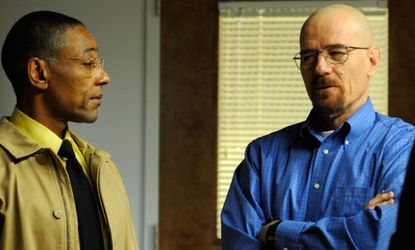 (Image credit: (Ursula Coyote/ AMC))
So much has happened since the first episode of Breaking Bad that it's easy to forget just how unmotivated Walter White was when the series began. We met him on his 50th birthday as a meek high school chemistry teacher who had taken a second job at a car wash due to his wife's pregnancy. As he's reminded us several thousand times since the beginning of the series, he was trying to protect his family — but personally, there was little more to his life than surviving each mundane day. It took a cancer diagnosis to give him a more concrete purpose: Making a ton of money that he could leave his family when he inevitably died.
Since that inciting incident, Walt has always had a clear motivation — but what he wants at any given time is less a reflection of who he is than it is a reflection of who his enemies are. Much has been made of the fact that Walt takes on the characteristics of his victims — Krazy-8's preference for sandwiches without crusts, Mike's preference for whiskey on the rocks.
But far less remarked upon is Walt's obsession with taking on the motivations of his enemies. Over the course of the series, Walt hasn't just become a villain — he's become a reflection of every villain he's had to face on his five-season journey.
Subscribe to The Week
Escape your echo chamber. Get the facts behind the news, plus analysis from multiple perspectives.
SUBSCRIBE & SAVE
Sign up for The Week's Free Newsletters
From our morning news briefing to a weekly Good News Newsletter, get the best of The Week delivered directly to your inbox.
From our morning news briefing to a weekly Good News Newsletter, get the best of The Week delivered directly to your inbox.
When the series began, Walt really was motivated by a desire to secure financial stability for his family. But that motivation changed early on in season one when he became driven by fear — the same motivation that drove Krazy-8, his first major nemesis. Krazy-8 was a drug dealer turned informant who was locked in Jesse's basement after nearly being killed by Walt's phosphine gas attack. Walt was about to release Krazy-8 when he realized that his hostage was about to kill him. Krazy-8 was driven by fear for his own life when he was planning to kill Walt, and in the end, Walt became overwhelmed by fear himself, strangling his hostage to ensure his own survival.
From the end of season one to the beginning of season two, Walt's greatest adversary was Tuco Salamanca, a power-crazed drug dealer who never tolerated disrespect from his own crew. Similarly, Walt became obsessed with the new goal of just being on top. With Jesse's aid, Walt planned to kill Tuco but fate intervened when Tuco was shot by Hank. As soon as Tuco was gone, Walt craved the power created by the vacuum once occupied by his deceased enemy. He planned to make Jesse a drug kingpin so that he could manipulate him from behind the scenes and control the drug trade himself.
The same situation arose when Walt met Gus Fring, the chicken-slinging master kingpin who was motivated by greed. Gus, who operated several chicken joints as a front for his drug empire, was driven by a never-ending thirst for money. He had all of the finances a man could handle through both legitimate and illegitimate means — and millions more — but he was never satisfied. Walt, who had accumulated enough money to leave his family more than well off, slowly became motivated by that same greed and desire for control. At that time, protecting his family and having power himself were no longer motivating factors. Walt simply wanted more and more power, until there was no way to get it without Gus out of the way.
After Gus was eliminated, Walt's greatest enemy was Mike, Gus's right-hand man. Despite their mutual distrust, Mike and Walt formed an unholy alliance. But when Mike — driven by loyalty to his former allies in jail — refused to help Walt murder those witnesses, Walt became driven by the only loyalty he knew by then: Loyalty to himself.
As the second half of Breaking Bad's fifth season premiered this summer, Hank became Walt's greatest adversary after finally realizing that his brother-in-law was a drug kingpin. Hank was always motivated by control — over drug dealers, over Marie, over his DEA office. (You can see his worst nightmare in season four when he's bedridden, with Marie forced to take care of his every need.) So when Hank finally gained the upper hand in his quest to bring Walt down, Walt responded with his own gambit for control — a videotaped confession blaming Hank for all of his own crimes.
And now, as Breaking Bad has reached its end, Walt's motivation has, at least in some respects, reverted to where it was in the beginning: A desire to protect his family. This actually mirrors the motivations of Walt's final enemies: the Nazis. Whatever else you might say about Jack and Todd's Nazi gang, they are something of a family, and their actions — horrible as they may be — are driven by a desire to protect this family and help it prosper.
Now, as Walt admitted to Skyler in last night's episode, his meth-empire building was largely driven by his own ego, despite his constant claims that it was all about family. But his final actions really were largely built around protecting his family, from his desperate defense of Hank to the phone call he made that was designed to acquit Skyler of her crimes to his feeding her the location of Hank's body so she would have a bargaining chip to cut a deal with prosecutors. Indeed, the first half of last night's episode was all about Walter finding a way to get his fortune in the hands of his son.
Walt began Breaking Bad not knowing who he was, but knowing that he wasn't satisfied with his life. He was an underachiever who wanted what others had. And that jealousy — that weak spirit — is the true motivation that drove Walt all along.
Read more on Breaking Bad:

Continue reading for free
We hope you're enjoying The Week's refreshingly open-minded journalism.
Subscribed to The Week? Register your account with the same email as your subscription.