Reality show drive-by: Tickle
The latest evidence that Duck Dynasty's influence has only grown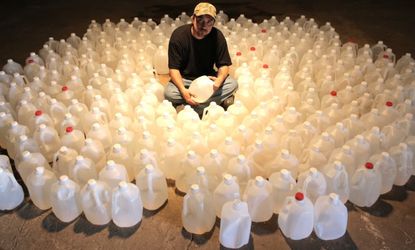 (Image credit: (Discovery Channel))
For a measure of how thoroughly Duck Dynasty has shaken up American reality television, look no further than Tickle, the latest offering in the genre from the Discovery Channel.
Duck Dynasty, for the uninitiated, is the hit A&E show about a Southern clan who have become rich from their duck call business. The show's main innovation is mapping all-too-familiar family sitcom tropes onto the reality genre, marrying the can-you-believe-these-people awe of modern reality television with the comfort of simple storylines.
Discovery's hit Moonshiners has successfully cribbed from that model over the past two seasons, spotlighting the highs and lows of a group of Southern bootleggers. And for an industry that is intent on squeezing every last cent out of a successful entertainment property — from Breaking Bad to The Avengers — it perhaps comes as no surprise that Moonshiners has launched its own spin-off based around the character/person Tickle.
Subscribe to The Week
Escape your echo chamber. Get the facts behind the news, plus analysis from multiple perspectives.
SUBSCRIBE & SAVE
Sign up for The Week's Free Newsletters
From our morning news briefing to a weekly Good News Newsletter, get the best of The Week delivered directly to your inbox.
From our morning news briefing to a weekly Good News Newsletter, get the best of The Week delivered directly to your inbox.
Tickle is the Snooki of his universe, making a name for himself on Moonshiners thanks to his bumbling brand of logic and, most notably, the fact that he stumbled onto a stash of moonshine hidden in the woods worth $80,000.
What he should do with this highly illegal batch of custom-made booze is the premise of Tickle, in which we see our star, aided by his friends Howard and Moe, set up a storefront as a cover to distribute the mountain of moonshine.
A few episodes into the first season's run, we find that Tickle has come up with some creative ways to spend his illicit gains, including buying an '80s Corvette and an old-timey canon. But the cash is running out and there are bills to pay, which means he needs a new revenue source outside the moonshine he's selling out the back of his store.
In perfect sitcom fashion, he pays a visit to ornery ol' Grandpa Bill to figure out what to do, before having an "a-ha!" moment while glugging drinks at the local dive with his friends. The paradigm-shifting idea? As he watches kegs of beer being rolled into the bar, he decides that he and his friends should open up an anything goes–type delivery service.
Meanwhile, super-pregnant Megan is in charge of the moonshine storefront, which is supposed to also double as some sort of antique/knick-knack store. It's essentially just a hodgepodge of objects set awkwardly in a big room, which, unsurprisingly, has failed to attract much in the way of customers. Tickle decides to give Megan the freedom to redecorate the store however she wants, so long as it brings in customers.
The gist of the show, then, is how these various situations would play out if they were featured in your favorite '80s sitcom. Megan freaks out Tickle by covering the store with pink and purple signs. He can't stand the girliness of it and demands a redesign, which leads to her fooling him into thinking she's painted pink stripes onto his beloved Corvette when it's really just pink tape.
Tickle and his goofball friends run into all kinds of difficulty trying to get their delivery service off the ground. There's a confusing scene in which Howard attempts to make a delivery of snacks, only to return hours later gnawing on a roll of raw cookie dough and rambling on about the "hippie couple" he spent hours with. The supposed comedy of the scene comes from the clumsy side-stepping of the fact that he got stoned with these "hippies," but the whole things plays out sloppily.
And that rough-edged flimsiness seems to be the name of the game in Tickle-ville. There's little effort made to polish narratives or the dialogue so that the show might seem like anything other than a produced series of events that would never have occurred in the real lives of these people. Add to that the jumpy "flashbacks" that play like Family Guy scene tags, as well as the laughable delivery that accompanies nearly every word Tickle says, and you've got a recipe for a show that, in the end, is bizarrely watchable.
Though looking worse for the wear, Tickle seems game for each scenario, particularly when he gets to glug down cold jars full of his beloved moonshine on camera. It should come as no surprise that the veracity of the show has been called into question, and some basic digging reveals that while these people might truly be moonshiners, no network would thrust itself into the legal briar patch of showcasing ongoing illegal activity.
In all likelihood, Tickle and company are throwing back big jars of water on camera, while quietly cashing their TV paychecks to make ends meet. But that might be just fine for the stars, networks, and viewers, in this new age of down-home, highly scripted reality television.
More reality show drive-bys...
Reality show drive-by: Ke$ha's My Crazy Beautiful Life
Reality show drive-by: Wedding Island
Reality show drive-by: Naked and Afraid

Continue reading for free
We hope you're enjoying The Week's refreshingly open-minded journalism.
Subscribed to The Week? Register your account with the same email as your subscription.