Girls on Film: Will Enough Said finally earn Nicole Holofcener the recognition she deserves?
The talented writer-director, whose films have routinely been dismissed as "chick flicks," is a must-see for fans of Woody Allen or Jim Jarmusch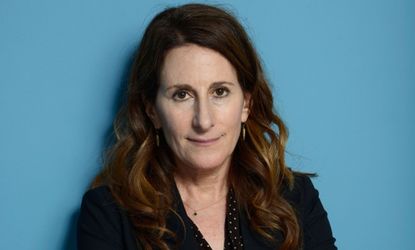 (Image credit: (Larry Busacca/Getty Images))
Behind a seemingly impenetrable wall of soft-focused sappiness and routine mislabeling stands one of Hollywood's most undervalued talents: Nicole Holofcener, the director behind this week's limited release Enough Said. Anyone who looks at the DVD covers attached to her films will see a landscape of well-made-up women smiling blankly through a heavily airbrushed filter. Those images are enough to conjure up the dreaded "chick flick" designation, leading one to imagine any number of blandly heartfelt stories about women coming together under the flimsiest of conceits. Unfortunately, it's a perception that's also been bolstered by reviewers who — even when delivering rave reviews — call films like Please Give a "bitchy chat-fest chick flick."
It's a label that Holofcener herself rejects. Good or bad, her films are a series of explorations about imperfect people who hold humor, darkness, and rawness for both genders — and it's time for distributors, critics, and audiences to start treating them that way.
Holofcener grew up immersed in Hollywood culture. When she was a child, her mother married Charles Joffe, Woody Allen's longtime producer. She spent her youth visiting film sets and popping up as an extra on films like Take the Money and Run, absorbing a cinematic world of flawed characters and blunt dialogue. Jim Jarmusch's Stranger Than Paradise inspired her to pursue a career as a filmmaker, and her subsequent work lies somewhere at the intersection of uncle figure Allen and Elaine May, whose 1972 film The Heartbreak Kid was her obsession, and an obvious blueprint of her future as a filmmaker.
Subscribe to The Week
Escape your echo chamber. Get the facts behind the news, plus analysis from multiple perspectives.
SUBSCRIBE & SAVE
Sign up for The Week's Free Newsletters
From our morning news briefing to a weekly Good News Newsletter, get the best of The Week delivered directly to your inbox.
From our morning news briefing to a weekly Good News Newsletter, get the best of The Week delivered directly to your inbox.
The Heartbreak Kid follows an impetuous young man who marries his crush to get into her pants, but finds that her personal idiosyncrasies drive him up the wall (and into the arms of another). The film is an exploration of flaws that's powered by deadpan dark humor and where people bond over the audaciously crude: When Charles Grodin's Lenny asks Kelly (Cybill Shepherd) about her large ring, she smiles and retorts, "It holds my finger on; I've got leprosy." When Lenny's mouth runs on and on to impress her father, he gushes, with extreme absurdity, "There's no insincerity in those potatoes. There's no deceit in the cauliflower. This is a totally honest meal."
Like May and Simon in The Heartbreak Kid, Holofcener sees a level of crudeness and humor in humanity. Her filmography includes characters who compulsively smell sponges that smell like hot dogs, argue the finer points of dwarf bowling, or debate just how familiar a person should really be with their partner: "Did you know she has never actually seen his asshole?" Frances McDormand's Jane asks, with amused incredulity, in Friends With Money.
In Holofcener's films, the crass intermingles with the heartfelt because she isn't interested in a story that filters everything into one narrow and reductive viewpoint or character in the name of a single genre — the romance that wants only romantic characters, or the perfect hero who has no questionable impulses.
Every film focuses on the expanse of human compulsion. Walking and Talking (1996) focuses on the intricacies of friendship and romance as people truly come of age — not as naïve teens, but as 30-something adults. Lovely and Amazing (2001) follows the many manifestations of an image-obsessed culture, and how that trickles through families and interactions. Friends With Money (2006) explores the challenges that arise when longtime friends boast different monetary and emotional levels, and how that manifests within their personal actions. Please Give (2010) documents the woes of advancing age and the guilt of privilege. Finally, this week's Enough Said — reviewed in more detail here — explores both the loneliness of parents once they've raised their kids, and the struggle to reconcile others' opinions with your own gut instincts.
Where Holofcener really differs from inspirations like Allen is her refusal to play into what you could call the Wooderson method of filmmaking: "I get older; they stay the same age." Her films follow her insights and questions about life as she experiences it — made all the stronger by the fact that every movie either stars or co-stars her longtime collaborator Catherine Keener.
Any viewer who works their way through Holofcener's filmography can see both Keener and the character she plays mature. At first, she's the frazzled 30-something with heaps of body tics. In Walking and Talking, she's nervous and unsure of herself: Laughing, clingy, watchful, and neurotic. By Lovely and Amazing, she's trying to find a purpose as her privileged idealism clashes with everyday reality. "Come on. You're the manager," she argues when her husband complains that she "can't just run around telling people to fuck off!"
When she becomes a friend with money, Keener's Christine is more balanced, but not inhumanely centered. She is both careless and insistent on thoughtfulness — now struggling not with gaining success, but with the facade of success. This type evolves into the guilt-ridden Kate of Please Give, who is so overwhelmed by her business and success (buying furniture from the families of the recently deceased for higher resale) that she is both obsessed with giving back and filled with too much pity to be effective. By Enough Said, she's finally perfectly happy with her idiosyncrasies: Calm, centered, and aloof.
With such a strong focus on Keener, and a range of talent like Anne Heche, Emily Mortimer, Jennifer Aniston, and Rebecca Hall, it's no surprise that most viewers focus on the femaleness explored in Holofcener's films. It's a sentiment further bolstered by the director's many thoughtful treatments of image and the female body. The very first scene of her debut, Walking and Talking, sees her camera slowly pan up the legs of girls, a typical Hollywood shot that gets turned on its head when the camera arrives at her young girls' backsides — clad in puffy, juvenile apparel, without the hint of Lolita-esque sexuality, as they look at The Joy of Sex and discuss how disgusting sex is. For Lovely and Amazing, she begins with Mortimer's Elizabeth, the camera lingering on her mortification at how made-up and sexually revealing she has to be for a photo shoot. By Please Give, Holofcener ups the ante, using a montage of breasts of every shape and size thrust into a mammogram machine over and over — turning the commonly sexualized body part into an appendage that might betray you.
Unfortunately, being thoughtful about female characters has led to Holofcener being narrowly defined, which makes her bristle. "By women, for women, about women, with women. Like, it's just a big vagina movie. And you can just put it in a drawer and close it," she told Salon. "I'm not trying to do anything except tell the story that interests me. It just happens that these people are women, or more characters in my movies are women, and it's the same thing when people want to call me a female director. […] I can't deny that my audiences are definitely more female, but I think that's partly because people call them women's movies. There was one magazine that called this movie a 'bitchy chat-fest chick flick.' And it was a positive review! Like, what guy, and what intelligent woman, would ever go see that? It's frustrating."
As a filmmaker who happens to be female, the "female filmmaker" label is an inevitable truth. It means that Holofcener's attempts to be real and to resonate are invariably interpreted as a political act. The genuine becomes the feminist to both positive and negative ends. Many interviewers ask Holofcener about her slightly disheveled protagonists, whose hair isn't perfectly coifed, and whose faces aren't masked in pristine and long-lasting makeup (contrary to what her films' DVD covers suggest). "The people I know don't wear a lot of makeup," she explains, not because it's a political comment on female beauty — it's just her reality.
Of course, Holofcener is aware of the politics of female existence. Like many of Hollywood's filmmakers, her films are excessively white and upper-class. But Holofcener also explores how race interacts with her very white protagonists. In Please Give, the guilt-ridden Kate is too self-obsessed to notice the problems of her own philanthropic concern, as she offers a half-eaten meal to a black man waiting for a table. In Lovely and Amazing, adopted younger sister Annie (beautifully played by Raven Goodwin) struggles with the complexity and confusion of being a black child in a white house, absorbing the myriad of problematic jokes and attitudes of society, her family, and the black woman who reluctantly acts as her assigned "Big Sister."
Holofcener's films become political because politics inherently go hand-in-hand with genuineness — with exploring humanity as it is, and not the slightly skewed "humanity" often revealed by cinema. This makes her films uniquely resonant, with notable critics from Roger Ebert to Stephanie Zacharek praising the way her characters stay with you. The latter writes: "You think you've buttoned up the characters' lives and laid them to rest, only to find yourself making unbidden, random observations about them as you're fixing a sandwich or flossing your teeth […] We invite them home with us. Talk about a soft touch."
Though they retain her distinctive touch, Holofcener's films are gradually expanding to a wider audience. Enough Said has a more familiar (but no less worthwhile) romantic comedy structure that should resonate with mainstream audiences this fall. But they also inform the next generation of talent. When Lena Dunham began crafting her divisive HBO series Girls, she gave her writers what she called "a syllabus" that included, among a few other choice films, Walking and Talking.
Nicole Holofcener's work isn't just "women's filmmaking." It's filmmaking worth talking about without any qualification, imbued with the same spirit that made greats like Woody Allen and Jim Jarmusch icons — and it's time for her to receive the same recognition.
Girls on Film is a weekly column focusing on women and cinema. It can be found at TheWeek.com every Friday morning. And be sure to follow the Girls on Film Twitter feed for additional femme-con.

Continue reading for free
We hope you're enjoying The Week's refreshingly open-minded journalism.
Subscribed to The Week? Register your account with the same email as your subscription.