The secret of Finland's stellar schools
To get kids to take education seriously, you have to give them first-rate teachers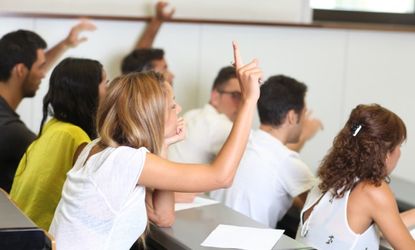 (Image credit: <a href="http://shutr.bz/18Zf6qJ">(Courtesy Shutterstock)</a><a></a>)
DURING HER THREE months in Finland, Kim had collected a small catalog of differences between school here and in Oklahoma. The most obvious were the things that were missing. There were no high-tech, interactive white boards in her classroom. There was no police officer in the hallway. Over time, though, she had begun to notice more important distinctions.
Take the stoner kid, as Kim had nicknamed him in her head. He'd walked into class that day looking hung over, with glassy eyes, as usual. He didn't talk much in class, but when he was with his friends, smoking cigarettes outside, he was louder.
Kim had seen plenty of kids like him in Sallisaw. Somehow, she hadn't expected to see stoner kids in Finland. But there he was. Every country had its stoner kids, as it turned out. That was lesson one. There was only one major difference, as far as she could tell, and this was lesson two. The Finnish stoner kid was a model student. He showed up to class, and he was attentive. He took notes. When their Finnish teacher, Tiina Stara, assigned essays, which was often, he wrote them, just like everybody else.
Subscribe to The Week
Escape your echo chamber. Get the facts behind the news, plus analysis from multiple perspectives.
SUBSCRIBE & SAVE
Sign up for The Week's Free Newsletters
From our morning news briefing to a weekly Good News Newsletter, get the best of The Week delivered directly to your inbox.
From our morning news briefing to a weekly Good News Newsletter, get the best of The Week delivered directly to your inbox.
In Oklahoma, the stoner kids didn't do much schoolwork, in Kim's experience. They didn't care. Here, all kids complained about school, too, and they had teachers they liked and disliked. Yet most of them seemed to have bought into the idea of education on some level.
Kim noticed that some of the teachers seemed more bought-in to school, too. Stara, the Finnish teacher, realized it was probably ridiculous for Kim to even be in a Finnish class for Finnish high school students, given Kim's primitive grasp of the language. Still, she'd come up with a way to include Kim, giving her a children's version of the story the other students were reading.
Like Kim's math teacher back in Oklahoma, Stara was a veteran teacher, approaching two decades in the profession. Both teachers had jobs that were protected by powerful unions, and neither could easily be dismissed.
THE SIMILARITIES ENDED there. From the moment she had decided to study education in college, Stara had entered a profession completely different from that of Kim's Oklahoma teacher. To become a teacher in Finland, Stara had had to first get accepted into one of only eight prestigious teacher-training universities. She had high test scores and good grades, but she knew the odds were still against her.
She'd wanted to teach Finnish, so she'd applied to the Finnish department at the University of Jyväskylä. In addition to sending them her graduation-exam scores, she'd had to read four books selected by the university, then sit for a special Finnish literature exam. Only 20 percent of applicants were accepted.
At that time, all of Finland's teacher-training colleges had similarly high standards, making them about as selective as Georgetown or the University of California, Berkeley. Today, Finland's education programs are even more selective, on the order of MIT. It was hard to overstate the implications that cascaded from this one fact. Just one out of every 20 education schools was located at a highly selective institution in the United States. Far more than that had no admission standards at all. In other words, to educate our children, we invited anyone — no matter how poorly educated they were — to give it a try.
Teachers-to-be in the United States generally had to pass standardized tests in order to get a teaching position. But the tests were not challenging or particularly relevant to effective teaching. By then, the damage was done: Everyone assumed that the education majors were not the smartest kids in college, generally speaking, and their profession got little respect as a result.
In Finland, all education schools were selective. Getting into a teacher-training program there was as prestigious as getting into medical school in the United States. The rigor started in the beginning, where it belonged, not years into a teacher's career with complex evaluation schemes designed to weed out the worst performers, and destined to demoralize everyone else.
Stara still remembers the day she got the letter of acceptance from the University of Jyväskylä — her mother's excitement, the rush of relief. Stara spent the first three years studying Finnish literature. She read intensely and wrote 20-page papers. She analyzed novels, poems, and short -stories — something English trainee teachers do not generally do in the United States. In her fourth year (out of six years of study), she began the teacher-training program. All Finnish teachers were required to get a master's degree, which meant something very different than it did in the United States.
For one full year of her master's program, Stara got to train in one of the best public schools in the country. She had three teacher mentors there, and she watched their classes closely. When she taught her own classes, her mentors and fellow student teachers took notes. Afterward, she got feedback, some of it harsh, in much the way medical residents are critiqued in teaching hospitals.
NOW, CONSIDER KIM'S math teacher back home, Scott Bethel. He'd decided to become a teacher mostly so that he could become a football coach. As a student at Sallisaw High School, he was an all-state quarterback in 1989. Although Bethel hadn't taken calculus in high school, he'd always been pretty good at math. So he figured the best way to become a coach was to become a math teacher. Bethel was one of several coaches that Kim had as teachers over the years, a hybrid job that would be considered bizarre in Finland and many countries, where sports lay beyond the central mission of schools.
In Oklahoma alone, Bethel could choose from nearly two dozen teacher-training programs — almost three times as many as in all of Finland, a much bigger place. Oklahoma, like most states, educated far more teachers than it needed. At most U.S. colleges, education was known as one of the easiest majors. Education departments usually welcomed almost anyone who claimed to like children. Once students got there, they were rewarded with high grades and relatively easy work. Instead of taking the more rigorous mathematics classes offered to other students, for example, education majors tended to take special math classes designed for students who did not like math.
Bethel did his training at Northeastern State University. The university prepares more teachers than any other institution in the state and has a good reputation. However, it also has a 75 percent acceptance rate, which means that it admits, on average, students with much weaker math, reading, and science skills than Finnish education schools.
To teach in Oklahoma, Bethel did not need a master's degree. He could receive a raise if he got one, and many U.S. teachers did. But, since the typical education college had low standards and little rigor, an advanced degree did not mean much. In many states, teachers were not required to get degrees in their subject area, so they got a master's in teaching instead.
When Kim was starting kindergarten in 2000, 10 out of 10 new Finnish teachers had graduated in the top third of their high school classes; only two out of 10 American teachers had done so. Incredibly, at some U.S. colleges, students had to meet higher academic standards to play football than to become teachers.
During his sophomore year in college, Bethel had applied to his university's education college. To be admitted, Bethel had to have a grade-point average of just 2.5 or higher (out of 4). He would have needed a higher GPA to become an optometrist at the same university today.
He also needed a score of 19 or higher on the ACT, a standardized test like the SAT. The national average for the ACT back then was 20.6. Let's consider what this meant: It was acceptable to perform below average for the country on a test of what you had learned throughout your educational career if you aspired to dedicate your career to education.
At the education college, Bethel discovered that he didn't have to major in math to become a high school math teacher. So he didn't. Nationwide, less than half of American high school math teachers majored in math. Almost a third did not even minor in math.
Bethel's primary goal was to become a coach, so he majored in physical education and minored in math. When he took the required test for high school math teachers in Oklahoma, he passed easily. Most of the material was at a 10th or 11th grade level, and he didn't find it difficult. However, if he had, he would have been allowed to retake the test until he passed.
Bethel's student teaching experience helped him learn to plan lessons and manage a classroom. But it lasted just 12 weeks, compared to the year-long residency typical in Finland. When Bethel got his first teaching job, he quickly realized that it would have been helpful to major in math. But what was done was done.
AFTER CLASS, KIM had a free period — a full 70 minutes with nothing scheduled. This was the other big difference she'd noticed about Finland: the inexplicable stretches of luxurious freedom. She kept finding herself released into the ether, trusted to find her way through long stretches of time. Kim wandered into the lobby of the school and sat on a couch.
Two girls from her class sat down next to her. They said hello to Kim and started talking about how hard they'd studied for midterm exams last year, lamenting all the work they had ahead of them.
Most of the time, the Finnish students were just as aloof as her guidebooks had told her they would be. But Kim was still new enough that she could ask them about Finland to make conversation. So she collected her courage and blurted out the question that had been on her mind.
"Why do you guys care so much?"
The girls looked at her, confused.
"I mean, what makes you work hard in school?"
It was a hard question to answer, she realized, but she had to ask. These girls went to parties; they texted in class and doodled in their notebooks. They were normal, in other words. Yet they seemed to respect the basic premise of school, and Kim wanted to know why.
Now, both girls looked baffled, as if Kim had just asked them why they insisted on breathing so much.
"It's school," one of them said finally. "How else will I graduate and go to university and get a good job?"
Kim nodded. Maybe the real mystery was not why Finnish kids cared so much, but why so many of her Oklahoma classmates did not. After all, for them, too, getting a good education was the only way to go to college and get a good job. Somewhere along the way, however, many of them had stopped believing in this equation. They didn't take education very seriously. Maybe because they were lazy, spoiled, or dysfunctional in some other way, or maybe because, in their experience, education wasn't all that serious.
From The Smartest Kids in the World by Amanda Ripley. ©2013 by Amanda Ripley. Reprinted by permission of Simon & Schuster, Inc.

Continue reading for free
We hope you're enjoying The Week's refreshingly open-minded journalism.
Subscribed to The Week? Register your account with the same email as your subscription.