Breaking Bad: Is Hank turning into another Heisenberg?
In a show full of characters willing to make selfish moral compromises, it's becoming awfully clear that we don't have any heroes — and never did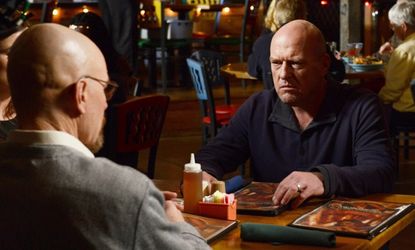 (Image credit: <a href="https://www.facebook.com/photo.php?fbid=10151837412982722&amp;set=pb.6798562721.-2207520000.1378326191.&amp;type=3&amp;theater">Facebook/Breaking Bad</a><a></a>)
Breaking Bad's greatest trick was making its audience believe the show ever had a hero.
When the series began, it seemed obvious that our "hero" was Walter White. Sure, he cooked some meth and killed a couple of drug dealers — but he was only reacting to circumstances that might have made the best of us break bad, and it was hard to root against him. Of course, so much has changed since then; as Walt's partner and protege Jesse Pinkman warned in last Sunday's episode, Walt has essentially become the devil himself.
As anticipation for the final eight episodes of the AMC series built (for those keeping score at home, we're now halfway through), several critics made a convincing argument: Walt's DEA agent brother-in-law Hank Schrader was now Breaking Bad's hero. At the time, it made sense. While Hank originally seemed like little more than an uber-macho riff on The Shield's Vic Mackey, he eventually proved to be an extraordinarily talented investigator, correctly fingering pillar of the community and friend of the DEA Gus Fring as a drug kingpin. Hank suffered panic attacks and was literally broken by the murderous Cousins before rebuilding himself through intensive physical therapy. And the ending of the first half of this season, which aired last summer, seemed poised to reframe Hank as Walt's most heroic opponent, as he finally discovered his brother-in-law's true identity.
Subscribe to The Week
Escape your echo chamber. Get the facts behind the news, plus analysis from multiple perspectives.
SUBSCRIBE & SAVE
Sign up for The Week's Free Newsletters
From our morning news briefing to a weekly Good News Newsletter, get the best of The Week delivered directly to your inbox.
From our morning news briefing to a weekly Good News Newsletter, get the best of The Week delivered directly to your inbox.
We all should have known better. Breaking Bad has never made it that easy to pinpoint the moral standing of its characters. Walt clearly deserves to go to prison — or worse — but Hank's unrelenting pursuit of Heisenberg has led him down an eerily similar path of moral compromise. Both men began with noble goals that have gradually been eroded by ego — and that moral erosion may mean both of their dooms.
One of the earliest and most damning acts committed by Walter White came in the first season, when he refused to let his former friend and business partner Elliott pay his medical bills. Though it's possible to mount a defense of Walt's decision to cook meth when he thought he had no other options, his refusal to accept the help freely offered to him — help that would have saved him from needing to commit any more crimes — makes each crime he committed after that moment morally unjustifiable.
Likewise, Hank initially refused to go to the DEA to accuse Walt for a seemingly good reason: His hunch that Gus was a criminal mastermind originally went unheeded, and without an airtight case he'd run the risk of a drawn-out investigation that might give Walt time to get away. But Hank's case has grown substantially since then: He has Jesse recounting Walt's crimes on tape, a garage full of evidence, and several major leads that could take Walt down (particularly the still-unsolved murder of Drew Sharp). Even Walt's "confession" video, in which Walt falsely named Hank as the true mastermind, might backfire on Walt if Hank's colleagues trust him as much as they seem to.
But just as his ego fueled his maverick pursuit of Heisenberg, Hank's capacity for manipulation and willingness to use innocent people has kept pace with Walt's descent. He tried to browbeat Skyler into a confession without taking stock of her emotional situation; used his wife, Marie, in an attempt to break Skyler; and finally proved coldly willing — eager, even — to sacrifice Jesse's life to get Walt's crimes on record. Jesse tells Hank that Walt poisoned a child "just as a move." But Hank now seems prepared to use Jesse exactly the same way, as a piece to be moved in his chess game with Walt. (Note the Whites dressed in white, and the Schraders in darker colors — like opposing kings and queens — in their guacamole-less standoff at the taqueria).
The two have begun to converge in other ways. Where Walt's cancer is first the rationale, then the cover, for his criminal activity, Hank feigns illness to collect evidence in his garage. Where Walt spends the first two seasons lying to Skyler about his activities, Hank tries to keep his investigation from Marie until she becomes useful in his attempt to break Skyler. And as Hank tries to lie to Marie to cover up bringing Jesse to their house, he adopts the same forced, dodgy cadence his brother-in-law used while trying to lie to his wife about Jesse in the same episode.
Even the show's direction has drawn parallels between the two men. Most significantly, Hank's embrace — an apparent attempt to comfort Skyler just moments before he tries to use her to catch Walt — is framed exactly like Walt's similar assertion of dominance and control over Skyler after killing Gus. (It's a motif that continued this season when Walt drew Jesse into another loveless, manipulative embrace. Maybe the real moral of Breaking Bad is that hugs are evil.)
Hank was never exactly a saint. Though his character deepened and changed immensely over the course of seasons two through five, his bullheadedness in the first season hinted at a man so driven by his own ego that he'd let a (relatively) innocent man die — Walt's initial decision to break bad was driven, in part, by his desire to prove he was more of a man than the swaggering Hank. Hank's brutal assault on Jesse in the third season, while a somewhat understandable response to being tricked into thinking his wife had been injured, also revealed the animal that Breaking Bad sees at the heart of every one of its characters.
With four episodes left, is there anyone we can really root for? If there is still a hero in Breaking Bad, it's the beyond-broken Jesse, who now wants revenge for the emotional abuse and pure evil Walt has inflicted on him. But if there's anything Hank's descent into Heisenberg territory suggests, it's that anyone who spends enough time in the show's universe is just as likely to get dragged down with him.
Read more on Breaking Bad:
Breaking Bad recap: 'Rabid Dog'
12 of our favorite words from Breaking Bad

Continue reading for free
We hope you're enjoying The Week's refreshingly open-minded journalism.
Subscribed to The Week? Register your account with the same email as your subscription.