What Microsoft is buying with its $7.2 billion Nokia purchase
The software giant is putting down some serious cash to gobble up a shrinking cellphone giant. And it's not just about Windows Phone.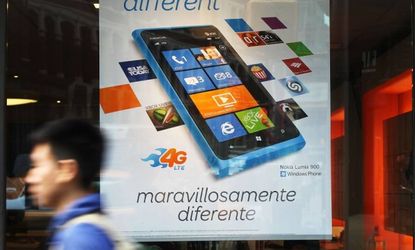 (Image credit: Spencer Platt/Getty Images)
Late Monday, Microsoft announced that it will plunk down almost $7.2 billion in cash to buy the handset and services business of Finland's Nokia, the former longtime world leader in mobile phones. This marks the end of an era for 148-year-old Nokia, a pioneer in cellphones and smartphones that recently lost its dominance to Apple and Samsung. With its phone business gone, Nokia is left with its solutions and networks business.
Microsoft has had its own struggles making its mark in the smartphone business. So what does it get by buying Nokia's?
First, the move wasn't wholly unexpected. Nokia's Lumia phones have been running Microsoft's Windows 8 mobile operating system since 2011, soon after Microsoft alumnus Stephen Elop took over the Finnish company and scrapped its aging Symbian OS. Windows will now have control over the unit that makes almost 90 percent of its Windows Phones. It is also acquiring 32,000 Nokia employees. And one of those employees, Elop, could be a particularly important (re)hire: Even before the Nokia deal, Elop was rumored to be on the short list of candidates to replace retiring Microsoft CEO Steve Ballmer. Since the deal, the rumors have only become louder.
Subscribe to The Week
Escape your echo chamber. Get the facts behind the news, plus analysis from multiple perspectives.
SUBSCRIBE & SAVE
Sign up for The Week's Free Newsletters
From our morning news briefing to a weekly Good News Newsletter, get the best of The Week delivered directly to your inbox.
From our morning news briefing to a weekly Good News Newsletter, get the best of The Week delivered directly to your inbox.
For the $7.2 billion, then — about $1.3 billion less than it paid for video-chatting service Skype in 2011 — Microsoft is potentially buying back its next chief executive, gaining the rights to a bunch of lucrative patents, and finding a good use for some of its $60 billion in overseas (i.e., not taxed in America) cash reserves.
Mostly, though, this deal is about Microsoft struggling to stay relevant in the mobile age. Windows Phone has a middling 3 percent of the U.S. smartphone market, and less than 6 percent globally — far behind Apple's iPhone and Samsung handsets running Google's Android.
The Associated Press' Matti Huuhtanen notes that Microsoft "has been racing to catch up with customers who are increasingly pursuing their digital lives on smartphones and tablet computers rather than the traditional PCs." And the company "is betting it will have a better chance of narrowing the gap if it seizes complete control over how the mobile devices work with its Windows software."
In that regard, Microsoft is essentially trying the Apple strategy: Making the hardware and the software for its smartphones. "And why not?" says Mark Hachman at PC World. Microsoft's Surface tablet has been a big flop so far. The Zune was a disaster. But, Hachman notes, "Microsoft's Xbox dominated the U.S. game console market for over two years, with Microsoft's brand on the box." The Xbox One is a worthy successor, he says, "and if Nokia's engineering teams can build a tablet, than the Surface may gain some competition."
Carly Page at Britain's The Inquirer predicts that the merger "should have Apple and Google worried." But she seems to be in the minority.
"It's hard to see how buying Nokia will change anything, because the fundamental flaw in both the tablets and smartphones is the same: Microsoft's operating systems," says Galen Gruman at InfoWorld. People just don't like Windows 8, and Microsoft doesn't seem to get it. "Being Apple requires a focus on quality, user experience, and platform centrism that Microsoft hasn't demonstrated," Gruman says, and control of the hardware won't change that. Microsoft is making "a bold, perhaps necessary bet — but not a sure one."
If history is any guide, this merger won't be a big success, says Harry McCracken at TIME. "It would be fun if it led to a golden age of Windows smartphones, and good for consumers," but tech companies just don't meld very well. "(Let's not even bring up HP's acquisition of Palm. Oops! Just did.)" And Microsoft can't just make "slightly improved versions of Nokia's current models" and expect customers to suddenly come flocking. But Microsoft may not need that, McCracken says:

Continue reading for free
We hope you're enjoying The Week's refreshingly open-minded journalism.
Subscribed to The Week? Register your account with the same email as your subscription.