10 things you need to know today: September 1, 2013
President Obama seeks congressional approval for Syria action, Nelson Mandela heads home from the hospital, and more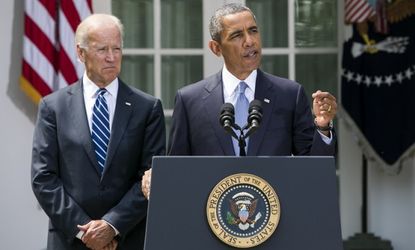 (Image credit: Getty Images)
1. President Obama intends to seek congressional approval before striking Syria
President Obama postponed a military strike against the Syrian government in retaliation for a chemical weapons attack so he could seek authorization from Congress. Since last week, Obama has considered taking action without the support of the U.N., Congress, or Britain, a usually reliable partner. His decision leaves him at the political mercy of House Republicans, many of whom have already suggested that Syria's civil war does not pose a threat to the U.S. As a result, he may be the first president in modern times to lose a vote on the use of force, much as British Prime Minister David Cameron did in Parliament last week. [The New York Times]
………………………………………………………………………………
Subscribe to The Week
Escape your echo chamber. Get the facts behind the news, plus analysis from multiple perspectives.
SUBSCRIBE & SAVE
Sign up for The Week's Free Newsletters
From our morning news briefing to a weekly Good News Newsletter, get the best of The Week delivered directly to your inbox.
From our morning news briefing to a weekly Good News Newsletter, get the best of The Week delivered directly to your inbox.
2. Kerry: Syria tests positive for Sarin gas
Secretary of State John Kerry said on NBC's Meet the Press, the first of his appearances on all five morning talk shows on Sunday, that samples tested by first responders in Damascus have turned up positive for signs of Sarin gas exposure. The attacks killed 1,429 people on Aug. 21 in the suburbs of Damascus, according to estimates provided by Kerry. [Politico]
………………………………………………………………………………
3. Nelson Mandela heads home from the hospital
Nelson Mandela was discharged from a hospital in the South African capital of Pretoria on Sunday while still in critical condition, and was driven in an ambulance to his Johannesburg home, which has been set up to provide intensive care. The former South African president had been in the hospital since June 8 for a recurring lung infection. [USA TODAY]
………………………………………………………………………………
4. India convicts youngest gang rape suspect
An Indian juvenile court on Saturday handed down the first conviction in the fatal gang rape of a young woman on a New Delhi bus, convicting a teenager of rape and murder and sentencing him to three years in a reform home. The victim's family denounced the verdict, having insisted the teen be tried as an adult, and thus face the death penalty. The December attack sparked protests across the country and led to reforms of India's antiquated sexual violence laws. [Associated Press]
………………………………………………………………………………
5. Infamous Nixon interviewer David Frost dies
Veteran British broadcaster David Frost, best known for his series of interviews with disgraced President Richard Nixon, has died. He was 74. Frost's interviews with Nixon were portrayed in the play and film Frost/Nixon. Nixon at one point let down his guard, telling Frost, "I'm saying when the president does it, that means it's not illegal." For many viewers, that moment cemented Nixon's infamy. [CNN]
………………………………………………………………………………
6. Radiation readings spike at Japan's Fukushima power plant
Radiation near a water tank at Japan's crippled Fukushima nuclear plant has spiked 18-fold to over 100 millisieverts. Japanese law has set an annual radiation exposure safety threshold of 50 millisieverts for nuclear plant workers during normal hours. The Fukushima Daiichi power plant was devastated by a tsunami on March 11, 2011, that resulted in radioactive contamination and the evacuation of 160,000 people. [Reuters]
………………………………………………………………………………
7. Pope Francis selects veteran Vatican diplomat as his top aide
Pope Francis on Saturday tapped a veteran Vatican diplomat to be his top aide, replacing Cardinal Tarcisio Bertone, who became divisive in recent years amid the church's scandals and financial probes. Archbishop Pietro Parolin, an Italian and former deputy foreign minister at the Vatican, will assume the post on Oct. 15. Pope Benedict XVI, who retired earlier this year, had relied heavily on Bertone. [TIME]
………………………………………………………………………………
8. Diana Nyad begins her final attempt at a Cuba-Florida swim
Endurance swimmer Diana Nyad is reportedly doing well in her fourth attempt in three years to swim between Cuba and Florida. Nyad, 64, began swimming the Florida Strait, a dangerous stretch of sea, without a protective shark cage on Saturday. Her last attempt was cut short amid boat trouble, storms, unfavorable currents and box jellyfish stings. Nyad says this will be her final try. [ABC News]
………………………………………………………………………………
9. Scientists discover new "Grand Canyon" in Greenland
Scientists from the University of Bristol have discovered a canyon twice as long as the Grand Canyon in Greenland, the world's largest island. The canyon is buried beneath as much as two miles of ice. "It really shows how little we know about what's below the major continental ice sheets, like the Greenland ice sheet and the Antarctic ice sheet," Michael Studinger at NASA's Goddard Space Flight Center says. [NPR]
………………………………………………………………………………
10. New England Patriots release Tim Tebow
Tim Tebow left his third team in 18 months after the New England Patriots released him after 2 1/2 months on Saturday. The decision came as NFL teams faced a 6 p.m. deadline for reducing rosters to 53 men. The question now remains as to whether the former Heisman Trophy winner's NFL career is over as well, following stints with both the Denver Broncos and the New York Jets. [The Washington Post]

Continue reading for free
We hope you're enjoying The Week's refreshingly open-minded journalism.
Subscribed to The Week? Register your account with the same email as your subscription.