How canceled TV shows can find a new life in books
Showtime's recently canceled drama The Borgias is about to get an unlikely second life in e-book form. Other scrapped shows should follow suit.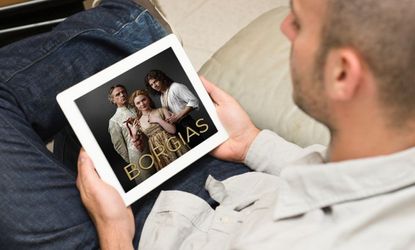 (Image credit: Illustration by Lauren Hansen | Images courtesy of Thinkstock, Facebook.com/<a href="https://www.facebook.com/TheBorgiasOnShowtime" target="_blank">TheBorgiasOnShowtime</a>)
In June, Showtime president David Nevins canceled the network's period drama The Borgias a full season before its creator Neil Jordan originally intended — and the show's tiny but passionate fan base was, predictably, less than pleased. After mounting an extensive social media campaign to try and get the series resurrected, they hired a plane with a banner that read "D Nevins: Sho fans you care — save The Borgias" to fly over the Television Critics' Association press tour.
Nevins was unmoved. The closest he came to offering any solace for Borgias fans was a vague reference suggesting a Borgias Kickstarter campaign, noting that the crowdfunding service was recently used to resurrect the cult TV favorite Veronica Mars. But let's be honest: A period piece like The Borgias is too expensive for a Kickstarter project, and it lacks both the critical support and sizable fan base required to make such a campaign a success. So just like that — like so many canceled shows before it — The Borgias was dead, destined for a relatively unmourned burial in a potter's field.
But then something interesting happened. On Monday, Showtime quietly announced that The Borgias would be continued after all. Not as a TV series, and not even as the made-for-TV movie originally proposed by creator Neil Jordan — but as an e-book called The Borgia Apocalypse, based on Jordan's script, which would offer fans the definitive ending to the story that Jordan has always planned.
Subscribe to The Week
Escape your echo chamber. Get the facts behind the news, plus analysis from multiple perspectives.
SUBSCRIBE & SAVE
Sign up for The Week's Free Newsletters
From our morning news briefing to a weekly Good News Newsletter, get the best of The Week delivered directly to your inbox.
From our morning news briefing to a weekly Good News Newsletter, get the best of The Week delivered directly to your inbox.
Maybe this strikes you as weird. But TV shows and books have been cross-pollinating for decades. During its heyday, The X-Files was adapted into everything from young adult novels to comic books. The world of ABC's cult classic Twin Peaks was expanded with books like The Secret Diary of Laura Palmer (written by Jennifer Lynch, the daughter of series creator David Lynch) and The Autobiography of F.B.I. Special Agent Dale Cooper: My Life, My Tapes (written by Scott Frost, brother of series co-creator Mark Frost). There are literally hundreds of books based on the various Star Trek series, including an entire series co-written by William Shatner. More recently, FX's Justified received a kind of parallel-universe side story with Elmore Leonard's Raylan.
But The Borgias Apocalypse is something new: A book, written by a prematurely canceled show's creator, designed to wrap things up as originally intended. This isn't about squeezing extra dollars out of an aging franchise, or continuing it indefinitely until it ceases to be profitable; it is, for all intents and purposes, a series finale in book form — for a show that would otherwise have gone without an ending.
We're in the midst of a new renaissance of transmedia storytelling. Movies like Cloverfield and The Dark Knight have drummed up extra buzz with elaborate alternate reality games that encourage fans to use the internet to follow the story's scripted scenarios into the real world. Earlier this year, SyFy premiered Defiance, a TV drama that's closely interwoven with a massive multiplayer online video game of the same name.
There are opportunities for cross-platform storytelling beyond new technology. We can also look back to the past. There's a lot to recommend about continuing a canceled series in literary form. It leaves a show's cast and creative team free to move on to other projects without cheating fans who want to see the story to its conclusion. It allows the writer infinite license to make the story as extravagant and far-reaching as he'd like it to be. Most importantly, it's infinitely cheaper than reassembling a cast and rebuilding a set — which means that the story is far more likely to arrive uncompromised by financial or creative constraints.
This is, to be sure, a last resort, and it wouldn't work for every show as well as it works for The Borgias. (Arrested Development's layered, gag-heavy storytelling would be incomprehensible on the page.) But there are also plenty of other prematurely canceled shows that would benefit from a second life in literature. Deadwood's long-fabled continuation, which would allegedly have taken the form of two made-for-TV movies, seems to be dead in the water — but it's easy to imagine their stories being re-purposed as a literary western. Carnivale's tenuously outlined future could make a wonderfully creepy historical horror novel. Bored to Death began life as a short story by series creator Jonathan Ames, and if a proposed TV movie follow-up falls through, there's no reason Ames couldn't take his comic-mystery back to the same place it began.
It remains to be seen whether or not The Borgias Apocalypse is even any good — but however the actual product turns out, the idea behind it is rife with possibilities. The creators get to wrap up their story as intended, the fans get the closure they want, and the networks get a low-cost way to appease both sides and get a cut of the profits. It's the rare win/win/win in show business, and that's enough to make it worth considering giving any newly cancelled TV series a second life in print.

Continue reading for free
We hope you're enjoying The Week's refreshingly open-minded journalism.
Subscribed to The Week? Register your account with the same email as your subscription.