10 things you need to know today: August 8, 2013
Obama's canceled Russia summit imperils future arms cuts, three lucky winners hold Powerball jackpot tickets, and more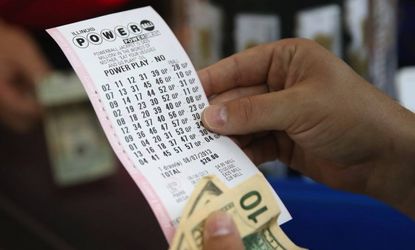 (Image credit: Scott Olson/Getty Images)
1. OBAMA'S CANCELED RUSSIA SUMMIT IMPERILS ARMS CUTS
President Obama's Wednesday decision to cancel next month's one-on-one meeting with Russian President Vladimir Putin "disappointed" the Russian leader, and potentially dooms further nuclear arms cuts. The immediate cause of this rift is Russia's decision to grant temporary asylum to Edward Snowden, but Obama and Putin have butted heads over arms control, missile defense, Syria, trade, and human rights in the past. Obama will still attend the annual conference of the Group of 20 nations in St. Petersburg on Sept. 5 and 6. [The New York Times]
………………………………………………………………………………
Subscribe to The Week
Escape your echo chamber. Get the facts behind the news, plus analysis from multiple perspectives.
SUBSCRIBE & SAVE
Sign up for The Week's Free Newsletters
From our morning news briefing to a weekly Good News Newsletter, get the best of The Week delivered directly to your inbox.
From our morning news briefing to a weekly Good News Newsletter, get the best of The Week delivered directly to your inbox.
2. DRONE STRIKE KILLS 6 IN YEMEN
A U.S. drone killed at least six suspected al Qaeda militants in Yemen's southeastern province of Maareb on Thursday. The strike follows Yemen's announcement that it foiled a plot by al Qaeda to seize major oil and gas terminals and a provincial capital. The drone killings also come after warnings of potential attacks that pushed the U.S. to shut missions across the Middle East, and the U.S. and Britain to evacuate staff from Yemen. [Reuters]
………………………………………………………………………………
3. JPMORGAN REVEALS IT IS UNDER FEDERAL INVESTIGATION
JPMorgan Chase said Wednesday that it is under federal criminal investigation over selling mortgage securities, potentially making it the largest bank to face criminal sanctions over securitization practices that contributed to the 2008 financial crisis. The bank disclosed in a quarterly securities filing that the Justice Department told JPMorgan in May that prosecutors had "preliminarily concluded" that it violated civil securities laws from 2005 to 2007. [Huffington Post]
………………………………………………………………………………
4. THREE WINNING POWERBALL TICKETS WERE SOLD
Three winning tickets for the Powerball lottery's latest jackpot — $448.4 million — were sold to still-unknown winners, one in Minnesota and two in New Jersey. The winning numbers in Wednesday night's drawing: 05, 25, 30, 58, 59 and Powerball 32. It was the third-largest jackpot in Powerball history. [NPR]
………………………………………………………………………………
5. REBELS CLAIM ATTACK ON ASSAD'S MOTORCADE
Syria's information minister denied rebel claims that they attacked President Bashar al-Assad's convoy as it drove in an affluent, high-security area where the president has a home. Earlier, the militant Liwa al-Islam Brigade said the president's motorcade was hit as it drove to a prayer service to mark the end of Ramadan. [BBC]
………………………………………………………………………………
6. WASHINGTON, OREGON ISSUE AMBER ALERTS FOR 2 MISSING KIDS
Oregon and Washington issued Amber Alerts for 16-year-old Hannah Anderson and her 8-year-old brother Ethan Wednesday as the search expanded for James Lee DiMaggio, who is suspected of abducting the siblings and is wanted in the death of their mother. A friend of Hannah's said that DiMaggio "had a crush" on her. Police are searching for DiMaggio and his blue Nissan Versa. [Associated Press]
………………………………………………………………………………
7. FORT HOOD SHOOTER IS "WORKING TOWARD DEATH PENALTY"
After indications that Fort Hood shooting suspect Maj. Nidal Hasan wants a death sentence, his lawyers filed a motion asking the judge to modify their role on Wednesday. "It becomes clear his goal is to remove impediments or obstacles to the death penalty and is working toward a death penalty," his lead standby attorney told the judge, adding that the strategy "is repugnant to defense counsel and contrary to our professional obligations." The judge called a Thursday recess in response to the motion. [Associated Press]
………………………………………………………………………………
8. WILDFIRE RAVAGES HOMES IN SOUTHERN CALIFORNIA
A quick-moving wildfire exploded and raced through several mountain communities near Palm Springs, Calif., on Wednesday, destroying homes and forcing hundreds of residents to flee. The still-spreading fire burned an estimated 5,000 acres (nearly eight square miles) in four hours. [NBC News]
………………………………………………………………………………
9. NIH MAKES PRIVACY AGREEMENT WITH LACKS FAMILY
Relatives of unknowing cell-donor Henrietta Lacks forged a historic privacy agreement with NIH over genetics studies based on her now-famous "HeLa" cancer cells that were the first to be immortalized in test tubes after she died of cervical cancer in 1951. The cells have become the center of recent debates over genetic privacy. [USA Today]
………………………………………………………………………………
10. SUN'S MAGNETIC FIELD WILL FLIP SOON
Measurements taken from NASA's observatories suggest that the sun's magnetic field is about to flip. This event happens roughly every 11 years and may affect the Earth's climate. "It looks like we're no more than three to four months away from a complete field reversal," solar physicist Todd Hoeksema, director of Stanford University's Wilcox Solar Observatory, said. [CBS News]

Continue reading for free
We hope you're enjoying The Week's refreshingly open-minded journalism.
Subscribed to The Week? Register your account with the same email as your subscription.