Goodbye, Bunheads
The tragically short-lived ABC Family series, which was canceled this week, offered a raft of smart, compelling female perspectives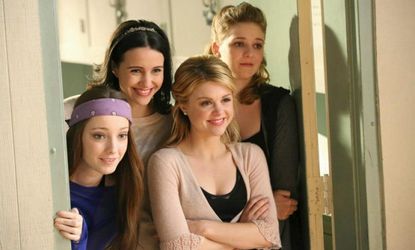 (Image credit: Facebook.com/<a href="Facebook.com/bunheads" target="_blank">bunheads</a>)
Sign up to our 10 Things You Need to Know Today newsletter
A free daily digest of the biggest news stories of the day - and the best features from our website
Thank you for signing up to TheWeek. You will receive a verification email shortly.
There was a problem. Please refresh the page and try again.
On June 11, 2012, Gilmore Girls' sleepy town, Stars Hollow — where the show's devoted fan base had spent seven seasons — quietly returned, in disguise, on ABC Family's Bunheads. Sure, Stars Hollow had moved to the west coast, lured in some surfers, and changed its name to Paradise — but fans knew it was the Hollow through and through. Emily, Gypsy, Kirk, Paris, Digger, Mitchum, and more walked through the sleepy California landscape punctuated by the Sam Phillips sing-song la la-la's that had once followed the Gilmores. Paradise boasted town committees that Taylor Doose would be proud of; snarky servers who'd give Luke a run for his money; a version of Kirk (now called Sabastian) taking his multiple jobs way too seriously; and of course, a strange little dance studio that was one Miss Patty away from full-on Stars Hollow.
To some, Gilmore Girls 2.0 was welcome; similarities to Amy Sherman-Palladino's first television hit were embraced because it meant the long-awaited return of her rapid-fire pop culture dialogue. To others — like me — it was too much of the old, with the shadow of Stars Hollow masking Bunheads' unique potential. But Bunheads slowly evolved over its 18-episode run: The first half of the season earned decent ratings and a return in January, where the show lost viewers as it finally found its magic. Torn between the show's clear potential and dollar signs, ABC Family hemmed and hawed over whether they'd renew the series for a full five months before finally dropping the anvil this week: Bunheads has been canceled.
For all its similarities to Gilmore Girls, Bunheads didn't start with the clear vision that structured Gilmore; instead, it muddled about with a slow, Dollhouse-style shuffle. Early episodes framed the show as an exploration of one woman's wish fulfillment. Michelle (Sutton Foster) is a talented dancer-turned-Vegas showgirl who finally succumbs to the advances of the persistent, weird Hubbell (Alan Ruck) when an audition goes badly. They elope and head to Paradise. Surprisingly, though he barely knows her, Hubbell appears to understand her more than most:
Subscribe to The Week
Escape your echo chamber. Get the facts behind the news, plus analysis from multiple perspectives.
SUBSCRIBE & SAVE
Sign up for The Week's Free Newsletters
From our morning news briefing to a weekly Good News Newsletter, get the best of The Week delivered directly to your inbox.
From our morning news briefing to a weekly Good News Newsletter, get the best of The Week delivered directly to your inbox.
"Maybe you don't trust that anybody's going to understand you, but I do. I know exactly what you want. You want to laugh, and you want to travel, and you want to be surprised, and challenged. You want to live an unexpected life, and I intend to give you exactly that."
Hubbell dies in the pilot, leaving everything to Michelle, but it's his mother Fanny (Emily Bishop) who proves most important. After a rocky start, Fanny quickly comes to understand Michelle as Hubbell did, and unknowingly, carries out her dead son's dreams for his wife. The first episodes act as a ladder leading to the main premise. First, Michelle meets Hubbell, marries him, and meets both Fanny and Paradise; second, she tries to help Fanny mourn; third, she struggles with Paradise's idiosyncrasies; and finally, she helps to organize and strengthen Fanny's Paradise Dance Academy.
The sixth episode, "Movie Truck," was a turning point for the series. Fanny disappears for a vacation, passive-aggressively forcing Michelle to be the dance teacher she's been stubbornly refusing to be. Michelle struggles with the responsibility as she wants to celebrate her birthday, and her charges scheme to sneak into an R-rated horror movie. The real Bunheads was finally revealed: Amid continued aimlessness and existential angst, Michelle finds purpose and clarity through the young girls of the studio: Sasha (Julia Goldani Telles), Boo (Kaitlyn Jenkins), Melanie (Emma Dumont), and Ginny (Bailey Buntain). The younger girls' lack of screen experience might explain their marginalized inclusion in the beginning, but Sherman-Palladino and crew quickly found ways to utilize their talents, making Bunheads what Gilmore Girls could never be: A show about multiple versions of girlhood, rather than one do-gooder — as lovable as she was — working to improve the lives of everyone around her.
Boo's struggles with her body, her passions, and her family made her a surprisingly powerful character: Sweetly innocent and impulsive but with an increasing strength that spurs her to challenge her friends for the love of an awkward boy, help her bed-rested mom, and stand up to the ballet bully who always yells at them. Meanwhile, Ginny's carefully balanced world falls apart as she deals with a crazy mother, the end of an eight-year relationship, and the minefield that is teenage boys. Her self-proclaimed Odd Couple partner Melanie finds the perfect outlet for her daily aggression: Roller derby.
And then there's Sasha, who initially seemed like nothing more than the typical bored, bossy mean-girl wunderkind using her parents' failing marriage as an excuse for her bad behavior. She rants and rebels — but when her parents leave town without her, she waits on Michelle's stoop, seemingly priming the unlikely duo to become Rory and Lorelai 2.0. But armed with her secret superpower of "over-intellectualizing," Sasha did something unexpected: She went out on her own. She researched Martha Stewart and learned how to make a home, cook, and become the perfect party hostess. She leveled out, and to her friends, she became less a bossy jerk and more a voice of blunt reason.
It helped that the show introduced a feminist fairy godmother to help guide them in the form of the world-traveling Cozette (So You Think You Can Dance? winner Jeanine Mason). The girls are angered at the arrival of this too-good-to-be-true new kid who name-drops Julian Schnabel and Annie Leibovitz, offers anecdotes about putting a half-eaten antelope out of its misery, and dances like a pro — but it doesn't stop Cozette from helping them. She simply chooses to kill people with kindness, from leading Melanie to roller derby and renaming her Cleosmacktra, to giving the bunheads Our Bodies, Ourselves when the girls researched sex under Sasha's strict orders.
Everywhere you looked on Bunheads, there were girls and women living clever twists on recognizable tropes — and once Bunheads shed its Gilmore dependency, there was no telling where the story would go. Even the series' lack of diversity seemed to be on the cusp of change. Early on, Shonda Rhimes criticized Bunheads when she noted the sea of white leads, which was a fair call for a dance academy that boasted a number of girls and boys of color in the background, most of whom never utter a word. But RaJahnae Patterson, for one, seemed prime for something more — she didn't get her own character name (she's listed as RaJahnae), but she appeared in half the episodes, gaining a more central spot as the series went on.
By the end of the season, the town of Paradise was close to television paradise. It overflowed with excellent female characters, and it fit precisely into ABC Family's focus on family-friendly fare. It was "the rarest of beasts," as Alyssa Rosenberg wrote at ThinkProgress: "a show children (at least ones old enough for mild sex talk) and adults can actually enjoy together."
The stories stretched from teen angst to thirty-something sister rivalry, and every episode was elevated with a dance sequence that not only embodied the emotions of the episode, but also gave ballet and dance new, modern relevancy, as the girls performed an environmental satire about paper or plastic, and danced to tunes from Tom Waits, Bjork, and They Might Be Giants.
By the blissful season finale "Next!" — which turned out to be the end of the series — Bunheads arrived where it needed to be. Both male and female critics were raving about it and trying to entice original viewers back to the fold, and the series even earned a big tax credit for its possible second season. But it wasn't enough. The title "Next!" morphed from a play on auditions and first sex to a rallying cry for change — if not to bring more episodes of Bunheads, then as a challenge for future shows to be as ambitious, nuanced, and clever with their female characters. Rather than give the show a chance to thrive, and demonstrate a commitment to entertainment that actually cared about having strong female characters, ABC Family ended it after a single season, allowing TV's Girl Hero Curse to kill Paradise, just like it did Angela Chase in My So-Called Life and Lindsay Weir in Freaks and Geeks.
The only salve for this burn: We live in an era where fandom can actually lead to resurrection. Firefly became Serenity, Arrested Development was reborn on Netflix, and Veronica Mars is becoming a feature film. There are already fan outcries like this one, offering petitions and fervent adoration. Even Alyssa Rosenberg made an exception to her no-social-media-campaign stance to urge Netflix, Amazon, or Hulu to revive it. It might be for naught, but even if this is the real end of Bunheads, there's never been a better reason to introduce yourself to Paradise.
Continue reading for free
We hope you're enjoying The Week's refreshingly open-minded journalism.
Subscribed to The Week? Register your account with the same email as your subscription.
Sign up to our 10 Things You Need to Know Today newsletter
A free daily digest of the biggest news stories of the day - and the best features from our website
Monika Bartyzel is a freelance writer and creator of Girls on Film, a weekly look at femme-centric film news and concerns, now appearing at TheWeek.com. Her work has been published on sites including The Atlantic, Movies.com, Moviefone, Collider, and the now-defunct Cinematical, where she was a lead writer and assignment editor.