Girls on Film: Insights from history's greatest female filmmakers
Words of wisdom from Kathryn Bigelow, Jane Campion, Sofia Coppola, and more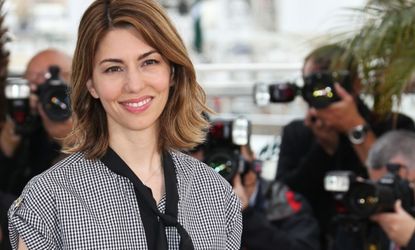 (Image credit: REGIS DUVIGNAU/Reuters/Corbis)
It's sadly illustrative of the continuing struggles of female filmmakers that it took extensive feats of search engine trickery to even find places where female filmmakers have had conversations about their craft. Their insights are often drowned out by an industry dominated by male voices, with gender issues dominating conversations with the few female directors deemed relevant by mainstream media. One begins to understand why Kathryn Bigelow is so against the "female filmmaker" label when sites like Filmmaker IQ — a site dedicated to the craft of filmmaking — offers a "101 Great Filmmaker Quotes" list that includes only one female director, Bigelow herself, talking about how she ignores the "resistance to women making movies."
As Girls on Film has previously discussed, talking about "female filmmakers" is a necessity if we strive to both recognize the talent already out there and encourage new female talent to grow. But talk of balance and feminism cannot override conversations about craft. Directors like Bigelow and Lynne Ramsay (We Need to Talk About Kevin) are not notable because they're women, but because they are filmmakers whose perspectives can expand mainstream discourse. With that in mind, consider the following a starting point: A collection of insights into filmmaking, from filmmakers who should be part of everyday cinema discourse.
On the intersection of art and cinema
Subscribe to The Week
Escape your echo chamber. Get the facts behind the news, plus analysis from multiple perspectives.
SUBSCRIBE & SAVE
Sign up for The Week's Free Newsletters
From our morning news briefing to a weekly Good News Newsletter, get the best of The Week delivered directly to your inbox.
From our morning news briefing to a weekly Good News Newsletter, get the best of The Week delivered directly to your inbox.
"I think I appropriated from those artists a sense of art, if you will, as playing a social role. I began to exercise a lot of cinematic muscle with the precepts I had learned in the New York art world. Film was intriguing. I began to think of art as elitist, whereas film was not. So I got into film and the Holy Grail was making a spectacle with a conscience — something I wouldn't have been able to do without that background." — Kathryn Bigelow (Point Break, Zero Dark Thirty)
On showing, not telling
"A commentator is the enemy of the film art. Enemy! Film art is moving and picture. You must be strong enough so moving and the picture and the sound of the real atmosphere gives the impression of what you want to show, but not to explain." — Leni Riefenstahl (The Triumph of Will, Olympia)
On sound
"Sound is the other picture. When you show people a rough cut without the sound mix they are often really surprised. Sound creates a completely new world. With dialogue, people say a lot of things they don't mean. I like dialogue when it's used in a way when the body language says the complete opposite. But I love great dialogue […] I think expositional dialogue is quite crass and not like real life." — Lynne Ramsay (We Need to Talk About Kevin)
On editing
"In the editing room I can remake a whole story. The script is really a guide, and through it I collect all those scenes and words, and once I've done that I can make it into anything I want. I think that's helping me to appreciate the writing process more for what it is, where it's more fluid — it doesn't ever have to be the be-all and end-all, and I don't have to torture myself. I just have to get into the editing room, and that's where I'll shape it myself." — Ava Duvernay (Middle of Nowhere)
On writing
"You don't really know anything about screenwriting until you get into the process of filmmaking. You can write a perfectly good script, but then a director's going to come along and give you notes and say, 'No, no, no there's no cut here,' […] all the stuff you learn so that you end up knowing what I now know." — Nora Ephron (Sleepless in Seattle, Julie & Julia)
On inspiration
"An idea for a film is, in my opinion, nothing. For me, there must be a sort of illumination of something that will crystallize in me. […] It's a sort of vague question I'm asking myself. […] Normally, I start stupid and the film makes me ask the question more and more intelligently." — Claire Denis (Beau Travail, White Material)
"When people ask me, 'Where does your inspiration come from,' I would say absolutely my first answer is life. You know, by sitting on the bus and looking at people or just walking around. I am always seeing things that kick-start my thinking." — Andrea Arnold (Red Road, Fish Tank)
"I found life can be much more interesting and powerful than fiction […] One thing leads to another. But you have to have tremendous patience and conviction that you're doing something interesting while life just unfolds." —Mira Nair (Monsoon Wedding)
On learning
"One day someone said to me, 'You don't have any wide shots in the film.' And I said, 'Wide shots? What are they?' That comment kind of blew my whole world apart, and I realized that I did not have any idea of what I was up to. So over the next few years I went on a very self-conscious quest to understand film language. I also looked at lots of still photographs, for compositional interest and, you know, to take in what a vision was. You can see that influence, since I don't move the camera all that much." — Jane Campion (The Piano)
"You keep on learning. It doesn't stop. […] I think the minute I stop feeling that I'm going to, you know — stop learning — I would stop being a filmmaker." — Deepa Metha (Midnight's Children, Water)
On character development
"We're so used to, in film, having a protagonist that is essentially sympathetic, and we try not to rock the boat too much around our sympathies for our protagonists, so I think people have become very simplistic in the way they interpret a filmmaker's intentions. I think in the days of Bette Davis and Joan Crawford and Barbara Stanwyck characters, people accepted that you could have a protagonist that was a bit of a mess and a piece of work. Now if there's anything flawed or unlikable about your lead character, it's assumed that you could not possibly have intended that, because it's forbidden in mainstream film now." — Sarah Polley (Away from Her, Take This Waltz)
On theme
"I don't think you catch people's attention with normalcy. Seeing the same world through the eyes of a healthy married woman with three kids might be interesting, but it doesn't catch people's attention. I think the mechanism of shock triggers a more acute sensitivity. You have to put people in a certain frame of mind. I think a filmmaker has to be shrewd. Not in a bad way, not like, 'I'm a shrewd businessman. I can get away with anything.' But in terms of sensitivity, being shrewd means putting people in the right frame of mind. Then you can tell them, 'Come with me on a journey…'" — Agnes Varda (Cleo from 5 to 7)
On filming the body
"To me, it gives the audience a break, especially if you're a woman — to see a woman in a lead role with a body and a face that you can relate to. The window of what makes a woman beautiful seems to get smaller and smaller." — Kelly Reichardt (Wendy and Lucy)
"I love actors who know how to utilize their body as an expressive part of their portrayal, almost like a moving, living sculpture [...] One of the ways that I begin to work with actors often — and even with Anthony Hopkins in Titus — is to find the ideograph of a moment, to reduce a character to its essence, like a Japanese brush painting. In Titus, for instance, there is a theme of hands, and if you watch Hopkins through that film, you'll see how the hand — because he loses his hands in the film — is about power, and how he touches the head of Lavinia, and how his hands and his gestures really are the ideograph of what he's expressing inside, the emotional landscape that is inside." — Julie Taymor (Across the Universe)
"[Close-ups on eyes are] a personal obsession. I love it. When you get that close to a specific part of the face or whatever, it becomes an abstraction, almost like a wide shot. It stops being a close-up. So you have an element of its being very close, but in a strange way, alienating in a good way. It's almost like, we can be talking and I can be looking at your shoe, and it doesn't take away the concentration of the conversation, it just becomes part of it. It gives you that airiness which is usually part of the conversation. For me, it's a way to see the world." — Susanne Bier (In a Better World)
On challenges
"If you have a severe restriction, it's actually tremendously freeing because there is no set of guidelines for doing what you want to do. […] I thought, 'Why do we need to be restricted by the traditional materials of documentary filmmaking?' Especially when you're telling someone's biographical story. Unless someone is a media figure or a famous person, a lot of times you don't have all the pieces that you would like to have, and there has to be some way to bring those pieces to life. I think from that it was a liberating type of lesson." – Jessica Yu (Protagonist, Ping Pong Playa)
On fear
"I would think, 'I can never make this movie. Maybe Ivan [Passer] was right; I'm too old. Maybe I'm too famous.' I was so scared that I would talk to everyone about it. And after a while I began to really hear myself, and hear this person talking about this dream they had, but being too frightened to go after the dream. There came a point where I just thought, 'My god, life is going by so fast, I have to stand up for what I believe in. I can't be so frightened anymore.' I don't want to be some old lady saying, 'I shoulda made that movie, Yentl.'" – Barbra Streisand (Yentl)
"It's the most fun I have in the world, when I'm on set. I feel like, 'Pinch me, I'm dreaming. When is someone going to come around and notice that I've been allowed to do this thing?' I have a strange mix of real, viable confidence and utter — I don't know if the word is insecurity — certainly there's fear." — Adrienne Shelly (Waitress)
Advice for aspiring filmmakers
"Without risks you don't go anywhere, you don't learn anything, and the movies that have been least enjoyable for me have been the ones that have kind of been by rote. Directors should always explore their boundaries — that's where really exciting things happen." — Ellen Kuras (Cinematograher, Director)
"Never give up. If you want to become one, you have to be really, really strong, never give up, because you're going to have so many 'nos.' When I wrote my first screenplay I was 17, but when I directed my first film I was 36. It gives you an idea how long it takes." — Julie Delpy (2 Days in Paris)
"Be conscious of the filmmakers that speak to you. Be shameless about stealing from them. Oddly, your own voice comes out." — Nancy Savoca (Dogfight)
"Most people picture directors as dictators, but as long as you know what you're doing you don't have to be loud." — Sofia Coppola (The Virgin Suicides, The Bling Ring)
Girls on Film is a weekly column focusing on women and cinema. It can be found at TheWeek.com every Friday morning. And be sure to follow the Girls on Film Twitter feed for additional femme-con.

Continue reading for free
We hope you're enjoying The Week's refreshingly open-minded journalism.
Subscribed to The Week? Register your account with the same email as your subscription.