6 chilling revelations from the Cleveland kidnapping ordeal
As details trickle out, the decade of captivity looks predictably awful for Amanda Berry, Gina DeJesus, and Michelle Knight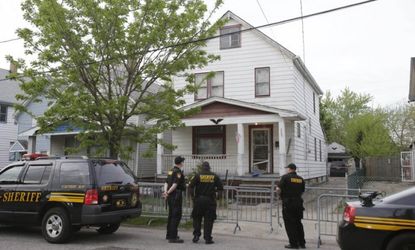 (Image credit: AP Photo/Tony Dejak)
Monday evening's escape/rescue of three abducted Cleveland women, after a decade of captivity, was a too-rare happy ending to three missing-persons cases. The young women — Georgina (Gina) DeJesus, 23, Michelle Knight, 32, and Amanda Berry, 27, plus Berry's 6-year-old daughter — were released from the hospital to their joyous families on Tuesday. "This is not the ending we all thought it would be," said CNN correspondent Martin Savidge. "We know, as reporters, it usually does not turn out this way. And we're thrilled that we're wrong."
"But this is not the ending," says Emily Bazelon at Slate, "and surely little other than the escape will seem happy once the facts begin to flow. That's already clear from the frantic tone of Amanda Berry's voice when she called 911." Police say they're taking it slow with the rescued women, and meticulously searching the home of the lead suspect, Ariel Castro, 52, who was arrested Monday along with brothers Pedro, 54, and Onil, 50.
But while the police are being cautious, the media is uncovering some chilling details of the decade-long abduction and the men allegedly responsible for imprisoning three teenage girls. Here, six new details about the Cleveland abduction nightmare:
Subscribe to The Week
Escape your echo chamber. Get the facts behind the news, plus analysis from multiple perspectives.
SUBSCRIBE & SAVE
Sign up for The Week's Free Newsletters
From our morning news briefing to a weekly Good News Newsletter, get the best of The Week delivered directly to your inbox.
From our morning news briefing to a weekly Good News Newsletter, get the best of The Week delivered directly to your inbox.
1. The three women were reportedly chained, raped, and beaten
The unverified glimpses we are getting of the decade of captivity are predictably grim, with anonymous law enforcement officials saying the women were repeatedly raped, beaten, and kept in chains for a least part of their captivity. Only one child, Berry's, was reported living in the house, but police sources tell Cleveland's NewsChannel5 that the women collectively had at least five miscarriages, with one woman's two or three miscarriages blamed on malnutrition.
Friends and family members say that Ariel Castro didn't generally let anybody into the house, and his son, Anthony, tells Britain's Daily Mail that he had little contact with his father, and that his dad had designated several rooms as off-limits. "The house was always locked," Anthony said. "There were places we could never go. There were locks on the basement. Locks on the attic. Locks on the garage." Anthony's mom moved him and his three sisters out of the house in 1996 after years of violent abuse, the younger Castro says.
2. Neighbors reported naked, leashed girls in Castro's backyard
Police were called to Ariel Castro's house at least twice since he bought the property in 1992 — once for a domestic violence arrest in 1993, and in January 2004, when Castro, a school bus driver until recently, left a child on a bus while he went to have dinner at Wendy's, telling the kid to "lay down." But neighbors say they called the the cops more times than that.
Israel Lugo, who lives two houses down from Castro, says he, his family, and neighbors called the police on Castro three times in 2011 and 2012 — after his sister saw a woman and infant banging on a half-boarded-over window, again after his mom saw Castro unload an unusually large amount of McDonald's food from his school bus to the house, and once more after neighbors across the street saw three men controlling three naked young women on leashes, crawling on all fours in Castro's backyard. Another neighbor, Elsie Cintron, says her daughter witnessed a similar incident, one woman crawling naked in Castro's backyard several years ago, but when she called the police "they didn't take it seriously." Lugo says the police responded to his family's calls, but left when nobody answered the door.
"Everyone in the neighborhood did what they had to do," Lupe Collins tells The Associated Press. "The police didn't do their job."
3. Castro was active in the search for Gina DeJesus
Ariel Castro, "just like everyone else in the tight-knit, mostly Puerto Rican neighborhood, seemed shaken by the 2004 disappearance of Gina DeJesus" and Amanda Berry, say the AP's Thomas J. Sheeran and John Coyne. That seemed only natural, Khalid Samad, a friend of the DeJesus clan, tells the AP. Castro was friends with Felix DeJesus, Gina's father, and played in a band with Tito DeJesus, Gina's uncle. "When we went out to look for Gina, [Castro] helped pass out fliers," says Samad. "You know, he was friends with the family."
Castro also played bass at a benefit in Gina DeJesus' honor. And adding another layer of creepy, Castro appeared at a candlelight vigil for DeJesus a year ago, and had the gall to comfort Gina's mother, according to attendee Antony Quiros.
4. Castro's daughter Arlene and Gina DeJesus were friends
Not only was Castro friendly with Gina's father, but his daughter Arlene was really close to Gina. Arlene was the last person to see Gina before her disappearance, according to a 2005 interview with America's Most Wanted (watch below), on which she was introduced as Gina's "best friend and classmate."
Arlene said she and Gina were walking home from school, en route to play at Gina's house, when Gina lent her 50 cents to call her mom. Arlene's mom said no to spending the afternoon at the DeJesus house, and Gina — now 50 cents shy of a bus fare — started walking home alone.
5. Another one of Ariel Castro's daughters, Emily, is in jail for attempted infanticide
If convicted, Ariel Castro won't be the only member of his family in prison. His daughter Emily is serving 25 years in Indiana for trying to kill her 11-month-old daughter in 2007. Emily, then 19, was apparently distraught after her boyfriend (and the baby's father) moved out. She tried to slit the infant's throat, then her own, and then tried to drown herself in a nearby creek. Court records say that Emily has a long history of manic depression.
6. Ariel Castro was fired in November for leaving his bus
From 1991 until last November, Castro was a bus driver for the Cleveland public school district. He was fired because of a September 2012 incident in which he left his bus unattended for four hours while he went home to "rest." But that was just the last straw. Castro had been suspended at least three times before — for leaving the child on the bus during his Wendy's run, for hanging a U-turn with a full bus in busy traffic in 2009, and for using his bus to go shopping in February 2012.
That last fact is odd because Castro's father reportedly owned an auto dealership and he and his eight siblings reportedly always drove nice cars. "They never drove junk," longtime friend Nelson Roman tells The Cleveland Plain Dealer. Roman says that the other arrested brothers, Pedro and Onil, ruined their health and employment prospects with alcoholism; Pedro lived at his mother's house, subsisting on Social Security, while Onil has been on disability for five years and lived alone. "They were all good kids," Roman adds. "That's why this news is devastating. It's not only horrifying to the families of the kidnapped girls, it's devastating to us, because these brothers were all very good kids who grew up in a very good family."

Continue reading for free
We hope you're enjoying The Week's refreshingly open-minded journalism.
Subscribed to The Week? Register your account with the same email as your subscription.