Reality show drive-by: Ke$ha's My Crazy Beautiful Life
MTV's delightful new docu-series gives us an admirably honest and incredibly compelling look at the real life of a pop superstar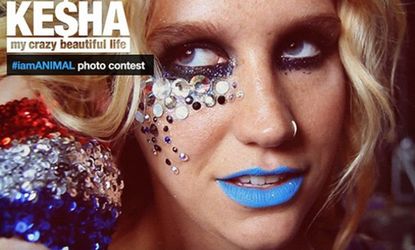 (Image credit: Facebook.com/<a href="https://www.facebook.com/mtvmycrazybeautifullife" target="_blank">MTVMyCrazyBeautifulLife</a>)
Sign up to our 10 Things You Need to Know Today newsletter
A free daily digest of the biggest news stories of the day - and the best features from our website
Thank you for signing up to TheWeek. You will receive a verification email shortly.
There was a problem. Please refresh the page and try again.
Ke$ha's reality show My Crazy Beautiful Life is worth your time, for many reasons. Chief among them: Unlike other wildly successful and famous performers, Ke$ha is actually able to come across as a three-dimensional human when doing the whole "behind-the-scenes" angle on her celebrity. Compare that to Beyoncé's recent and entirely disappointing documentary Life Is But a Dream, in which Queen B came across as a muted, faraway version of a human hidden behind glowy lighting and all-too-flattering producing. She didn't seem like any sort of normal human life form. And, in some respect, that's reasonable. She's Beyoncé. Her life is nothing like anyone's. But when it comes to being a celebrity who flies on private jets and is still relatable as a quasi-"normal," Ke$ha delivers.
Since breaking out with her debut album Animal, Ke$ha has maintained a steady presence in Top 40 radio over the last few years, whether with her own chart-topping songs or those she writes for other pop titans (take Britney Spears' "Till the World Ends"). And whether it's because of the intentionally rough edges in her own music — singing about late nights and chasing boys — or her own, at-times, scrappy look, Ke$ha has never had the same distant quality that many of her peers have. Her story is an impressive one — she rose from poverty before being discovered by pop producer juggernauts Max Martin and Dr. Luke while still a teenager. Suddenly, she was owning the pop charts through her twenties. Her story is amazing, and relatable. That's why she's an absolutely perfect subject for someone to follow around with a camera.
Last night's episode was the second in Ke$ha's new MTV docu-series, and episode 1 had ended with a real cliffhanger. Just as Ke$ha's tour buses were rolling towards the historic Glastonbury Festival for a performance, she completely lost her voice and was unsure of whether it would return in time for the show. She's frustrated and forced to scribble notes to her team on scraps of paper. Meanwhile, her voiceover narration helps set the scene and inform of us a nightmare she's had in which she opens her mouth to begin her Glastonbury performance and nothing comes out. Before she can even shake off the dream, she's faced with a bus breakdown and so much mud at the gloomy, English music festival that not all of her equipment can be brought to the stage. It's a pile-up of setbacks but, with little surprise, she manages to douse herself in what must be several pounds of multi-colored glitter and tear through a rollicking set.
Subscribe to The Week
Escape your echo chamber. Get the facts behind the news, plus analysis from multiple perspectives.
SUBSCRIBE & SAVE
Sign up for The Week's Free Newsletters
From our morning news briefing to a weekly Good News Newsletter, get the best of The Week delivered directly to your inbox.
From our morning news briefing to a weekly Good News Newsletter, get the best of The Week delivered directly to your inbox.
Next up, she conquers the rest of the European leg of her tour in beautifully shot, hazy glory. The oscillation between intimate, sleepy moments on the tour bus and stadiums packed with screaming fans helps convey the manic nature of life on tour for a pop star of her stature. And Ke$ha's brother, journalist Lagan Sebert, is behind the lens, which helps add a certain intimacy that is often lacking when a documentary crew tries to break through the bubble surrounding their subject. The sibling banter here is sweet and familiar, particularly in a moment when she sinks into the car post-performance and, doused in sweat, her hair matted, mouths to him, "Was it okay?"
After tearing through Europe, we settle into a portion of Ke$ha's American tour, which has her landing in L.A. for an extended visit. It's the perfect opportunity to pick up another storyline weaving its way through the episode: Ke$ha wants to get laid. Those familiar with her songs might know that the 26-year-old sings of her healthy sexual appetite and a penchant for beards. In the show, she actually does seem to be like that. Ke$ha points out men with beards to the camera, even if they're just crossing the street nearby. She complains about the difficulty of having her mom on tour, continually sabotaging her attempts at sealing the deal. Ke$ha even finds herself having a heart to heart with the one and only Pauly Shore backstage before a taping of Conan about how difficult it is to hop in the sack with a cute stranger when you're as busy as she is. It's bizarre, to be sure, but delightful nonetheless.
By the episode's end, a bearded (of course) member of her road crew has piqued Ke$ha's interest. First, casual texts are exchanged (Steamy stuff like: "Sup?" "Nothing.") and eventually, a stolen smooch or two at a club. Before long, she claims him as her "tour boyfriend" and the two are canoodling in front of her staff and crew. Ke$ha's excitement is palpable as she relays to her inner circle the details of their first tryst, where he asked her to be the "big spoon" in some post-makeout spooning. It's not far at all from the excitedly gossipy brunches any woman has had with her girlfriends at the start of a promising connection.
That type of openness seems to be typical of Ke$ha, and it's what makes her bizarrely relatable and ferociously normal, even in light of her life. She's sold millions upon millions of albums and can fill a stadium with insane, shrieking fans, but she also appears to actually be a twenty-something enjoying herself and her fortuitous turn. Whether her music is something you enjoy or desperately reach to turn off, it's refreshing to see someone so relatable and engaging at the center of a life so many people wonder about. We should all be glad that Ke$ha has let someone train a camera on her, if only to remind viewers that celebrities are also living, breathing people who want to not suck at their jobs and also, hopefully, make out with a cute boy or two.
More reality show drive-bys...
What Would Ryan Lochte Do?
America's Worst Tattoos
Real Housewives of Orange County
Continue reading for free
We hope you're enjoying The Week's refreshingly open-minded journalism.
Subscribed to The Week? Register your account with the same email as your subscription.
Sign up to our 10 Things You Need to Know Today newsletter
A free daily digest of the biggest news stories of the day - and the best features from our website
Jessica Jardine is from Northern California and has written for The Onion's A.V. Club, FILTER, BUST, Backstage, and Metromix.com. She is also a performer at the Upright Citizens Brigade Theatre in Los Angeles and owns a Calico Persian cat named Beyoncé.