Jesus: The 'original hipster'?
That's the new message from the Catholic diocese of, yup, Brooklyn.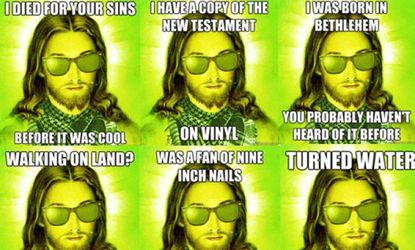 (Image credit: quickmeme.com)
It's a well-documented phenomenon that younger Americans are abandoning organized religion in droves, and that the Roman Catholic Church would be graying alongside its mainline Protestant brethren were it not for immigration. The Diocese of Brooklyn has hit upon a scheme to get the non-immigrant kids back in the pews that's both head-smackingly silly and somehow seemingly inevitable: An ad campaign claiming Jesus Christ was "the original hipster."
It doesn't help that the diocese launched the campaign on April 1 — April Fool's Day. It wasn't until recently, though, that the posters started getting noticed at gyms, bus stops, restaurants, and bars. And it even showed up in that artery of hipsterdom, the L train that shuttles the artfully disheveled between Brooklyn's Williamsburg neighborhood and Manhattan. The most provocative ad is simple: A man in a robe, with red Converse sneakers peeking out:
The main problem with this ad campaign is that while, like pornography, everybody knows a hipster when they see one, nobody really self-identifies as such, making the ad's target audience vanishingly small. But, perhaps to reward the normally staid Catholic Church for trying something new and even daring, the media equivalent of hipsters politely gamed this out.
Subscribe to The Week
Escape your echo chamber. Get the facts behind the news, plus analysis from multiple perspectives.
SUBSCRIBE & SAVE
Sign up for The Week's Free Newsletters
From our morning news briefing to a weekly Good News Newsletter, get the best of The Week delivered directly to your inbox.
From our morning news briefing to a weekly Good News Newsletter, get the best of The Week delivered directly to your inbox.
Maybe Jesus' hipster qualities were revealed in "a really obscure bible verse," says Gawker's Neetzan Zimmerman. "You've probably never heard of it." And obviously, Jesus was "totally into Christianity before it became a religion."
Sure, says Katie McDonough at Salon, and Jesus "was a carpenter, and craftsmanship is big in Brooklyn right now." Not to mention that he famously turned water into wine, "which is very do-it-yourself and kind of locavore-ish, if you think about it." And don't forget the beard. Very hip.
Anna Silman at The New York Observer is mostly confused about what the church is going for here. What's the message? she asks. "The Son of God: He's just like you! He smokes Parliaments! He reads Pitchfork! He rides a fixi!" Sure, the Christian Messiah was grubby and unkempt, but "it's hard to imagine Jesus engaging in his rousing feats of proselytization while still maintaining the requisite nonchalant hipster 'tude."
And hip young observers aren't the only ones agnostic about the ad campaign. The diocese is clearly attempting "culturally engaged evangelization," says Mark Brumley at The Catholic World Report. But "I'm not crazy about a 'Jesus-as-hipster' campaign." It seems like the church is watering down Jesus to avoid offending people, or offering a sort of "Jesus spray" that people will apply lightly, providing "little more than a Jesus-coating of their present lives." If the diocese isn't careful, "we can wind up winning people to a Jesus not worthy of proclaiming in the first place."
So, what is the Brooklyn Diocese thinking? The ads are "geared towards reaching a younger, more diverse demographic by showing the cooler and more welcoming side of the Catholic Church," the diocese says in a press release. Many young people see the church as "archaic and not relevant, nor valuable, to their everyday lives," and the diocese wants them to know they can come as they are.
Every culture represents Jesus as a reflection of itself, and rightly so, says Msgr. Kieran Harrington, the diocesan official who created the campaign with Ruckus Marketing. "Well in Brooklyn, there's a lot of young bohemian type folks." Besides, he tells the New York Daily News, "Why is that an image of Jesus in Converse sneaks so shocking to us?... The Church is countercultural."
This isn't the first time Catholics have reinvented Christ to reach said counterculture. In the 1970s, for example, the Broadway hit Godspell imagined Jesus as a scruffy but handsome hippie type. And hipster isn't such a stretch from there, Brooklyn College religion expert Paul Moses tells the Daily News. "He wasn't ironic, but he was certainly countercultural and spoke the truth no matter what."
As supporting evidence, the diocese points to this April 13 Saturday Night Live segment about young Catholics returning to church because of Pope Francis, with Seth Meyers joking that the reverse exodus is due to the pope's red Chuck Taylors:
Besides, as the old adage goes, there's no such thing as bad publicity. "There's a lot of noise in Brooklyn, lots of people competing for attention," Msgr. Harrington tells the Catholic News Agency. "You have to cut through the noise, and this ad campaign was meant to do that." And it may be working. Since the campaign launched, Harrington says, traffic on the diocese's website has gone up 400 percent.

Continue reading for free
We hope you're enjoying The Week's refreshingly open-minded journalism.
Subscribed to The Week? Register your account with the same email as your subscription.