6 TV characters who returned from the dead
From Murdoc of MacGyver to South Park's Kenny, these characters keep coming back for more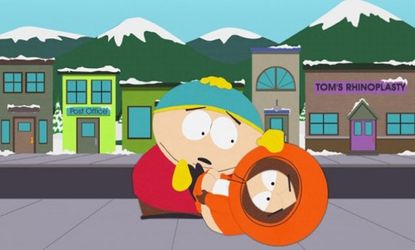 (Image credit: Facebook.com/<a href="https://www.facebook.com/southpark" target="_blank">SouthPark</a>)
Despite being killed off in The Avengers, it looks like fan favorite Agent Phillip Coulson, the S.H.I.E.L.D. suit-and-tie played by Clark Gregg, will be on board for an ABC spinoff series called Agents of S.H.I.E.L.D. It may seem like a jarring move, but any TV-phile knows it won't be the first time that a killed character has mysteriously come back to life. Here, 6 TV characters who returned from the dead:
1. Bobby Ewing from Dallas
Long before Game of Thrones, the insanely popular primetime drama Dallas knew the value of bumping off some of its more famous characters. Patrick Duffy decided he wanted to leave the show towards the end of the eighth season, so the writers constructed a death for his character, Bobby Ewing, in which his jealous sister-in-law runs him over with a car. Duffy said in a recent interview that cast members were crying real tears during the hospital scene in which Bobby delivers his last goodbyes. The producers, however, invited Duffy to return to the show the following season. The writers wrote him back in by pretending that his wife, Pam, had merely dreamed the entire series of events, a closely guarded secret that even the cast didn't know until the show aired.
Subscribe to The Week
Escape your echo chamber. Get the facts behind the news, plus analysis from multiple perspectives.
SUBSCRIBE & SAVE
Sign up for The Week's Free Newsletters
From our morning news briefing to a weekly Good News Newsletter, get the best of The Week delivered directly to your inbox.
From our morning news briefing to a weekly Good News Newsletter, get the best of The Week delivered directly to your inbox.
2. Sara Tancredi from Prison Break
The gripping and edgy FOX drama lost one of its biggest characters in the third season in a really gruesome way. "The Company" kidnaps doctor Sara Tancredi, played by Sarah Wayne Callies, and beheads her. The following season, it was revealed that the severed head, which was placed in a box, was a fake, and that Michael, the doctor's love interest, never actually looked at the head to confirm that it was her. Subsequent interviews with the cast and producers revealed that Callies was pregnant at the time of her faux-death, and that the show couldn't come up with an agreement to shoot around her maternity leave. So the producers just bumped her off.
3. Jaime Sommers from The Six Million Dollar Man
The "Bionic Woman" technically died during the show's second season. Jaime, played by Lindsay Wagner, gets engaged to Steve "The Six Million Dollar Man" Austin, played by Lee Majors. But during a skydiving trip, her parachute gets tangled and she almost dies in the fall. Austin convinces his boss Oscar Goldman, played by Richard Anderson, to give her a bionic operation to save her life, but her body rejects the implants and she dies in the very next episode. The show revived the character at the beginning of the third season by placing her in cryogenic stasis. However, her memories of Steve are lost due to brain damage, and she moves away to work on her recovery, which sets the stage for the character's eponymous spinoff series.
4. Stefano DiMera from Days of Our Lives
Coming back from the dead has become old hat for soap stars, but few have done it with such style and frequency as Stefano DiMera. The character, played by Joseph Mascolo, has been "killed" a total of eight times since he first landed on Days of Our Lives in 1982. His first "death" occurred just two seasons after his debut, when his limousine veered off a cliff and fell into an icy river. Since his body was never found, and he was only presumed to be dead, he returned the following year — only to be shot and left to die in a burning arena. Afterward, the character would return despite being shot, burned, exploded, swept away in a hurricane, and even drained of all of his blood.
5. Murdoc from MacGyver
Actor Michael Des Barres portrayed the arch-nemesis of TV's most resourceful hero, and was adept at finding new ways to cheat death. Murdoc "died" several times over the course of the show, each time screaming out MacGyver's name before meeting his (temporary) demise.
6. Kenny from South Park
TV's undisputed record holder for cheating death goes to the poor kid in the orange parka. Kenny McCormick experienced some kind of grisly death in almost every episode of the first five seasons of South Park, and Stan and Kyle's recurring reaction — "Oh my God! They killed Kenny! You bastards!" — became the show's first certified catchphrase. Then after five seasons, the show's creators Trey Parker and Matt Stone grew tired of finding ways to kill him off, and decided that he should just remain dead instead. They changed their minds the following season, and reintroduced him by having Cartman accidentally drink Kenny's cremated remains and experience sudden flashbacks from Kenny's point-of-view, before bringing him back for good. After 14 seasons, the creators finally explained Kenny's mysterious power, which is actually a curse in which he is killed but never stays dead, and no one around him can remember that he had been killed.

Continue reading for free
We hope you're enjoying The Week's refreshingly open-minded journalism.
Subscribed to The Week? Register your account with the same email as your subscription.