Reality show drive-by: What Would Ryan Lochte Do?
"Being Ryan Lochte is really fun," says Ryan Lochte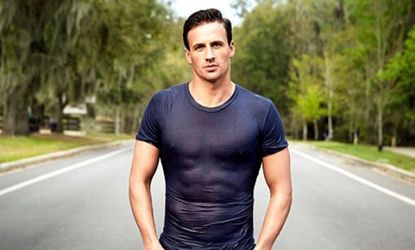 (Image credit: Facebook/<a href="https://www.facebook.com/photo.php?fbid=391140457659738&amp;set=pb.351256578314793.-2207520000.1366638984.&amp;type=3&amp;theater" target="_blank">What Would Ryan Lochte Do)
Professional athletes aren't typically expected to be masters of wit and intellect. But despite those low expectations, Olympic swimmer Ryan Lochte managed to catch everyone by surprise when he started opening his mouth to allow words to come out during interviews at the London 2012 Olympics. What we heard was, to say the least, jaw-dropping. Lochte's astounding physical ability and accomplishments — a total of 11 Olympic medals, five of them gold — nearly became overshadowed by a stream of interviews in which the handsome Floridian would laugh moronically, babble about ill-informed interest in fashion, and fail at stringing together the most basic of sentences.
The public seized on these interviews, and quickly, Lochte's frat-ish demeanor became part of the zeitgeist. Within weeks, the Saturday Night Live season opener had Seth MacFarlane parodying Lochte's mumbling cadence and lack of smarts at the Weekend Update desk. Tumblrs were dedicated to the swimmer's greatest quotes, with gems like "People will always judge you cuz they can't comprehend" and "Water is practically a part of my life."
And now, E! has capitalized on our collective fascination with Lochte by giving him his very own reality show, What Would Ryan Lochte Do?, which premiered last night. The show wisely focuses on Lochte's perceived dummy-ness, and the curiosity that sets in when realizing a celebrated Olympian can also be a twenty-something bro living in Florida who likes talking about expensive shoes, hot chicks, and his baffling catchphrase, "jeah."
Subscribe to The Week
Escape your echo chamber. Get the facts behind the news, plus analysis from multiple perspectives.
SUBSCRIBE & SAVE
Sign up for The Week's Free Newsletters
From our morning news briefing to a weekly Good News Newsletter, get the best of The Week delivered directly to your inbox.
From our morning news briefing to a weekly Good News Newsletter, get the best of The Week delivered directly to your inbox.
For the uninitiated, that last one deserves a moment's pause. It is merely Lochte excitedly shouting out "Yeah!" but with the letter "J" swapped for the letter "Y." That's it. And he's in the process of trademarking it... so you can go ahead and burn all those JEAH T-shirts you were hoping to print up and sell.
Predictably, there's no shortage of "JEAHS!" in What Would Ryan Lochte Do?, though much of the show involves Lochte in interviews losing his train of thought, misusing words throughout daily life, and generally having a blast at whatever he may be doing at any given second. As Ryan Lochte says, "Being Ryan Lochte is really fun."
Set in his hometown of Gainesville, Fla., the show introduces us to Lochte's family and friends, including his 22-year-old brother Devon and grumpy older sisters Kristin and Megan. There's also an enormous gang of fellow hard-bodies, both male and female, who are constantly trailing Lochte wherever he goes and don't mind being called "The Lochterage." For anyone who might like playing half-naked flag football and gulping down tequila shots alongside gorgeous women, this is the awkwardly named entourage for you!
Lochte, of course, balances all the fun-having with that other thing he sometimes gets up to: swimming. There are requisite scenes of him plugging away at 7 a.m. practices. There's also an attempt to showcase Lochte's way with the ladies, which is hard to fully discern. On the one hand, he's a classically handsome, mega-celebrity athlete able to let you try on any one of his five gold medals. On the other hand, he's inept at conversation. Though to be fair, when has that ever created anything more than a slight stumbling block in the world of attractive people hooking up?
There's one truly awkward yet brief date with a pretty blonde Lochte picked up at a bar earlier in the week, which fizzles when he learns she's moving to Los Angeles in a month. It's a shame, too, because they both had a lot to teach each other. She'd never heard of wontons and he liked the fact that she made him laugh "a little." Sigh.
Apparently, there's a long-distance love interest named Jaime who lives in London and sometimes visits. But it's a "rollercoaster," in poor Ryan's words, and he vows he won't strike up a serious relationship with her while there's such distance. This works out well for the show, which aims to follow Ryan as he searches for love in the midst of all his fun-having. While he seems to have no trouble finding beautiful women to engage with, he claims to want a serious relationship and is actively looking for love. In fact, romance is of such a high priority for Lochte that it inspires probably the best scene of the whole show. In a very produced "family time" segment, Ryan and his two sisters are deciding on what movie to watch at home. When Ryan is allowed to cast the deciding vote, it's for the 2000 romantic comedy What Women Want, starring Mel Gibson. He's asked by his sister why it's his favorite movie and he sincerely answers that "if I could read women's minds, I'd be the king of the world."
In much the same way we assume Jessica Simpson signed off on being framed as a blonde ditz on her hugely successful reality show, Lochte is very likely laughing all the way to the bank on WWRLD?. And while the show is hardly more than a montage of goofy scenarios for an outgoing and unabashed goofball to navigate through, it's worth taking a peek at. Because, whether he knows it or not, Lochte's carefree simplicity is a strange mix of endearing and preposterous. The very idea that someone capable of such rare achievement could also blindly stumble his way through nearly every on-camera moment while not simultaneously making himself utterly hatable or pitiable is exactly why it makes perfect sense to have cameras trail him as much as possible.
More reality show drive-bys...
America's Worst Tattoos
The Real Housewives of Orange County
Married to Medicine

Continue reading for free
We hope you're enjoying The Week's refreshingly open-minded journalism.
Subscribed to The Week? Register your account with the same email as your subscription.