10 things you need to know today: April 11, 2013
G-8 leaders discuss how to handle North Korea, PC sales plummet, and more in our roundup of the stories that are making news and driving opinion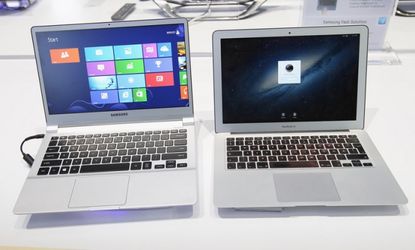 (Image credit: Sean Gallup/Getty Images)
1. JAPAN ASKS G-8 TO SHOW SOLIDARITY ON NORTH KOREA
Top diplomats from the G-8 group of nations are meeting in London on Thursday, and Japan is calling for a show of solidarity against North Korea, following reports that the country's military has moved a mobile missile launcher into a firing position. South Korean officials say the odds are "very high" that the North, which has been threatening nuclear war, is on the verge of launching a missile test. Despite the ongoing threats, however, North Korea has begun welcoming visitors ahead of Monday's celebration of the birthday of Kim Il Sung, the founding father of the country's communist dynasty — the first sign of easing tension in weeks. [Independent, BBC News]
………………………………………………………………………………
Subscribe to The Week
Escape your echo chamber. Get the facts behind the news, plus analysis from multiple perspectives.
SUBSCRIBE & SAVE
Sign up for The Week's Free Newsletters
From our morning news briefing to a weekly Good News Newsletter, get the best of The Week delivered directly to your inbox.
From our morning news briefing to a weekly Good News Newsletter, get the best of The Week delivered directly to your inbox.
2. GEORGIA MAN KILLED WHEN POLICE STORM HOUSE TO FREE HOSTAGES
Police killed a gunman and freed four suburban Atlanta firefighters he allegedly took hostage when they responded to a 911 call from a man who claimed to be having a heart attack on Wednesday. After a standoff that lasted several hours — during which the man let a fifth firefighter leave — a SWAT team used "flash-bang" grenades to distract the gunman and stormed his house. The suspect was shot and killed in an exchange of gunfire, and one officer was wounded. The firefighters sustained cuts and scrapes from the explosions. Police said the gunman had financial troubles, and was demanding that his power, cable TV, and cellphone be turned back on. [CNN]
………………………………………………………………………………
3. TORNADOES HIT MISSOURI AND ARKANSAS
Missouri officials declared a state of emergency Wednesday night after tornadoes and violent thunderstorms destroyed homes and businesses outside St. Louis and across the state. In Arkansas, at least three people were injured, three houses were flattened, and dozens more buildings were damaged by the same storm system. The storms popped up along the line where a cold front smashed into warm, humid air, leaving a 40-degree temperature difference in Arkansas on opposite sides of the boundary — Pine Bluff, in southeastern Arkansas, was at 80 degrees, and Fayetteville, in the northwestern corner, was at 40 degrees, according to Weather.com. [NBC News]
………………………………………………………………………………
4. CARSON CANCELS COMMENCEMENT SPEECH
Dr. Ben Carson, who's enjoying sudden popularity as a conservative speaker, said Wednesday that he's canceling plans to speak at Johns Hopkins University's graduation ceremony because of a controversy over remarks he made recently against gay marriage. Carson said two weeks ago that traditional marriage is a "well-established, fundamental pillar of society, and no group — be they gays... be they people who believe in bestiality" — should be allowed to change how it's defined. Students petitioned to have him removed as commencement speaker. Carson said he was stepping aside so the controversy wouldn't "distract from the true celebratory nature of the day." [Washington Post]
………………………………………………………………………………
5. PC SALES PLUMMET
Sales of personal computers dropped by 14 percent in the first three months of 2013 compared with the same period last year, according to newly released figures from research firm IDC, and some analysts are blaming Microsoft's Windows 8 for the slump. With the economy improving somewhat, analysts had expected a decline of just 7.7 percent. The October release of Microsoft's Windows 8 was also expected to boost PC sales. But the software got a lukewarm reception and appears to have actually hurt sales by confusing PC users, IDC says. [Telegraph]
………………………………………………………………………………
6. JEWELL CONFIRMED AS NEXT INTERIOR SECRETARY
Sally Jewell sailed to confirmation as President Obama's new interior secretary on Wednesday, with an 87 to 11 vote in the Senate. All of the senators who opposed her were Republicans. Jewell, chief executive of outdoor retailer Recreational Equipment Inc., will replace outgoing Ken Salazar as overseer of the nation's 500 million acres of national parks and other public lands, as well as more than a billion acres offshore. One of her first challenges will be finalizing a proposed rule requiring companies drilling for oil and gas on federal lands to disclose chemicals they use in hydraulic fracturing, or "fracking." Energy companies complained that an original draft of the rule placed too many burdens on them. [Boston Globe]
………………………………………………………………………………
7. IN CHINA, SCIENTISTS FIND OLDEST DINOSAUR EMBRYOS EVER
Paleontologists in China have discovered the world's oldest dinosaur embryos, researchers reported in Nature on Wednesday. The fossilized remains were found in a bone bed dating to the Early Jurassic period, making them about 195 million years old. Most known dinosaur embryos date to the Late Cretaceous period, so the find pushes the record back by 100 million years. The researchers believe the newly discovered remains were those of a long-necked, plant-eating dinosaur called Lufengosaurus, which grew to 30 feet. "These things were growing faster than anything we've ever seen — faster than any living mammal or bird today or any known dinosaur," said paleontologist Robert Reisz of the University of Toronto at Mississauga, who led the team that analyzed the specimens. [Nature]
………………………………………………………………………………
8. JAPANESE AUTOMAKERS ANNOUNCE RECALL OVER AIR BAGS
Toyota, Honda, and Nissan are recalling more than 3.4 million vehicles worldwide to fix a problem with their passenger-side air bags. The cars were manufactured between 2000 and 2004, and were fitted with air bags made by Japan's Takata Corp. that have an inflator that could burst, sending plastic pieces flying. No injuries have been reported, but Toyota — which is recalling several models, including the Corolla, Tundra, and Lexus SC — said it had received five reports of air-bag malfunctions. The problems stemmed from two human errors — a worker forgot to turn on a system for spotting defects, and some parts were exposed to too much humidity because they were improperly stored. [CBS News]
………………………………………………………………………………
9. HERMIT ARRESTED AFTER 27 YEARS IN MAINE WOODS
A hermit who lived in the Maine woods for 27 years has been arrested and charged with the latest in a series of more than 1,000 burglaries he allegedly committed to stay alive since disappearing into the wilderness at age 19. Police say they caught Christopher Knight — known as the North Pond Hermit — last week after he tripped a sophisticated surveillance device while breaking into the Pine Tree Camp in Rome, Maine, to take meat and other provisions. Knight, 47, had a tent in the woods, and allegedly routinely pilfered provisions from other campsites and nearby buildings. Police say he confessed to stealing food, clothing, and propane tanks from the Pine Tree Camp 50 times. "He used us like his local Walmart," said facilities manager Harvey Chesley. [Columbus Dispatch]
………………………………………………………………………………
10. CHINA YANKS DJANGO UNCHAINED
China pulled Quentin Tarantino's Django Unchained from movie theaters on Thursday, its opening day. The move was unexpected, as some violent scenes were edited to suit Chinese censors. Authorities gave no explanation for the decision, although workers at two Beijing theaters told The Associated Press the importer, China Film Group, had pulled the film over technical problems. The film was heavily promoted ahead of the scheduled China debut, and no decision has been announced on when it will be cleared to appear in theaters. [New York Times]

Continue reading for free
We hope you're enjoying The Week's refreshingly open-minded journalism.
Subscribed to The Week? Register your account with the same email as your subscription.