Timeline: What does history have in store for Mad Men?
Don Draper is about to experience one of the most chaotic years in U.S. history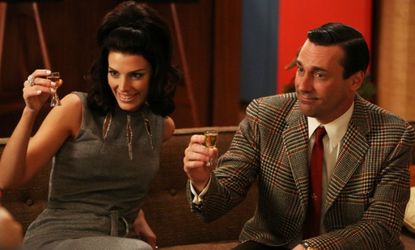 (Image credit: Michael Yarish/AMC)
Matthew Weiner hasn't officially confirmed that season six of Mad Men takes place in 1968. The evidence, however, is pretty strong. Considering that the last season ended in 1967, it seems unlikely that the show would skip one of the most eventful years in U.S. history. So what will the employees of Sterling Cooper Draper Pryce (and Peggy Olson) be facing as they near the end of the '60s?
Vietnam War hits a fever pitch
On Jan. 31, 1968, North Vietnamese and Vietcong forces launch a wave of violent attacks against South Vietnamese and U.S. forces that eventually becomes known as the Tet Offensive. The siege and its bloody aftermath proves to be a major turning point in public opinion; a Gallup poll in March shows that 50 percent of Americans disapprove of President Lyndon B. Johnson's handling of the war.
Subscribe to The Week
Escape your echo chamber. Get the facts behind the news, plus analysis from multiple perspectives.
SUBSCRIBE & SAVE
Sign up for The Week's Free Newsletters
From our morning news briefing to a weekly Good News Newsletter, get the best of The Week delivered directly to your inbox.
From our morning news briefing to a weekly Good News Newsletter, get the best of The Week delivered directly to your inbox.
1968 is also the year that photographer Eddie Adams takes his famous Saigon execution photo, which is used frequently during anti-war demonstrations.
The battle for civil rights rages
In February, black students take over the administration building of Howard University in Washington, D.C., and demand a department of Afro-American history and culture and a black university president. Later, at the 1968 Summer Olympics in Mexico City, medal winners John Carlos (bronze) and Tommie Smith (gold) step up on the podium and raise their fists in a symbol of black pride.
Tragedy strikes twice
On April 4, Martin Luther King, Jr., is shot on the balcony of the Lorraine Motel in Memphis. The riots that follow result in more than 40 deaths in 100 cities. President Johnson declares April 7 a national day of mourning.
A few months later, Robert Kennedy is gunned down in the kitchen of the Ambassador Hotel in Los Angeles after winning the Democratic primary during his presidential bid. Hubert Humphrey goes on to win the Democratic nomination.
Women protest the Miss America pageant
Nearly 400 feminists gather in Atlantic City on Sept. 7 to protest the "ludicrous 'beauty' standards" of the Miss America pageant. The media dubs them "bra-burners," despite the fact that bras, along with "mops, girdles, pots and pans, and Playboy magazines," were thrown into trash cans, and not burned.
Jackie Kennedy becomes Jackie O
"The world in 1968 was an innocent place, still liable to be shocked when celebrities abruptly tumbled from grace," said Peter Conrad of The Guardian, talking about the media's reaction when the widowed Jackie Kennedy married wealthy Greek shipping magnate Aristotle Onassis.
The Beatles release The White Album
John, Paul, George, and Ringo get groovy with Maharishi Mahesh Yogi in India, resulting in the sprawling masterpiece known as The White Album.
Richard Nixon wins a tumultuous election
Nixon, who had lost his first presidential race to John F. Kennedy in 1960, defeats Democrat Hubert Humphrey soundly in the Electoral College but wins the popular vote by a margin of less than 1 percent. Humphrey had endured not only the assassination of his Democratic primary challenger Robert Kennedy, but also the Democratic National Convention in Chicago, during which 589 protesters from all over the country were arrested.
America gets closer to the moon
NASA, in a rush to beat the Russians to the moon, launches Apollo 8 on Dec. 21. On Christmas Eve, Americans watch a live broadcast as Apollo 8 becomes the first spacecraft to orbit the moon and return to Earth. Less than a year later, they will watch Neil Armstrong fulfill John F. Kennedy's dream by walking on the moon after making the trip in Apollo 11.
Several TV institutions are born
Considering that it still draws 13 million viewers a week, it's safe to say that 60 Minutes has been a success. It is one of several long-running shows to premiere in 1968, including Hawaii Five-O (1968–80) and the soap opera One Life to Live (1968-2012).
New York City goes on strike
For nine days in 1968, New York City is filled with the smell of garbage as sanitation workers go on strike. Even more traumatic is the New York City teachers' strike, which puts kids out of school for 36 days and stirs up racial tensions between the city's black and Jewish communities.
2001: A Space Odyssey delights and confuses people
Audiences go wild for a slow-paced film, 2001: A Space Odyssey, about a mysterious black monolith and an evil computer. Apparently moviegoers in 1968 were more sophisticated than we are now. Oh wait, never mind.
Sources: CBS, CNN, The Guardian (2)(3), IMDB, Jewish Daily Forward, LIFE, The New York Times (2), NPR (2), PBS, Rolling Stone, Stanford

Continue reading for free
We hope you're enjoying The Week's refreshingly open-minded journalism.
Subscribed to The Week? Register your account with the same email as your subscription.