6 ways of looking at college hookup culture
According to a new book, casual sex in college is plentiful, mandatory, and unfulfilling, leading to an epidemic of bad sex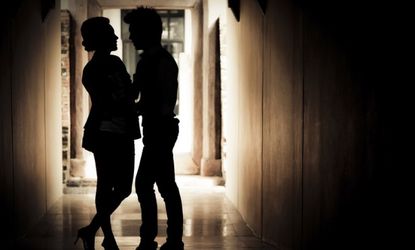 (Image credit: <a href="http://shutr.bz/129Nz8e" target="_blank">Shutterstock</a>)
Colleges these days are hotbeds of casual sexual activity, says Donna Freitas in a new book, The End of Sex. And if that sounds sexy, well it's kind of the opposite. As the rest of her title — How Hookup Culture Is Leaving a Generation Unhappy, Sexually Unfulfilled, and Confused About Intimacy — suggests, Freitas doesn't think much of how college students today are apparently trading intimacy for explicitly no-strings-attached sexual encounters.
It's not that Freitas is against college as a place for sexual experimentation, she says in The Washington Post. But after eight years of on-campus research, talking to more than 1,000 students, faculty members, and university administrators, the religion and sexuality scholar has concluded that hookup sex is so prevalent as to feel almost obligatory, and thus "can be just as oppressive as a mandate for abstinence."
Not everyone agrees with Freitas, of course. Here are six ways of looking at America's collegiate hookup culture:
Subscribe to The Week
Escape your echo chamber. Get the facts behind the news, plus analysis from multiple perspectives.
SUBSCRIBE & SAVE
Sign up for The Week's Free Newsletters
From our morning news briefing to a weekly Good News Newsletter, get the best of The Week delivered directly to your inbox.
From our morning news briefing to a weekly Good News Newsletter, get the best of The Week delivered directly to your inbox.
1. Undergrads should cut down on — or zero out — the sex
"The guiding commandment of hookup culture," says Freitas in The Washington Post, is: "Thou shalt not become attached to your partner." In theory, this should be liberating, allowing "both parties to walk away unscathed" from a sexual encounter. But it ends up being numbing, empty, even boring. "When students are expected to hook up with lots of people, doing so becomes dutiful, not daring," reducing sex to an activity that "has a lot less to do with excitement or attraction than with checking a box on a list of tasks, like homework or laundry." There has to be a better way.
2. The solution to the hookup is promoting better sex
"Freitas' argument is well-researched and well-grounded," says David Masciotra at The Atlantic, "and she is sharp enough to condemn hookup culture on sexual grounds, rather than ethical grounds." Hookups lead to bad sex, and sex shouldn't be tedious. Still, while her indictment is spot-on, her solutions are "rather weak and unpromising." Undergrads won't take dating advice (or rather, advice to date) from their parents, or even professors. No, "pop culture is in the best position to reframe the romantic approach of teenagers and 20-somethings."
3. Hookup culture isn't a problem, but a lack of respect is
Freitas is sticking to her story, but other research suggests that "students on college campuses aren't actually hooking up that much," says Amanda Hess at Slate. Sociologist and hookup-culture researcher Lisa Wade, for example, has found that while most university students "hook up" at some point during college, about a third of college hookups end with kissing, and 80 percent of students who did hook up did so nine times or fewer, total. If "less than 15 percent of college students are engaging in some form of physical contact more than twice a year," it seems "unlikely that the solution is for students to have even less casual sex."
4. Hookups are another form of addiction
Hookup culture is real, but "recent findings suggest that it may exist on a continuum from normal exploration to harmful and even addictive sexual behavior," says psychologist Linda Hatch at Psych Central. And the negative end of the spectrum is worth worrying about. Especially in women, casual sex is linked with regret, depression, and low self-esteem, and "by far the majority of unwanted or non-consensual sex occurred in the context of a hookup."
5. Hookups are empowering
Hanna Rosin and other "researchers who actually bothered to spend time with students on college campuses have discovered that the traditional narratives about the 'hookup culture' have it all wrong," says Amanda Marcotte at Slate. Instead of casual sex being "something imposed by wily young men on young women too dumb to hold out for a ring," it's more often "a strategy young women use to delay commitments that they perceive as obstacles to their personal and career goal."
It's not just Freitas that makes that mistake — college men do, too, says Gigi Dejoy at University of Richmond's The Collegian. And it's infuriating.
6. Let college students make mistakes
Hookup culture is nothing new, nor something particularly American, says Emma Teitel at Canada's Maclean's. The anthropologist Margaret Mead went to the tiny island of Tau, in eastern Samoa, in 1925 to study the teenage girls there, and she found — mostly favorably — that the free-loving Samoans "laugh at stories of romantic love, scoff at fidelity to a long-absent wife or mistress, believe explicitly that one love will quickly cure another." That's not to say that Freitas is wrong: "It's clear from her research that young adults are suffering when they needn't be" from the "harmful and vacuous" hookup culture. But so what?

Continue reading for free
We hope you're enjoying The Week's refreshingly open-minded journalism.
Subscribed to The Week? Register your account with the same email as your subscription.