10 things you need to know today: April 1, 2013
South Korea warns North Korea to back off, senators promise immigration deal, and more in our roundup of the stories that are making news and driving opinion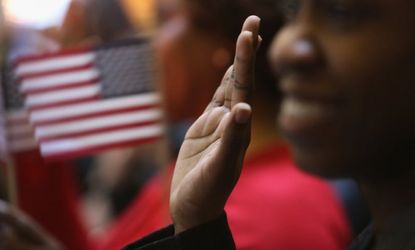 (Image credit: John Moore/Getty Images)
1. SOUTH KOREA WARNS NORTH KOREA OVER WAR THREATS
South Korean President Park Geun-hye warned North Korea to expect a "strong response" to any military provocation after the North declared it was in a "state of war" with the South. As tensions escalated, the U.S. sent stealth fighter jets to South Korea to take part in joint military exercises. North Korea has also threatened to strike the U.S. mainland, which Pyongyang's leaders called a "boiled pumpkin" vulnerable to attack. North Korea, facing increased sanctions for its recent nuclear test, has been threatening nuclear war, but the Pentagon says there's no indication yet "that it's anything more than warmongering rhetoric." [CNN]
………………………………………………………………………………
Subscribe to The Week
Escape your echo chamber. Get the facts behind the news, plus analysis from multiple perspectives.
SUBSCRIBE & SAVE
Sign up for The Week's Free Newsletters
From our morning news briefing to a weekly Good News Newsletter, get the best of The Week delivered directly to your inbox.
From our morning news briefing to a weekly Good News Newsletter, get the best of The Week delivered directly to your inbox.
2. SENATORS PROMISE IMMIGRATION DEAL
Members of a bipartisan group of senators said Sunday that they had reached a tentative deal to overhaul the immigration system, and will unveil it after Congress returns from recess next week. The proposal includes an earned pathway to U.S. citizenship for an estimated 11 million undocumented immigrants, along with bolstered border security. The senators still have to work out the final language in the bill, Sen. Chuck Schumer (D-N.Y.) said on Sunday political talk shows, but "I don't think any of us expect there to be problems." Another key voice in the immigration debate, Sen. Marco Rubio (R-Fla.), said, however, that despite "substantial progress" the negotiations aren't finished. [Reuters]
………………………………………………………………………………
3. TEXAS OFFICIALS GET EXTRA SECURITY AFTER PROSECUTOR'S MURDER
Police near Dallas and in other Texas cities have beefed up security for prosecutors and some other officials after the killing of Kaufman County District Attorney Mike McLelland and his wife, who were found dead in their home on Saturday. "I think district attorneys across Texas are still in a state of shock," Harris County District Attorney Mike Anderson said Sunday, after accepting the Houston sheriff's offer of 24-hour security. The McLellands were killed just two months after another prosecutor in the county was shot to death. Investigators have yet to link the cases, which some suspect were committed by white supremacists in retaliation for a racketeering case. [NBC News]
………………………………………………………………………………
4. THREE DIE IN INTERSTATE 77 PILEUP
Ninety-five cars and trucks crashed Sunday in dense fog near the North Carolina-Virginia state line, killing three people. Another 25 people were injured in the massive pileup in the southbound lanes of Interstate 77. Several of the vehicles caught fire. Traffic backed up for eight miles near Galax, Va., and authorities had to close the highway's northbound lanes so that emergency vehicles could reach the scene. [Associated Press]
………………………………………………………………………………
5. INDIA'S TOP COURT REJECTS KEY DRUG PATENT
India's Supreme Court on Monday rejected Swiss drug-maker Novartis' patent application for Gleevec, a breakthrough cancer drug. The landmark decision will allow other companies, many of them in India, to continue making cheaper, copycat versions of Gleevec and other medicines that are being distributed around the world. Gleevec, which has a miraculous effect on some forms of leukemia, costs up to $70,000 a year, but Indian generic versions cost about $2,500 a year. [New York Times]
………………………………………………………………………………
6. RISING TEMPERATURES INCREASE SEA ICE AROUND ANTARCTICA
Global warming is increasing the amount of sea ice in Antarctica, according to a study released Sunday in the journal Nature Geoscience. Researchers say that water is melting underneath the ice sheets in the summer, then flowing out and refreezing when temperatures drop in the fall and winter. Climate scientists have been intrigued by observations that Antarctic sea ice shows a small expansion of about 1.9 percent per decade since 1985, while sea ice in the Arctic has been shrinking over past decades. [BBC News]
………………………………………………………………………………
7. MAN CRASHES INTO WALMART STORE AND ATTACKS CUSTOMERS
A man hit two other cars with his Oldsmobile Cutlass and rammed into a California Walmart store on Sunday, then began assaulting customers inside, according to police. Four people were injured, one seriously. Customer Sharon Kaye told the San Jose Mercury News that her car was one of the ones the man hit as he drove around the parking lot before crashing into the store. "At first, I thought I may have done something to anger him while driving," she said. "But then I realized he was out to get into the store." [Associated Press]
………………………………………………………………………………
8. SUICIDE BOMBER KILLS NINE AT IRAQI GOVERNMENT COMPLEX
A suicide bomber drove a tanker truck packed with explosives into a government compound in the Iraqi city of Tikrit on Monday, killing at least nine people, seven of them police officers. Nobody immediately claimed responsibility, but Sunni Muslim insurgents tied to al Qaeda have been stepping up attacks in the region, north of Baghdad, in a bid to destabilize the Shiite-led government. Tikrit was once the home of the country's executed former president, Saddam Hussein. [Reuters]
………………………………………………………………………………
9. TECH GIANTS PLAY APRIL FOOLS PRANKS
Twitter announced Sunday that it was launching a consonant-only microblogging service — "Twttr" — for users who think vowels are clogging up their tweets. The company announced the April Fools' Day joke by tweeting, "Trd th nw Twttr yt? Mr tm fr mr twts!" (Translation, says USA Today: Tried the new Twttr yet? More time for more tweets). Google also got in on the fun, announcing that it was shutting down YouTube and selecting the best viral video ever. "'Gangnam Style' has the same chance of winning as a video with 40 views of a man feeding bread to a duck," YouTube CEO Salar Kamangar said. [USA Today, Chicago Tribune]
………………………………………………………………………………
10. BASKETBALL PLAYER HAS SURGERY AFTER GRUESOME LEG INJURY
University of Louisville basketball player Kevin Ware underwent surgery on Sunday after suffering a horrific injury during his team's victory over Duke in the Midwest Regional final of the NCAA tournament. Ware jumped up in an attempt to block a Duke player's shot, and landed awkwardly, snapping his right leg and leaving part of the broken bone protruding through his skin. The injury temporarily halted play, and left several Louisville players weeping, but, at Ware's urging, the team went on to win and advance to the Final Four. "The bone's 6 inches out of his leg and all he's yelling is, 'Win the game, win the game,'" Louisville coach Rick Pitino said after the game. "Pretty special young man." [ABC News]

Continue reading for free
We hope you're enjoying The Week's refreshingly open-minded journalism.
Subscribed to The Week? Register your account with the same email as your subscription.