The weirdest injuries in baseball history
Joel Peralta strained a neck muscle while pursuing a delicious sandwich. And Clarence "Climax" Blethen literally bit himself in the butt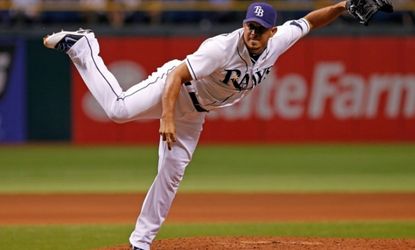 (Image credit: J. Meric/Getty Images)
Who among us hasn't strained a neck muscle by leaping eagerly from a Camaro while in pursuit of tasty sandwiches?
That's the freak injury that sidelined Tampa Bay Rays pitcher Joel Peralta earlier this week. The good news for Peralta is that he's not expected to miss much time and the sandwiches were, reportedly, quite tasty.
Peralta is hardly the only major leaguer to suffer a dumbfounding, non-baseball-related injury. In fact, the game's history is littered with players who injured themselves in the weirdest, most unbelievable ways.
Subscribe to The Week
Escape your echo chamber. Get the facts behind the news, plus analysis from multiple perspectives.
SUBSCRIBE & SAVE
Sign up for The Week's Free Newsletters
From our morning news briefing to a weekly Good News Newsletter, get the best of The Week delivered directly to your inbox.
From our morning news briefing to a weekly Good News Newsletter, get the best of The Week delivered directly to your inbox.
Counting Peralta, there have already been at least four such injuries this year, and we're only one week into spring training.
Channeling Plaxico Burress, Red Sox prospect Bryce Brentz shot himself in the leg while cleaning a handgun; free agent starter Carl Pavano ruptured his spleen while shoveling snow; and in Pittsburgh, newly acquired pitcher Francisco Liriano finally revealed this month that he's been rehabbing a broken arm since Christmas. The cause of that injury? Liriano was pounding on a door in an attempt to scare his kids.
Prior spring trainings have also produced a long list of infamous injuries. For example, Yankees hurler Joba Chamberlain dislocated his ankle while playing on a trampoline with his son last spring.
But perhaps no freak injury in recent times is more memorable than Jeff Kent's pre-season debacle in 2003. The slugging second baseman broke his wrist attempting wheelies on his motorcycle — something expressly forbidden in his contract. Kent cemented that injury's legacy by initially trying to cover for himself with the even-more-ridiculous explanation that he fell while washing his truck.
And don't forget about Kevin Mitchell, who missed the start of spring training in 1990 because he hurt his teeth trying to eat a microwaved doughnut. Debate still lingers as to whether he chipped a tooth on the nuked confection or if hot sugar seeped into his fillings, prompting an emergency root canal.
Of course, strange injuries aren't limited to the preseason. Mitchell once strained a rib muscle mid-season while vomiting. Sammy Sosa did him one better, sneezing so hard it resulted in back spasms and a trip to the DL.
Rickey Henderson once got frostbite — in August. Henderson fell asleep with an ice pack on his foot, resulting in nerve damage and a three-game absence from the lineup. On the other side of the heat spectrum is Marty Cordova, who, not content with the amount of sun he caught patrolling the outfield, fell asleep in a tanning bed and burned himself.
In the same league as those two are flamethrower Joel Zumaya, who strained his forearm rocking out to Guitar Hero, and Steve Sparks, a pitcher who dislocated his shoulder trying to rip a phone book in half to re-create a motivational speech he'd witnessed. Then there's Clint Barmes, whose excellent 2005 campaign had him in line to win the Rookie of the Year award. That is, until he injured his collarbone hauling deer meat that teammate Todd Helton had given him.
Rest is a standard prescription for injuries, but for some players, even sleep has proven a formidable foe. In 1990, noted arachnaphobe Glenallen Hill injured himself while running from a nightmare in which he was being chased by spiders, only to wake up in a real-life nightmare in which he shattered a glass table and fell down the stairs. One year earlier, Chris Brown, whose sole baseball legacy is his string of strange afflictions, missed one game after he claimed to have "slept on his eye wrong."
And lest you think freak injuries are a relatively new phenomenon, such accidents reportedly date back to the game's early days. 1920s pitcher Clarence "Climax" Blethen used to tuck his false teeth in his back pocket during games, thinking his toothless face would intimidate batters. As history has it, Blethen once forgot that he'd stowed his dentures and, when sliding into second base, bit himself in the butt.
So yes, Peralta's sandwich strain is ridiculous, but it's hardly without precedent. Given the way the current season has begun, it wouldn't be surprising if someone gets bitten by a giraffe or hits the DL for two weeks with brain freeze.

Continue reading for free
We hope you're enjoying The Week's refreshingly open-minded journalism.
Subscribed to The Week? Register your account with the same email as your subscription.