WATCH: The 6 most memorable moments from the Screen Actors Guild Awards
Miss last night's ceremony? Check out the buzziest, strangest, funniest, and most touching moments right here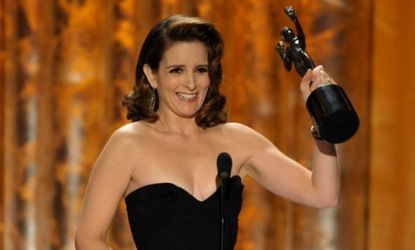 (Image credit: John Shearer/Invision/AP)
If the Golden Globes are an appetizer before the entree known as the Academy Awards, the Screen Actors Guild Awards (which aired last night on TBS and TNT) is something like the palate cleanser that comes between courses. Relatively unheralded and unpretentious, the SAG Awards are actors' love letters to themselves, as they honor their peers' performances in both film and television. But even if the ceremony is smaller in scale than the Oscars and Globes, it comes packed with just as many buzz-worthy moments. What were the most memorable from last night? Read on:
1. Sofia Vergara says "huge boobs" made her an actor
An annual highlight/lowlight of the SAG Awards is the traditional "I am an actor" segment, in which performers provide testimonials as to why they got into the field. This year, Modern Family star Sofia Vergara's explanation proved to be the most memorable. "I grew up in Barranquilla, Colombia, in a very traditional Catholic home," said Vergara. "My father told me that if I ever did anything artistic, I was going to look like a hooker. I told him, 'With these huge boobs I inherited from your mother, I already look like a hooker." (Vergara shows up around the 3:10 mark below.)
Subscribe to The Week
Escape your echo chamber. Get the facts behind the news, plus analysis from multiple perspectives.
SUBSCRIBE & SAVE
Sign up for The Week's Free Newsletters
From our morning news briefing to a weekly Good News Newsletter, get the best of The Week delivered directly to your inbox.
From our morning news briefing to a weekly Good News Newsletter, get the best of The Week delivered directly to your inbox.
2. Tina Fey wins, plugs 30 Rock finale
The Screen Actors Guild didn't let 30 Rock end its final season empty-handed, giving trophies to both Alec Baldwin and Tina Fey, who delivered a funny, breathless acceptance speech that took a good-natured jab at one of 30 Rock's sitcom rivals. "Our finale is on this Thursday at 8. Up against The Big Bang Theory," said Fey, pouting. "Just tape The Big Bang Theory for once, for crying out loud."
3. Jennifer Lawrence pays tribute to David O. Russell
After winning Best Actress in a Motion Picture for her performance as a troubled young woman in Silver Linings Playbook, Jennifer Lawrence paid tribute to the film's director, David O. Russell, whose son has a history of mental illness. "I want to thank David. You made a movie for your son, so that he wouldn't feel alone and that he could feel understood. And I think I can speak on behalf of most of us in saying you've helped more than your son. You've helped so many sons and daughters, and husbands, wives, everybody."
4. Daniel Day-Lewis discusses bringing Abe Lincoln "back to life"
As he accepted the trophy for Best Actor in a Motion Picture for Lincoln, Daniel Day-Lewis explained why he decided to take the role. "When I was prowling around the idea and wondering whether I could take the risk of doing it, for some reason, the guiding principle of the Hippocratic Oath kept nagging at me: First, do no harm," said Day-Lewis. "With that modest but important ambition, I set out. And then it occurred to me that it was an actor that murdered Abraham Lincoln, and therefore somehow it's only fitting that every now and then an actor tries to bring him back to life again."
5. Dick Van Dyke delivers humble Lifetime Achievement Award speech
As he accepted a Lifetime Achievement Award for an acting career that has spanned nearly 70 years, octogenarian Dick Van Dyke delivered a charming speech with a couple of minor flubs, as he called Alec Baldwin "Tony Bennett" and forgot his newly acquired Lifetime Achievement trophy as he left the stage. But the humble Van Dyke spent the rest of his speech praising his peers. "I'm looking at the greatest generation of actors in the history of acting," said Van Dyke. "You've all lifted the art to another place now. And besides that, you're everywhere. You're in Darfur, Somalia, Haiti, New Orleans. You're all over the place, trying to do what's right. […] If this very heavy object here means that I can refer to you as my peers, I'm a happy man."
6. Argo wins Outstanding Cast in a Motion Picture
The night's biggest shocker was Argo's out-of-nowhere win for Best Ensemble Cast in a Motion Picture, which makes it a frontrunner in an Oscar race that some said it had already lost when Ben Affleck failed to garner a Best Director nomination earlier this month. A grateful Affleck accepted the award on behalf of Argo's cast. "First I want to thank my wife, who I love, and our kids, who I also love… you know, and Warner Brothers, who I love. Not quite as much, but I do love them," said Affleck.

Continue reading for free
We hope you're enjoying The Week's refreshingly open-minded journalism.
Subscribed to The Week? Register your account with the same email as your subscription.