10 things you need to know today: January 26, 2013
A court rules recess appointments unconstitutional, new home sales decline, and more in our roundup of the stories that are making news and driving opinion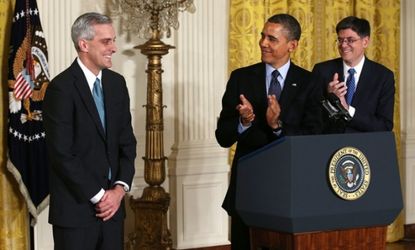 (Image credit: Alex Wong/Getty Images)
1. COURT: OBAMA'S RECESS APPOINTMENTS ARE UNCONSTITUTIONAL
The U.S. Court of Appeals for the D.C. circuit ruled on Friday that President Obama's bypassing of the Senate to fill vacancies on a labor relations panel last year was unconstitutional. The unanimous decision is considered an embarrassing setback for the president, who made the recess appointments after months of sparring with Senate Republicans, who repeatedly blocked his appointments. The ruling is likely to have lasting negative effects for the Obama administration, as it's likely that it could invalidate all the rulings the National Labor Relations Board has made since the appointments, and could also call into question the recess appointment of Richard Cordray to the Consumer Financial Protections Bureau. [CBS News]
………………………………………………………………………………
Subscribe to The Week
Escape your echo chamber. Get the facts behind the news, plus analysis from multiple perspectives.
SUBSCRIBE & SAVE
Sign up for The Week's Free Newsletters
From our morning news briefing to a weekly Good News Newsletter, get the best of The Week delivered directly to your inbox.
From our morning news briefing to a weekly Good News Newsletter, get the best of The Week delivered directly to your inbox.
2. VIOLENCE ERUPTS IN EGYPT ON PROTEST ANNIVERSARY
On the two-year anniversary of the protests that overthrew Egyptian President Hosni Mubarak, Egyptians again took to the streets to protest their newest president, Mohamed Morsi. Thousands of people gathered in Cairo's Tahrir Square, the iconic location of the first uprising, to protest Morsi and the Islamists, who they believe hijacked the revolution for their own gain. The protests turned violent, and five people were shot dead in the Egyptian city of Suez. Another 280 civilians and 55 security personnel were injured. [Reuters]
………………………………………………………………………………
3. OBAMA NAMES MCDONOUGH NEW CHIEF OF STAFF
President Obama named national security adviser Denis McDonough his chief of staff on Friday. A longtime ally of Obama's, McDonough is known for his polite manners and his long work hours. "I've been counting on Denis for nearly a decade," Obama said Friday. "On my presidential campaign, on my transition team. He has been an indispensable member of my national security team as well." [USA Today]
………………………………………………………………………………
4. S&P 500 EXTENDS WINNING STREAK
The Standard & Poor's 500 made gains again Friday, as encouraging earnings reports continued to roll in, helping the big-stock index post an eighth straight day of gains, its longest winning streak since 2004. The S&P 500 has already gained 5.4 percent this year. [Reuters]
………………………………………………………………………………
5. FLU PREVALENT IN 49 STATES, BUT LEVELING OFF
According to the Centers for Disease Control and Prevention, while the flu is still prevalent in 49 states — Maine being the exception — cases of the illness seems to be leveling off nationally. In the South, Southeast, New England, and Midwest, the number of people visiting doctors after showing flu-like illnesses is declining. That number is rising in the Southwest and the Northwest. This year's flu season got off to an early start, ramping up in late December, almost a month earlier than usual, according to CDC Director Thomas Frieden. The flu strains circulating in the U.S. also appear to be causing more severe illness, especially compared with last year's mild season. [USA Today]
………………………………………………………………………………
6. AT&T BUYS WIRELESS SPECTRUM TO MEET SMARTPHONE DEMAND
AT&T said Friday it had agreed to buy wireless airwaves from Verizon Wireless for $1.9 billion. As part of the deal, which is expected to close in the second half of 2013, AT&T will give up spectrum licenses in a few Western markets, but it will gain licenses covering 42 million people in 18 states. AT&T needs the extra capacity to deliver high-speed wireless services to its growing base of smartphone and tablet customers. It tried to solve the problem by buying T-Mobile USA for $39 billion, but that deal fell apart in late 2011 due to regulatory opposition. [CNET, Reuters]
………………………………………………………………………………
7. FORMER CIA AGENT SENTENCED TO PRISON IN LEAK CASE
Ex-CIA officer John Kiriakou became the first CIA agent to face prison when he was sentenced to 30 months on Friday for disclosing the name of a former operative to a reporter. Kiriakou pleaded guilty in October to leaking the name of an operative who had been involved in the Bush administration's interrogation of detainees. The case is the first time someone has been tried successfully under the Intelligence Identities Protection Act in 27 years. Since 2009, the Obama administration has charged five other current or former government officials with leaking classified information, more than all previous administrations combined. [New York Times]
………………………………………………………………………………
8. NEW HOME SALES DECLINE
New home sales fell by 7.8 percent in December. The decline was worse than experts expected, but 2012 as a whole was still the best year since 2009. In recent months, the real estate market has been showing signs of recovery from the bursting of the housing bubble more than five years ago. The improvement has been credited to several factors, including historically low mortgage rates and declining unemployment. Also, home prices have started to rebound, prompting people who were waiting for the market to hit bottom to go out and buy. [CNN]
………………………………………………………………………………
9. 15,000 CROCODILES ESCAPE FROM SOUTH AFRICAN FARM
Owners of a crocodile farm in Johannesburg, fearing that rising waters from the adjacent Limpopo River would crush the walls of their farm, opened their gates, and 15,000 of the reptiles got free. About half of the crocodiles, found in the brush and orange groves that line the Limpopo, were captured, but the rest are still on the loose. "There used to be only a few crocodiles in the Limpopo River," Zane Langman, whose father-in-law runs the Rakwena Crocodile Farm, told a local newspaper. "Now there are a lot." Recent flooding due to driving rain has killed 10 people in South Africa's Limpopo province. [New York Times]
………………………………………………………………………………
10. COACHELLA LINEUP FEATURES BLUR, RED HOT CHILI PEPPERS, BUT NO ROLLING STONES
Organizers of the mega-festival that is the Coachella Valley Music and Arts Festival unexpectedly announced their long-anticipated 2013 lineup late Thursday night. The Indio, Calif., festival will prominently feature alt-rockers the Red Hot Chili Peppers and Britpop favorite Blur alongside Phoenix, the Wu-Tang Clan, and a reunited Stone Roses, among many other acts. Notably missing from the lineup, however, were the Rolling Stones, who were widely expected to headline the festival after their iPhone app "accidentally" listed Coachella on their tour schedule in December. [Los Angeles Times]

Continue reading for free
We hope you're enjoying The Week's refreshingly open-minded journalism.
Subscribed to The Week? Register your account with the same email as your subscription.