The 6 best Onion parodies of Joe Biden
The gaffe-prone veep has long been the butt of The Onion's jokes. Here's a look at some of the satirical newspaper's best work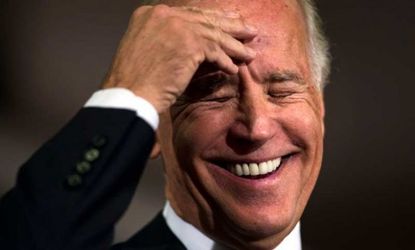 (Image credit: AP Photo/Matt Rourke)
Vice President Joe Biden's — shall we say, charismatic — personality has given The Onion quite a lot of fodder to fill its pages. Over the years, the satirical paper has painted a hilarious portrait of Biden as a cheap-beer-swilling, guitar-shredding, lady-killing, unpredictable vice president who often reminisces about his sexual exploits and wears a ponytail. Today, to commemorate more than four years of freewheelin' coverage of good ol' Uncle Joe, The Onion released The President of Vice, an e-book "autobiography" of Biden, in the Kindle Singles store on Amazon. The New York Times published a short excerpt:
Thirsty for more? Here's a look back at six of The Onion's best Joe Biden parodies:
1. "Biden Receives Lifetime Ban From Dave & Buster's"
Subscribe to The Week
Escape your echo chamber. Get the facts behind the news, plus analysis from multiple perspectives.
SUBSCRIBE & SAVE
Sign up for The Week's Free Newsletters
From our morning news briefing to a weekly Good News Newsletter, get the best of The Week delivered directly to your inbox.
From our morning news briefing to a weekly Good News Newsletter, get the best of The Week delivered directly to your inbox.
Choice quote: "According to other Dave & Buster's employees, Biden has not historically respected the bans that have been placed on him. After he was barred from the Tempe, Ariz., location in 2007, the former senator would reportedly do burnouts in the parking lot with his Trans Am while waiting to pick up a waitress employed there at the time, a woman identified only as 'Candi.'"
2. "Biden Says Life Better Than It Was 4 Years Ago But Nothing Can Touch Summer Of '87"
Choice quote: "Dressed in a slightly ripped Lynyrd Skynyrd T-shirt, Biden tapped the top of an Icehouse tallboy, cracked it open, and then informed the 20,000 people in attendance that while the economy is no longer hemorrhaging jobs as it was in 2008, nothing, 'not even that little trip I took to Thailand in '92,' could ever live up to the unforgettable months of June through August 1987, when 'the skirts were short, the brews were cold, and you couldn't walk 2 feet without stepping into some grade-A tang.'"
3. "Shirtless Biden Washes Trans Am In White House Driveway"
Choice quote: "Taking advantage of the warm spring weather Monday, Vice President Joe Biden parked his 1981 Trans Am in the White House driveway, removed his undershirt, and spent a leisurely afternoon washing the muscle car and drinking beer. 'This baby just needs a little scrub down,' said Biden, addressing a tour group as he tucked the sweat-covered top into the belt loop of his cutoff jean shorts. 'Gotta get her looking good so I can impress the chicks when I'm cruising down Pennsylvania [Avenue].' White House aides said that Biden pulled into the driveway shortly before noon, the chorus of Night Ranger's '(You Can Still) Rock In America' blaring from his car's stereo."
4. "Joe Biden Hitchhikes To Democratic National Convention"
Choice quote: "According to highway sources, Biden, an avid hitcher throughout his 39-year political career, could be seen throughout much of the day perched on the southbound shoulder of I-85, wearing a Marlboro windbreaker and aviator sunglasses as he waved a handwritten cardboard 'Goin' My Way?' sign. 'Man I love just getting out here, throwing a thumb into the wind, and seeing who has the cojones to pull over,' said the vice president, flashing a disarming smile."
5. "Biden To Cool His Heels In Mexico For A While"
Choice quote: "'Things got pretty hairy there for a minute, but I been through rougher shit than this by a mile,' said Biden, whose voice suddenly dropped to a whisper as he glanced over his shoulder at passing cantina-goers. 'Plus, Raúl owes me big time, so he's letting me crash on his couch until I can figure out an angle on this. I just need to ride things out until the dust settles.'"
6. "Biden To Honor Fallen Soldiers By Jumping Motorcycle Over Vietnam Memorial"
Choice quote: "'There's no better way to pay homage to our fallen brothers than by letting it rip, hitting that ramp at full fucking blast, and flying through the sky high above the Vietnam Memorial,' said Biden, noting that he also plans to execute a midair salute by placing his fingers around his mouth in a V shape and rapidly flicking his tongue. 'If I grease the landing and ragdoll across the Constitution Gardens, so be it. I've had my share of spills.'"

Continue reading for free
We hope you're enjoying The Week's refreshingly open-minded journalism.
Subscribed to The Week? Register your account with the same email as your subscription.