10 things you need to know today: January 17, 2013
Obama announces his gun-control push, Notre Dame star Te'o says he was duped, and more in our roundup of the stories that are making news and driving opinion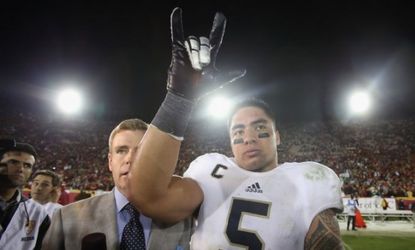 (Image credit: Jeff Gross/Getty Images)
1. OBAMA UNVEILS BROAD GUN-CONTROL PROPOSALS
President Obama on Wednesday unveiled a wide range of measures designed to curb gun violence in response to last month's massacre at Sandy Hook Elementary School in Newtown, Conn., where 20 first-graders and six adults were killed by a gunman armed with a semi-automatic rifle. Obama called on Congress to approve a new ban on assault rifles to replace one that expired years ago, and to outlaw the kind of high-capacity magazines used in Newtown and other recent mass shootings. Obama also used 23 separate executive actions to put other measures into effect immediately, ordering expanded background checks for gun purchases, promoting research on gun violence, and providing training in dealing with "active shooter situations." Gun-rights activists and House Republicans, however, said some of Obama's main proposals, including the assault-rifle ban, trampled the Second Amendment and would never pass Congress. [NBC News]
………………………………………………………………………………
Subscribe to The Week
Escape your echo chamber. Get the facts behind the news, plus analysis from multiple perspectives.
SUBSCRIBE & SAVE
Sign up for The Week's Free Newsletters
From our morning news briefing to a weekly Good News Newsletter, get the best of The Week delivered directly to your inbox.
From our morning news briefing to a weekly Good News Newsletter, get the best of The Week delivered directly to your inbox.
2. ISLAMISTS TAKE U.S., OTHER FOREIGN HOSTAGES IN ALGERIA
Islamist militants seized a natural-gas plant in Algeria on Wednesday and took more than 20 foreign hostages, including as many as seven Americans. Algerian officials said the attackers claimed they were retaliating for France's intervention against al-Qaeda-linked rebels in neighboring Mali. Algerian authorities said they weren't sure of the exact number of captives, although they believed they included people from the U.S., the U.K., France, Norway, and Japan. One British national reportedly was killed as the attackers surrounded the compound and seized it. Algerian troops have surrounded the facility, but the gunmen let a hostage speak to reporters on Thursday to warn they would blow up the site if rescuers stormed it. [New York Times, Reuters]
………………………………………………………………………………
3. EUROPE, FAA GROUND DREAMLINERS
European regulators on Thursday grounded all Boeing 787 Dreamliners, following the lead of the Federal Aviation Administration, which ordered all of the $207 million aircraft taken out of service on Wednesday until airlines could show their batteries were safe. The moves came after a series of mishaps involving Boeing's newest line of jumbo jets, the latest of which came early Wednesday when an All Nippon Airways pilot had to make an emergency landing after instruments warned of battery trouble and smoke. All Nippon Airways and Japan Airlines have temporarily pulled their Dreamliners out of service, too. [Los Angeles Times]
………………………………………………………………………………
4. FRANCE INTENSIFIES INTERVENTION IN MALI
France is stepping up its effort to weaken al-Qaeda-linked Islamist rebels in Mali, continuing airstrikes, deploying more troops, and dispatching special operations forces to help Malian soldiers retake a town, Diabaly, that the insurgents took on Monday. French officials said a coalition of troops from Mali's West African neighbors would arrive within 10 days to give Mali's army more help. One fighter with al Qaeda in the Islamic Maghreb, which has driven the army out of northern Mali, said France and the Malian army were in for a drawn-out guerrilla war. "Even if they come at us with nuclear bombs, we will defend the terrain," said the fighter, Omar Hamaha. "This is going to be worse than Afghanistan!" [Wall Street Journal]
………………………………………………………………………………
5. U.S. SEEKS HELP SECURING SYRIA'S CHEMICAL WEAPONS
As Syria's civil war drags on, the Obama administration and other Western governments have quietly begun training forces in neighboring Jordan and Turkey to use chemical gear and detection gear so they can rush in to secure Syrian nerve-gas depots if needed, U.S. and Western officials said this week. The U.S. has arranged to ship thousands of chemical protective suits and other equipment to Jordan and Turkey in a bid to get them to take the lead in making sure that the dangerous poisons don't fall into the hands of Islamist rebels if the Syrian military collapses. [NBC News]
………………………………………………………………………………
6. AURORA MOVIE THEATER REOPENS
The Aurora, Colo., movie theater where a gunman killed 12 people and wounded nearly 60 others in July is reopening on Thursday. The cinema has been renamed, from the Century 16 to the Century Aurora. It has been remodeled and cleansed of blood stains, bullet holes, and all other traces of the attack, which happened during a midnight showing of The Dark Knight Rises. The decision to reopen came after local officials surveyed members of the community about what to do with the movie theater. Some victims and family members said the theater's owners were being insensitive by opening the doors again, but Colorado Gov. John Hickenlooper said most local residents see it as "a way of moving forward." [USA Today]
………………………………………………………………………………
7. STORY OF FOOTBALL STAR'S PERSONAL TRAGEDY A HOAX
Notre Dame football star Manti Te'o became the subject of a long string of emotionally charged media reports during the 2012 season, after he told reporters that his grandmother and girlfriend had died just a few hours apart. The story unwound on Wednesday, however, when the website Deadspin published an article saying that, while Te'o's grandmother had died, Te'o's girlfriend had actually never existed. Notre Dame said the standout linebacker was the victim of "what appears to be a hoax in which someone using the fictitious name Lennay Kekua apparently ingratiated herself with Manti and then conspired with others to lead him to believe she had tragically died of leukemia." Te'o said in a statement that he had developed what he thought was an "authentic" emotional relationship with a woman he met online, but it was "apparently someone's sick joke." [New York Times, Deadspin]
………………………………………………………………………………
8. VIRGINIA EXECUTES MAN WHO WANTED DEATH
Virginia on Wednesday executed a man who confessed to strangling two fellow inmates and vowed to keep killing until he was put to death. Defense attorneys had tried to block the execution — the first time Virginia used its electric chair in three years — by arguing that the convicted murderer, Robert Charles Gleason Jr., was unable to make rational decisions because he had spent too much time in solitary confinement. In his final statement, prison authorities said, Gleason, 42, spoke the Irish Gaelic phrase "Pog mo thoin," or "Kiss my ass." [Reuters]
………………………………………………………………………………
9. LIBERAL KUCINICH JOINS FOX NEWS
Fox News has hired Dennis Kucinich, a former Democratic presidential candidate, as an on-air analyst. Kucinich, who just two weeks ago ended a 16-year career as one of the most liberal members of the House of Representatives, is scheduled to make his first appearance on The O'Reilly Factor on Thursday night. Kucinich, who has been known to criticize President Obama from the left, will be joining the cable channel known for its right-leaning commentators and popular with Republicans. Kucinich said he was happy Fox was giving him the chance to "share my perspective with its enormous viewership." Fox News chief Roger Ailes, who was a media consultant for Republican presidents Richard Nixon, Ronald Reagan, and George H.W. Bush, said he had always been impressed with Kucinich's "fearlessness" and "willingness to take a stand." [International Business Times]
………………………………………………………………………………
10. AUSTRALIAN MAN FINDS 12-POUND GOLD NUGGET
An amateur prospector in Australia dug up a 12-pound gold nugget on Wednesday, shocking local mining experts. The unidentified man found the Y-shaped hunk of gold, estimated to be worth $315,000, about two feet underground using a hand-held metal detector. "I have been a prospector and dealer for two decades, and cannot remember the last time a nugget over 100 ounces has been found locally," said Cordell Kent, owner of the Ballarat Mining Exchange Gold Shop. "We are 162 years into a gold rush and Ballarat is still producing nuggets — it's unheard of." [BBC]

Continue reading for free
We hope you're enjoying The Week's refreshingly open-minded journalism.
Subscribed to The Week? Register your account with the same email as your subscription.