New York's sweeping gun law: A tipping point for gun control?
Gov. Andrew Cuomo signed into law the first major gun-control measure since Newtown, and he hopes other states will follow suit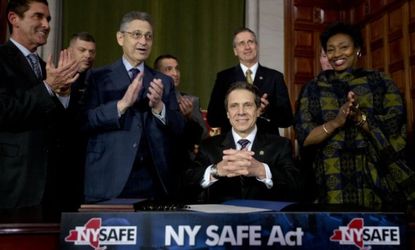 (Image credit: AP Photo/Mike Groll)
On Tuesday night, New York Gov. Andrew Cuomo (D) signed a package of gun-safety laws that are among the most stringent in the nation, and the first enacted after the massacre of 20 first graders and half a dozen educators at Sandy Hook Elementary School in Newtown, Conn. The gun law has something for everyone: A major tightening of New York's ban on assault weapons, including the shrinking of allowable magazine size to seven bullets, from 10; universal background checks on all gun sales except to family members, and on all ammunition purchases; provisions to keep guns out of the hands of dangerously mentally ill people, beef up punishments for crimes committed with guns, and shield gun permits from public scrutiny; and a requirement that gun permits be renewed every five years. Oh, and it was bipartisan, hammered out by Cuomo and state lawmakers from both parties, then passed with large majorities: 43 to 18 in the Senate, 104 to 43 in the Assembly. Regardless of what gun control measures President Obama proposes on Wednesday, nothing this comprehensive is likely to pass the U.S. Congress, and certainly not by such wide margins.
But the states are another matter. Along with Cuomo, fellow Democrats (and possible fellow presidential hopefuls) in Maryland, Colorado, and Delaware are pushing various gun-control bills. Cuomo took extraordinary measures to pass the first post–Sandy Hook law — on the second day of the legislative session, no less — but he says he hopes it will spur other states into action. "I think people tend to look to New York, and a New York action resonates," he tells the New York Daily News. "To the extent this provokes more debate and more action, all the better."
First isn't always best, says The New York Times in an editorial. "Cuomo's law is an important and timely step toward sane gun control," but it also contains some "troubling provisions involving mental health and public access to important records." And the bill was "muscled through with disturbing speed after days of secret negotiations and a late-night vote Monday by state senators who had barely read the complicated measure before passing it." So, two cheers for Albany, but New York's sweeping gun law "needs a few fixes before it can become a national model."
Subscribe to The Week
Escape your echo chamber. Get the facts behind the news, plus analysis from multiple perspectives.
SUBSCRIBE & SAVE
Sign up for The Week's Free Newsletters
From our morning news briefing to a weekly Good News Newsletter, get the best of The Week delivered directly to your inbox.
From our morning news briefing to a weekly Good News Newsletter, get the best of The Week delivered directly to your inbox.
Cuomo was right to push the good over the perfect, says Mike Lupica at the New York Daily News. "No one, certainly not Andrew Cuomo, would suggest that this new law solves all of the country's gun problems, or even comes close," but if it "keeps one AR-15, the kind of assault rifle Adam Lanza took into Sandy Hook Elementary, out of the wrong hands, it is worth it, at the expense of no one's freedoms." On Tuesday night, "the rest of the country had to look to New York on guns." On Wednesday, they can start following its lead.
Whether they are following New York or not, "there is a lot of activity in almost half the states" on tightening gun laws, Laura Cutilletta at the Law Center to Prevent Gun Violence tells The Christian Science Monitor. From Virginia and New Jersey to Connecticut and California, "a flurry of bills are being introduced, such as restrictions on assault weapons and strengthening background-check requirements." The NRA and other members of the gun lobby have done a great job blocking new gun safety measures over the past decades, but after Sandy Hook, "public opinion has reached a tipping point in favor of new curbs on guns," says Taegan Goddard at The Week. New measures are "inevitable."
Don't bet on it, says Frank James at NPR. The flurry of legislative action (or just talk) in a few key blue states "could certainly lead an observer to assume that there's a widespread movement in the states to act on gun control with a swiftness not found at the federal level." But there's no real evidence of that. "In fact, in several red states, the shift is in the exact opposite direction," with states like Texas, Arizona, and Wyoming moving to loosen gun laws. And the GOP has the numbers on its side: 30 states have Republican governors, and 26 have GOP-led legislatures.

Continue reading for free
We hope you're enjoying The Week's refreshingly open-minded journalism.
Subscribed to The Week? Register your account with the same email as your subscription.