Today in business: 5 things you need to know
Google's Schmidt arrives in North Korea, Bank of America settles its Fannie Mae spat, and more in our roundup of the business stories that are making news and driving opinion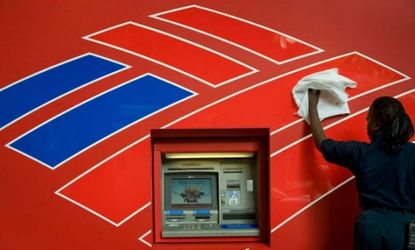 (Image credit: Davis Turner/Getty Images)
1. GOOGLE'S SCHMIDT STARTS CONTROVERSIAL NORTH KOREA TRIP
Google Chairman Eric Schmidt on Monday became the first leading American executive to visit North Korea since the communist nation's young leader, Kim Jong Un, took power a year ago following the death of his father, Kim Jong Il. Schmidt is part of a private delegation led by former New Mexico Gov. Bill Richardson, who's on a humanitarian mission to help a South Korean-born American citizen arrested late last year after entering North Korea as a tourist. "This is not a Google trip," Richardson said, although Schmidt, an advocate of open internet access, is probably interested in exploring "the social media aspect" of life in one of the world's most tightly censored nations. The Obama administration objected to the timing of the mission, which comes just weeks after Pyongyang violated international agreements by launching a long-range rocket. [Associated Press]
………………………………………………………………………………
Subscribe to The Week
Escape your echo chamber. Get the facts behind the news, plus analysis from multiple perspectives.
SUBSCRIBE & SAVE
Sign up for The Week's Free Newsletters
From our morning news briefing to a weekly Good News Newsletter, get the best of The Week delivered directly to your inbox.
From our morning news briefing to a weekly Good News Newsletter, get the best of The Week delivered directly to your inbox.
2. BANK OF AMERICA SETTLES MORTGAGE SPAT FOR $10 BILLION
Bank of America on Monday announced a $10 billion deal with federal mortgage issuer Fannie Mae to settle claims the Charlotte, N.C.-based bank had improperly handled mortgages during the financial crisis. Bank of America will pay $3.6 billion in cash and buy back about 30,000 home mortgages, worth $6.75 billion, that the bank and its Countrywide Financial unit sold to Fannie Mae between January 2000 and December 2008. This settlement "is in the best interest of taxpayers and reduces uncertainty in the nation's mortgage finance market," said Edward J. DeMarco, acting director of the Federal Housing Finance Agency, which approved the terms of the settlement. [USA Today]
………………………………………………………………………………
3. KRUGMAN JOINS THE TRILLION-DOLLAR-COIN CROWD
Liberal economist Paul Krugman on Monday added his voice to the chorus calling for President Obama to mint a $1 trillion platinum coin to sidestep a battle with congressional Republicans over raising the debt ceiling. In his widely read column in The New York Times, Krugman writes: "The idea is that the treasury secretary can take advantage of a loophole allowing him to mint a platinum coin of any denomination. Print a $1 trillion coin, and — presto — there's a $1 trillion in spare capacity under the debt ceiling." It's gimmicky and "ridiculous," he says, but not as ridiculous as "the mixture of ruthlessness and craziness that now characterizes House Republicans." A petition endorsing the scheme, posted on the White House website, had more than 4,000 signatures as of early Monday. [MarketWatch]
………………………………………………………………………………
4. EUROZONE INVESTORS CHEER UP
Investor sentiment in the eurozone rose in this month to its highest level in two years, research group Sentix reported Monday. It was the fifth straight month of improvement, and the gains were greater than expected thanks to a series of positive signs, including a successful Greek bond buyback and a decline in unemployment in Spain. The outlook also improved in the U.S., as investors expressed relief that the worst of the fiscal cliff crisis had been avoided in a last-minute compromise. [Reuters]
………………………………………………………………………………
5. CHINA ELECTRONICS WAR BRINGS CHEAPER TVS TO U.S.
Chinese television makers are stepping up a push into the U.S. market by selling advanced but cut-rate TV sets. The companies, including TCL Corp. and Hisense Electric Co. plan to introduce Americans to their wares this week at the International Consumer Electronics Show in Las Vegas. "It's our way of showing the North American market that we are a major player in the world," says JoAnne Foist, Hisense's U.S. marketing director. The offensive will make life harder for competitors from Japan, like Sony, and South Korea. They're already struggling to make profits, and Chinese companies such as TCL sell gadgets for 30 percent less than leading brands. [Bloomberg]

Continue reading for free
We hope you're enjoying The Week's refreshingly open-minded journalism.
Subscribed to The Week? Register your account with the same email as your subscription.