Hillary Clinton takes responsibility for Benghazi security: 4 consequences
Will Clinton's mea culpa shield President Obama from Mitt Romney's criticism over Obama's handling of the deadly Libya attack?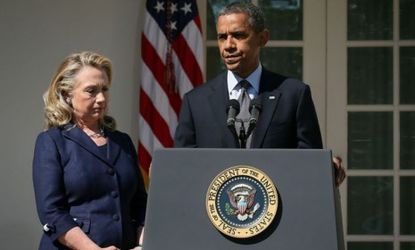 (Image credit: Alex Wong/Getty Images)
Secretary of State Hillary Clinton told CNN on Monday that she takes full responsibility for security at the U.S. Consulate in Benghazi, where terrorists launched a Sept. 11 assault that killed U.S. Ambassador Chris Stevens and three other Americans. Mitt Romney has stepped up his criticism of President Obama over the attack, suggesting Obama hasn't been up front about what happened. Vice President Joe Biden said in last week's vice-presidential debate that the White House didn't know about requests for more security ahead of the attack. Clinton said Biden and Obama wouldn't have known, because she is the one in charge of State's 60,000-plus people in 275 posts around the world. With the election so close, Clinton said, "I want to avoid some kind of political gotcha." How will Clinton's statement affect criticism of the Obama administration's handling of Benghazi? Here, four consequences:
1. This won't deflect the GOP's attacks
It appears that Clinton has fallen on her sword for the president, says Margaret Hartmann at New York, although she didn't seem eager to do it. After all, just last week State distanced itself from other officials' assertions that extremists "'hijacked' a protest in Benghazi." Regardless, if Clinton was trying to "deflect the Republicans' attack," it won't work. Romney has slammed the administration for blaming the attack on "a YouTube video and a nonexistent riot," then for accusing the GOP ticket of politicizing the tragedy. "It won't be too hard for the Romney team to work in another line accusing Obama of shifting the blame to his popular secretary of state." Clinton can't let Obama off the hook, says Paul Mirengoff at PowerLine, for "the false statements by the Obama administration" after the attack. The State Department "knew that this was a terrorist attack, not a protest," yet the administration mischaracterized it for days. "That's on Obama, not Clinton."
Subscribe to The Week
Escape your echo chamber. Get the facts behind the news, plus analysis from multiple perspectives.
SUBSCRIBE & SAVE
Sign up for The Week's Free Newsletters
From our morning news briefing to a weekly Good News Newsletter, get the best of The Week delivered directly to your inbox.
From our morning news briefing to a weekly Good News Newsletter, get the best of The Week delivered directly to your inbox.
2. Clinton has more explaining to do
So, Hillary says she's responsible for diplomats' security, says The Wall Street Journal in an editorial. "That's nice, but it still leaves many questions, such as why her own comments to the U.N. differed so much from the substance and tone of Mr. Obama's." Remember, he was still talking about the Benghazi attack and the anti-Islam video in the same breath. "Saying you take 'responsibility' in brief interviews from faraway Peru is a long way from acting as if you're responsible."
3. She isn't helping her presidential prospects
It's a bit surprising that Clinton would "take the fall" for Obama, says Katrina Trinko at National Review. "If Clinton was thinking about making a 2016 run," she isn't helping her chances. Accepting the blame for inadequate security, despite all the warning signs, throws her judgment into question. And this could be just the beginning. "It'll also be interesting to see whether this means she'll end up testifying before Congress." There's no doubt this will "be used against Hillary in 2016 if she runs," says Allahpundit at Hot Air. She probably figures that with "her high favorables" and the public's admiration for executives who "take charge" and accept blame she'll "be forgiven by voters. Quite possible."
4. She changed the conversation ahead of Tuesday's debate
"Clinton's comments are obviously going to get wide play and will of course be instantly politicized," says Blake Hounshell at Foreign Policy. Maybe she's "just shielding Obama from scrutiny ahead of Tuesday night's debate," maybe she's "merely doing the right thing." Or maybe, "as the conspiracy-minded would have it, she's pulling some Machiavellian maneuver to appear like she's taking responsibility only to make the president look bad and set herself up for 2016." Regardless, she has changed the debate over a disaster that was probably more intelligence failure than security failure, and was certainly a far more complicated chain of events than anyone seems willing to admit.
Sources: CNN, Foreign Policy, Hot Air, National Review, New York, Powerline, The Wall Street Journal
Read more political coverage at The Week's 2012 Election Center.

Continue reading for free
We hope you're enjoying The Week's refreshingly open-minded journalism.
Subscribed to The Week? Register your account with the same email as your subscription.