The lesbian who allegedly faked her own hate crime
Charlie Rogers told Nebraska police that three men stripped her naked and carved anti-gay slurs into her body. But the cops say she's lying — and arrested her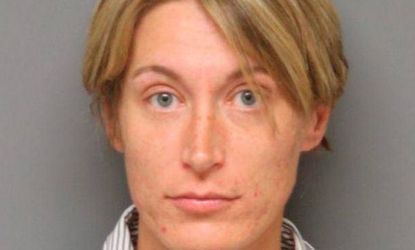 (Image credit: REUTERS/Lincoln Police Department)
Sign up to our 10 Things You Need to Know Today newsletter
A free daily digest of the biggest news stories of the day - and the best features from our website
Thank you for signing up to TheWeek. You will receive a verification email shortly.
There was a problem. Please refresh the page and try again.
On July 22, former University of Nebraska women's basketball star Charlie Rogers, 33, crawled screaming from her Lincoln, Neb., house naked and bleeding with a cross cut in her chest, slashes all over her body, and anti-gay slurs carved on her arms and abdomen. Rogers, a lesbian, told police that three masked men had broken into her house and assaulted her. An outpouring of support rolled in from the community and gay rights supporters nationwide. Then, on Aug. 21, police arrested Rogers for allegedly staging the brutal "hate crime" herself. Rogers, through her lawyer, is sticking with her story. Here's a look at what police discovered, and what the future holds for Rogers:
What does Rogers say happened?
She told police she was in bed when the three masked men came in, stripped her, held her down on her bedspread and carved up the front of her body, rolled her over and slashed her back, spray-painted anti-gay graffiti on her walls, then tried to light her and her house on fire, leaving without waiting to see if the fire took. Neighbor Linda Rappl says she found Rogers at her doorstep in the early morning hours, bleeding and sobbing. "She was naked, her hands were tied with zip ties," Rappl says. "All I could see was a cut across her forehead and blood running down."
Subscribe to The Week
Escape your echo chamber. Get the facts behind the news, plus analysis from multiple perspectives.
SUBSCRIBE & SAVE
Sign up for The Week's Free Newsletters
From our morning news briefing to a weekly Good News Newsletter, get the best of The Week delivered directly to your inbox.
From our morning news briefing to a weekly Good News Newsletter, get the best of The Week delivered directly to your inbox.
What tipped the police off that something was fishy?
Facebook. Four days before the alleged attack, Rogers posted this message on her page: "So maybe I am too idealistic, but I believe way deep inside me that we can make things better for everyone. I will be a catalyst. I will do what it takes. I will. Watch me." Also, the investigation revealed discrepancies in her story and other incriminating details: On July 17, for example, police say Rogers visited an Ace Hardware store and purchased a red box cutter, zip ties, and white gloves — all items found in her home. When confronted, she admitted to buying everything but the gloves. A forensic pathologist who examined photos of the cuts believes they were self-inflicted because they "appeared superficial and symmetrical, avoided sensitive areas of the body... and follow the victim's frame of reference for reading and writing."
What other evidence do police have?
The gloves contained no male DNA, police say, but plenty of Rogers' DNA. The cops also allege that she sent a friend a photo of a cross carved in her chest a few days before the alleged attack, and erased several text messages from the night of the crime. On top of that, police found no signs of struggle in her house nor evidence of blood on her bedspread, and Rogers' claim that her dogs were docile during the attack didn't match up with the dogs' "fairly aggressive" stance toward police investigating the crime, according to Lincoln Police Chief Jim Peschong.
What's the suspected motive?
Cops point to Rogers' Facebook post to suggest that she was trying to drum up sympathy and support for gay rights. At the time of the alleged "hate crime," Lincoln was heatedly debating a "fairness ordinance" to ban discrimination against gays, lesbians, and transgender people. The city council passed the measure, but conservative groups succeeded in blocking it until Lincoln residents weigh in at the ballot box. And indeed, Rogers did become a banner case for the need to protect gays and lesbians, sparking rallies in Lincoln and a candlelight vigil in Omaha that drew more than 1,000 people and raised more than $1,800 for Rogers.
How have her supporters reacted?
Beth Rigatuso, who organized the Omaha vigil, says that if the attack turns out to be a hoax, it would be "a pretty big blow," and she wants the $1,800 back "so we can establish our own fund to support victims of anti-gay violence." On the day Rogers was arrested, four Nebraska gay rights groups jointly released a statement urging people "not to focus on the action of any single individual" and lauding the Lincoln police for what appears to be a balanced and thorough investigation.
What charges does Rogers face?
If convicted of making a false police report, Rogers faces a maximum of one year in prison and a $1,000 fine. She pleaded not guilty, and her lawyer, Brett McArthur, tells CNN that his client "maintains her innocence. This has been kind of a kick in the gut as a victim to turn around and be charged."
How much might this set back gay rights?
A lot, potentially. If convicted, Rogers "could be the homosexual version of the Tawana Brawley case," says law professor Jonathan Turley, referring to the black New York teenager who falsely accused a state trooper, cop, and prosecutor of rape and a racial attack. "Faking your own gay-bashing seems to be a disturbing new trend," says Lester Brathwaite at Queerty, and if Rogers really did this to herself, that's "almost as disturbing as if the attack were real." This is depressing either way, says Ashley Burns at With Leather. "If she's not lying, the police still have no clue who the attackers may have been" and are kicking this poor woman while she's down. But "if she's a liar," she's "completely taken advantage of the sympathy and goodwill of hundreds of thousands of people." This is why "I have a sign on the ceiling above my bed that reads: 'Don't watch the news today.'"
Sources: ABC News, AP, CNN, Jonathan Turley, Queerty, With Leather
Continue reading for free
We hope you're enjoying The Week's refreshingly open-minded journalism.
Subscribed to The Week? Register your account with the same email as your subscription.
Sign up to our 10 Things You Need to Know Today newsletter
A free daily digest of the biggest news stories of the day - and the best features from our website