10 things you need to know today: June 19, 2012
Microsoft unveils a tablet of its own, Spain's borrowing costs rise sharply, and more in our roundup of the stories that are making news and driving opinion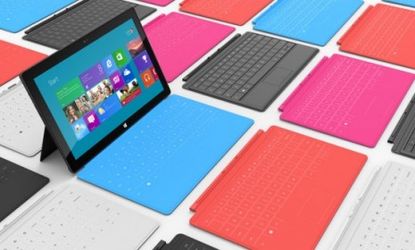 (Image credit: Microsoft)
1. MICROSOFT INTRODUCES IPAD CHALLENGER
At a press event in Los Angeles on Monday, Microsoft unveiled a new tablet called Surface. It features a 10.6-inch screen, a built-in "kickstand," and a detachable cover that also functions as a keyboard. It will come in an array of bright colors and is approximately the same weight and thickness as the iPad. Pricing will be comparable to other tablets on the market, and the tablet will run on Windows 8. Analysts are noting that Microsoft's release of its own tablet may harm the company's relationships with the hardware companies that it supplies with Windows software. In a sense, Microsoft will now be in direct competition with some of its biggest customers. [New York Times]
………………………………………………………………………………
Subscribe to The Week
Escape your echo chamber. Get the facts behind the news, plus analysis from multiple perspectives.
SUBSCRIBE & SAVE
Sign up for The Week's Free Newsletters
From our morning news briefing to a weekly Good News Newsletter, get the best of The Week delivered directly to your inbox.
From our morning news briefing to a weekly Good News Newsletter, get the best of The Week delivered directly to your inbox.
2. SPAIN'S BORROWING COSTS SOAR
Spain is having to pay far more to raise short-term money than it did a month ago. On Tuesday, it sold 2.4 billion euros ($3 billion) of 12-month bills at an interest rate of 5.074 percent. Just a month ago, it was getting 2.985 percent. With a pro-bailout party having emerged victorious in Greece's parliamentary election over the weekend, Spain's financial woes are taking the spotlight in Europe's debt crisis. [New York Times]
………………………………………………………………………………
3. ASIAN-AMERICANS ARE FASTEST GROWING GROUP
According to a new report from the Pew Research Center, Asian-Americans have surpassed Latinos to become the fastest-growing racial group in the U.S., thanks to a steady stream of new immigrants. The report also noted that Asian-Americans are the best educated and highest-earning racial or ethnic group in the country. [Los Angeles Times]
………………………………………………………………………………
4. PROSECUTORS: ZIMMERMAN, WIFE SPOKE IN CODE
Prosecutors says that jailhouse phone transcripts show that George Zimmerman and his wife spoke in code to discuss their finances. At a bond hearing in April, they both claimed to have little money, when, the prosecution alleges, they actually had hundreds of thousands of dollars in the bank, thanks to online fund-raising. George Zimmerman returned to jail earlier this month after a judge agreed with the prosecution about his having been dishonest about his finances. His wife, Shellie, was also arrested for allegedly lying about how much money the couple had. A second bond hearing for George is set for June 29. [CNN]
………………………………………………………………………………
5. JURY ACQUITS ROGER CLEMENS
After a five-year investigation, Roger Clemens has been acquitted on all charges that he lied to Congress when he denied having used performance-enhancing drugs. It's the government's latest failure in a highly publicized drugs-in-sports case. A two-year investigation of Lance Armstrong ended without prosecution, while Barry Bonds was found guilty on a mere technicality after a seven-year investigation. [Associated Press]
………………………………………………………………………………
6. OBAMA, PUTIN TALK SYRIA
On the sidelines of the G-20 Summit in Los Cabos, Mexico, President Obama and Russian President Vladimir Putin discussed the violence in Syria. Obama said they had a "candid, thoughtful, and thorough conversation" about Syria, Iran, and other topics, and "agreed that we need to see a cessation of the violence [in Syria], that a political process has to be created to prevent civil war." Without going into detail, Putin said they were "able to find many commonalities." Russia has vetoed U.N. resolutions cracking down on Syrian President Bashar al-Assad and has been accused of supplying the regime with military aid. [CNN]
………………………………………………………………………………
7. FACEBOOK BUYS FACE.COM
Facebook announced Monday that it had acquired Face.com, a facial-recognition tech firm, for an undisclosed amount. The deal comes two months after Facebook acquired Instagram for $1 billion. In a statement, the company said Face.com "has helped to provide the best photo experience" for photo-sharing users, and that the acquisition would bring a "world-class team" in-house. [Wall Street Journal]
………………………………………………………………………………
8. RODNEY KING AUTOPSY ENDS, RESULTS PENDING
Officials conducted an autopsy on Rodney King's body Monday, but it will take several weeks for toxicology results to come in and a cause of death to be determined. King, who was brutally beaten by four police officers in 1991, was the key figure in the deadly 1992 Los Angeles race riots that ensued after the officers were acquitted. King was found dead in his pool on Sunday. He was 47. [Associated Press]
………………………………………………………………………………
9. ARSENIO HALL TO RETURN TO LATE NIGHT
The former host of The Arsenio Hall Show, which ran from 1989 to 1994, has cut a deal with CBS Television Distribution for a new syndicated, late-night talk show set to begin in the fall of 2013. The show has already been sold in 17 of the top 20 markets. [Hollywood Reporter]
………………………………………………………………………………
10. BRISTOL PALIN'S REALITY SHOW DEBUTS
Mama Grizzly's cub continues to live in the spotlight with the premiere of her new Lifetime reality show, Bristol Palin: Life's a Tripp, on Tuesday night. The show also features Bristol's toddler son Tripp and teenager sister Willow making a go of it in Los Angeles. One critic calls it "a new low for anyone who makes the mistake of watching." [Washington Post]

Continue reading for free
We hope you're enjoying The Week's refreshingly open-minded journalism.
Subscribed to The Week? Register your account with the same email as your subscription.