10 things you need to know today: June 14, 2012
Armstrong is barred from an Ironman, Syria's Russian helicopters may not be new, and more in our roundup of the stories that are making news and driving opinion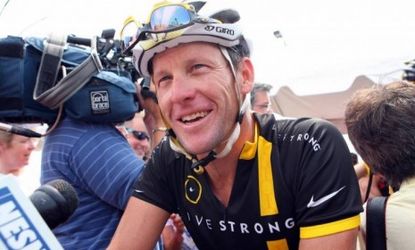 (Image credit: Gail Oskin/Getty Images)
1. U.S.: RUSSIAN HELICOPTERS IN SYRIA MAY NOT BE NEW
A senior Defense Department official says that when Secretary of State Hillary Clinton alleged on Tuesday that Russia was sending attack helicopters to Syria, she may have been referring to helicopters sent months ago, not new shipments. "She put a little spin on it to put the Russians in a difficult position," the official says. Clinton's helicopter accusations are said to be part of a calculated plan to pressure Russia to turn its back on Syrian President Bashar al-Assad. Russian foreign minister Sergey V. Lavrov responded to the allegations by claiming that the U.S. had supplied other countries in the region with weapons that could be used against peaceful protesters. [New York Times]
………………………………………………………………………………
Subscribe to The Week
Escape your echo chamber. Get the facts behind the news, plus analysis from multiple perspectives.
SUBSCRIBE & SAVE
Sign up for The Week's Free Newsletters
From our morning news briefing to a weekly Good News Newsletter, get the best of The Week delivered directly to your inbox.
From our morning news briefing to a weekly Good News Newsletter, get the best of The Week delivered directly to your inbox.
2. DOPING CHARGES BAR ARMSTRONG FROM IRONMAN
Lance Armstrong will not be allowed to compete in the Ironman France triathlon later this month following new charges from the U.S. Anti-Doping Agency that he illegally doped when he competed in the Tour de France. While federal investigators closed a two-year investigation into doping allegations against the legendary cyclist in February without charging Armstrong, the U.S. Anti-Doping Agency continued to investigate. The department has threatened to strip Armstrong of his seven Tour de France titles. Armstrong responded to the charges with a statement, saying "I have never doped, and, unlike many of my accusers, I have competed as an endurance athlete for 25 years with no spike in performance, passed more than 500 drug tests and never failed one." [CBS/Associated Press]
………………………………………………………………………………
3. ADELSON DONATES $10 MILLION TO ROMNEY
Casino mogul Sheldon Adelson has shaken up the presidential race by donating $10 million to a super PAC backing Mitt Romney. Adelson and his family previously donated $21.5 million to a super PAC backing Newt Gingrich during the Republican primaries. After Gingrich dropped out, Romney actively courted the deep-pocketed donor. [Tribune Washington Bureau]
………………………………………………………………………………
4. MERKEL: GERMANY ALONE CAN'T SAVE EUROPE
In a speech to parliament in Berlin, German Chancellor Angela Merkel rejected quick fixes — like joint debt sharing — to Europe's financial crisis and said Germany can't shoulder the burden alone. "Germany's power is not infinite," Merkel said. "So our responsibility as Europe's largest economy is to deploy our strength credibly, so that we can be of full use to Europe." Merkel called on fellow G-20 members to help, saying Europe's debt crisis and Germany's role in it will be the "central tropic" when the G-20 meets next week at a summit in Mexico. [Bloomberg]
………………………………………………………………………………
5. CAMERON TESTIFIES IN MEDIA ETHICS INQUIRY
British Prime Minister David Cameron took the stand Thursday in the media ethics inquiry launched in the wake of the News Corp. phone-hacking scandal. Cameron conceded that the relationship between the press and politicians had "become too close." Cameron's 2007 hiring of Andy Coulson, a former News of the World editor, to be his director of communications is expected to be a key point of inquiry in the interrogation. [Washington Post]
………………………………………………………………………………
6. FEDS DROP CHARGES AGAINST JOHN EDWARDS
The U.S. Justice Department says it will not look to retry former presidential candidate John Edwards on five unresolved counts of campaign finance fraud. After a highly publicized, six-week trial, a jury acquitted Edwards on one count and deadlocked on five others in late May, and a mistrial was declared. The final outcome has some questioning whether it was worth charging Edwards in the first place. [Associated Press]
………………………………………………………………………………
7. U.S. EXPANDING SPY OPERATIONS IN AFRICA
The Washington Post reports that the U.S. military is increasing its secret intelligence operations across Africa, setting up a web of small air bases on the continent to monitor terrorist hideouts. The surveillance missions are overseen by Special Operations forces, which have had a key, clandestine role in Obama's national security strategy, with teams dedicated to tracking and killing suspected terrorists. [Washington Post]
………………………………………………………………………………
8. NOKIA TO CUT 10,000 JOBS
The Finnish cellphone maker has announced plans to lay off 10,000 employees around the world by the end of 2013. It will also close plants and cease some research and development projects in an effort to cut costs and streamline operations. Nokia has been deep in the red recently as it struggles to compete with Apple and other manufacturers of Android phones. [Associated Press]
………………………………………………………………………………
9. CAIN PITCHES PERFECT GAME, MAKES HISTORY
San Francisco Giant Matt Cain pitched a perfect game in a 10-0 victory over the Houston Astros Wednesday night. His "125-pitch masterpiece" is just the 22nd perfect game in the history of Major League Baseball and the first for the Giants. [San Jose Mercury News]
………………………………………………………………………………
10. HBO'S THRONES SHOWS DECAPITATED G.W. BUSH
HBO is apologizing after a story about a model of President George W. Bush's head being used in a decapitation scene went viral. Bush's severed head is shown in the show's season one finale, when one character is forced to look at her father's severed head on a spike, among a number of others. "George Bush's head appears in a couple of beheading scenes," the showrunners, who have apologized along with HBO, said on the DVD commentary. "It's not a choice, it's not a political statement. We just had to use whatever head we had around." [Hollywood Reporter]

Continue reading for free
We hope you're enjoying The Week's refreshingly open-minded journalism.
Subscribed to The Week? Register your account with the same email as your subscription.