Greece's political slapfest and 9 other parliamentary brawls
A televised debate in Greece devolves into blows, but the debt-soaked country is hardly the first to see its politicians assault each other in public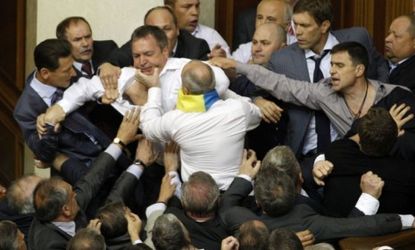 (Image credit: REUTERS)
This week, Ilias Kasidiaris, a member of Greece's neo-Nazi Golden Dawn party, shocked the world when he assaulted two female members of parliament on a political talk show. The incident is being viewed as emblematic of Greece's political dysfunction, as the divided country prepares for elections later this month that could decide whether Greece remains in the euro currency bloc. But Greece is not the only country whose politicians have resorted to fisticuffs when arguments have failed them. Here, 10 parliamentary brawls from around the world:
1. Greece
Golden Dawn made a surprisingly strong showing in Greece's inconclusive elections in May, earning 7 percent of the vote by riding a wave of anger against mainstream parties that had enacted harsh budget cuts. Formerly on the fringe of Greek politics, Golden Dawn's rise has spurred concerns that economic instability could pave the way for extremist parties to take power. So when Kasidiaris threw a glass of water at a member of the left-wing Syriza party, before proceeding to slap a member of the communist KKE party, he "unmasked Golden Dawn for what it really is," says Helena Smith at Britain's The Guardian: "A group of intolerant extremists who resort to violence to make their point."
Subscribe to The Week
Escape your echo chamber. Get the facts behind the news, plus analysis from multiple perspectives.
SUBSCRIBE & SAVE
Sign up for The Week's Free Newsletters
From our morning news briefing to a weekly Good News Newsletter, get the best of The Week delivered directly to your inbox.
From our morning news briefing to a weekly Good News Newsletter, get the best of The Week delivered directly to your inbox.
2. Ukraine
In May, the Ukrainian parliament, the Rada, erupted into a melee over a proposed law that would make Russian "an equal and second language in about half the regions of Ukraine, including the capital, Kiev," says J. David Goodman at The New York Times. Dubbed the "Rumble in the Rada," the brawl epitomized the country's factionalized politics, pitting lawmakers from the Russian-speaking east against those from the Ukrainian-speaking regions in the west. The conflict has played out at the highest levels of government: The pro-Russian President Viktor Yanukovich has been accused of jailing his political opponent, former Prime Minister Yulia Tymoshenko, on trumped-up charges.
3. South Korea
In perhaps the most epic parliamentary brawl ever, members of South Korea's conservative Grand National Party in 2008 barricaded themselves in a committee room to formally introduce a free trade deal with the U.S. Opposition members from the Democratic Party used sledgehammers, crowbars, and hoses to break through the small mountain of furniture stacked up against the door, only to be "blasted with fire extinguishers," says Britain's The Daily Mail. The trade deal was eventually ratified in 2011, but not before a member of the Democratic Party fired a tear-gas canister on the floor of parliament.
4. Czech Republic
In 2006, Czech Health Minister David Rath received an unwelcome surprise at a meeting of dentists in Prague. Former Deputy Prime Minister Miroslav Macek, standing at the lectern, informed the audience that he needed to attend to a "private matter" before he began. That was when he walked over to Rath and slapped him in the head. The two antagonists then took a few swings at each other. Macek later said he struck Rath for insulting comments Rath had made about his wife.
5. Bolivia
A debate in Bolivia's lower house of parliament in 2007 quickly turned into a roiling mass of shoves, punches, and vicious kicks, after members of President Evo Morales' ruling party attempted to put four judges on trial for corruption. Morales, a socialist who became Bolivia's first indigenous president in 2006, said the judiciary was blocking his populist reforms, which included wealth redistribution and nationalization of private companies.
6. Japan... or South Korea
While the provenance of this legislative dust-up is unclear (The New York Times says it is could be from Japan or South Korea), politicians around the world could learn a move or two from this judo master.
7. Georgia
In 2008, Georgian opposition leader Koki Guntsadze wasn't too happy about being interrupted by Giorgy Kandelaki, a member of President Mikheil Saakashvili's ruling United National Movement party, on a political talk show. His measured response? Dousing Guntsadze with water and slapping his face.
8. Taiwan
Like South Korea, Taiwan has a rich history of parliamentary melees. In one notable battle royale in 2007, members of the ruling Democratic Progress Party (DPP) stormed a podium helmed by Wang Jin-pyng, the speaker of the Kuomintang opposition. The DPP was enraged that the Kuomintang was allegedly stalling an annual budget by insisting on passing an electoral reform bill first.
9. Nigeria
At a 2007 hearing examining corruption allegations against Patricia Etteh, then Nigeria's speaker in the House of Representatives, her supporters and opponents chose to forego the judicial process, settling the matter with a good old-fashioned punch-up.
10. Alabama
While House Speaker John Boehner (R-Ohio) and Minority Leader Nancy Pelosi (R-Calif.) have yet to throw down, America's legislative chambers are not entirely free from physical violence. In 2007, a frustrated Republican in the Alabama Senate, Charles Bishop, landed a right jab squarely on the jaw of Democratic Lowell Barron. Bishop said Barron called him a "son of a bitch," which Barron denied.

Continue reading for free
We hope you're enjoying The Week's refreshingly open-minded journalism.
Subscribed to The Week? Register your account with the same email as your subscription.