The Horace Mann school's horrifying history of alleged sexual abuse
The New York Times Magazine unspools a real-life tale that reads like a stomach-churning mash-up of Charles Dickens and Gossip Girl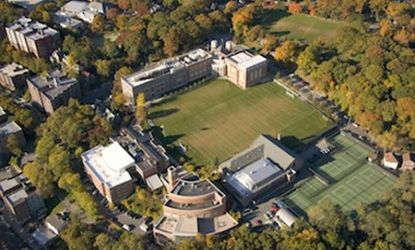 (Image credit: horacemann.org)
The exclusive Horace Mann prep school in the Bronx has a beautiful 18-acre campus, a list of celebrity alumni that includes disgraced former Gov. Eliot Spitzer, New York Times publisher Arthur Sulzberger, and Pulitzer Prize–winning historian Robert Caro, and — according to the new cover story in The New York Times Magazine — a dark history of sexually abusive teachers. The article, written by 1982 Horace Mann graduate Amos Kamil, investigates many of the sad tales of alleged abuse between 1978 and 1994, three of the alleged abusers, and how a series of administrators, trustees, teachers, and students allowed it to go on for so long. Here, a concise guide to this tragic tale:
What kind of abuse allegedly occurred at Horace Mann?
Kamil's "piece reads like a Dickens novel," or a particularly dark episode of Gossip Girl, says Katie J.M. Baker at Jezebel: Innocent young boys — some, like Kamil, "plucked from poor neighborhoods to be placed among the elite" — are sent to be groomed for success by a cast of eccentric, charismatic, and often creepy teachers and coaches. Some kids were allegedly cornered in solitary art studios or exercise rooms, others molested at home, and still others made to "frolic" in a full class. At least one was allegedly wined, dined, and raped nightly on one-on-one trips to Europe.
Subscribe to The Week
Escape your echo chamber. Get the facts behind the news, plus analysis from multiple perspectives.
SUBSCRIBE & SAVE
Sign up for The Week's Free Newsletters
From our morning news briefing to a weekly Good News Newsletter, get the best of The Week delivered directly to your inbox.
From our morning news briefing to a weekly Good News Newsletter, get the best of The Week delivered directly to your inbox.
How many incidents does Kamil detail?
He only talks about a handful of abuse cases in much detail, all allegedly at the hands of three teachers: Art teacher and assistant football coach Mark Wright; eccentric and socially awkward history teacher Stan "the Bear" Kops; and Johannes Somary, the celebrated, super wealthy head of the arts and music department.
Where did Kamil get his information?
Some of the men Kamil talked with told their stories on the condition that their names not be used, a few spoke comfortably and on the record, and Kamil says he has "several friends who confided in me, back in high school, about their own sexual encounters with teachers, but who are now unwilling to talk about it" now.
What did Horace Mann do about the incidents?
In the case of Wright and Kops, when students spoke up about inappropriate incidents, the school got the teachers to quietly resign. Somary, for whatever reason, was allowed to stay on until retirement in 2002, at age 67, even after a student, Ben Balter, came forward with abuse allegations in 1994. When confronted by Balter's mother, Somary protested that Ben kissed him first; and when the mother yelled "How dare you put your tongue down my son's mouth!" she says he replied: "That's how we Swiss kiss." The school did prohibit Somary from taking students on trips unaccompanied after that, however. Ben Balter, apparently haunted by the abuse, killed himself in 2009.
Will anyone face legal repercussions?
Not likely. All of the alleged abusers in the article are dead — one of a stroke, one of suicide, and one of undisclosed causes — and New York's statute of limitations says that people who were abused as minors can't take civil action after age 23. The school disavows all responsibility for any abuse that might have occurred, but is still getting "lawyered up," according to one trustee.
What's the lesson here?
"The story is worth reading in all of its horrifying detail," says Joe Coscarelli at New York, and tries to answer a larger question: In the wake of the sex abuse scandals at Penn State, in the Boy Scouts, and the Catholic Church, Kamil says, "how does an institutional culture arise to condone, or at least ignore, something that, individually, every member knows is wrong?" He comes up with several reasons why people might look the other way, or feel they can't do anything, but doesn't come away with a satisfying overarching explanation.
Are there any redeeming aspects to the story?
"The article has somewhat of a positive ending," says Jezebel's Baker. The abuse cases, as horrible as they are, "seem like artifacts of a previous era," when general awareness and knowledge about sex abuse was much lower. "Today, if faculty members disappeared from campus under suspicious circumstances or if rumors were swirling about predatory teachers, students would be texting about it in real time," Kamil says. "Outraged parents would be organizing into networks and distributing action plans. And schools would dispatch counselors to help everyone through their pain." That won't help victims of the 1970s, '80s, or '90s, but it might help today's students at Horace Mann and other institutions entrusted with the vulnerable and innocent.
Read the entire article at The New York Times Magazine.
Other sources: Business Insider, Gothamist, Jezebel, New York, Wikipedia

Continue reading for free
We hope you're enjoying The Week's refreshingly open-minded journalism.
Subscribed to The Week? Register your account with the same email as your subscription.