10 things you need to know today: June 7, 2012
Syrian activists report another civilian massacre, Leon Panetta visits Afghanistan, and more in our roundup of the stories that are making news and driving opinion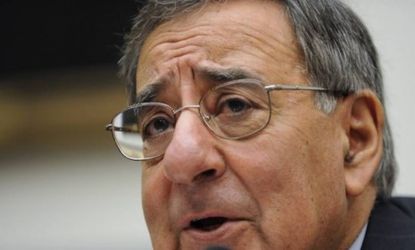 (Image credit: Zhang Jun/Xinhua Press/CORBIS)
1. SYRIAN ACTIVISTS: 78 DEAD IN QUBEIR MASSACRE
Syrian opposition activists say government forces killed at least 78 people on Wednesday in the small farming village of Qubeir in the Hama province. According to activists, at least half of those killed were women and children, and the deaths occurred after government tanks shelled the village for more than an hour; regime loyalists are said to have then gone through Qubeir and executed villagers with guns and knives. Syrian state TV reported that an "armed terrorist group" was responsible for the "horrible crime" in the tiny village. The latest violence comes less than two weeks after 108 people were killed in a massacre in Houla. [CNN]
………………………………………………………………………………
Subscribe to The Week
Escape your echo chamber. Get the facts behind the news, plus analysis from multiple perspectives.
SUBSCRIBE & SAVE
Sign up for The Week's Free Newsletters
From our morning news briefing to a weekly Good News Newsletter, get the best of The Week delivered directly to your inbox.
From our morning news briefing to a weekly Good News Newsletter, get the best of The Week delivered directly to your inbox.
2. NEW RESEARCH TO REVOLUTIONIZE PRENATAL TESTS
Using just a saliva specimen from the father and a blood sample from the pregnant mother, researchers have assembled nearly the entire genome of a fetus — the first time such a feat has ever been accomplished. By assembling such a complete DNA blueprint of a fetus, it could be possible to detect thousands of genetic diseases prenatally, but being able to know so much about an unborn child also raises some serious ethical issues. At this point, the DNA blueprint would not be economically feasible for regular use — it would cost an estimated $20,000 to $50,000 to map one fetus — but the cost of DNA sequencing is falling at a rapid rate. [New York Times]
………………………………………………………………………………
3. PANETTA VISITS AFGHANISTAN AFTER DEADLIEST DAY
Defense Secretary Leon Panetta made a surprise visit to Afghanistan Thursday after the deadliest day for civilians in the country so far this year. Twenty-three Afghan civilians were killed in a suicide bombing in Faryab on Wednesday, and, according to Afghan officials, 18 women and children were killed in a NATO airstrike. Initially, NATO said no civilians had been killed in the strike. President Hamid Karzai spoke out against the airstrike, and NATO and Afghanistan have launched an investigation into it. At a news conference, Panetta condemned the safe havens in Pakistan to which terrorists flee, saying "we are reaching the limits of our patience here." [New York Times]
………………………………………………………………………………
4. DOW HAS BEST DAY OF THE YEAR
The Dow Jones industrial average jumped 286 points Wednesday, its best day of 2012. The surge erased Friday's 275-point loss — the Dow's biggest of the year — following the dismal jobs report for May. News that Germany and the European Union are considering bailing out Spain's troubled banks helped launch the rally. [Associated Press]
………………………………………………………………………………
5. FAMILY OF DISMEMBERMENT VICTIM IS IN MONTREAL
The family of dismemberment victim Jun Lin has arrived in Montreal, as authorities continue to investigate the gruesome case. Lin is believed to have been murdered and dismembered by Luka Rocco Magnotta, who then allegedly mailed the body parts to political headquarters in Ottawa. A hand and a foot mailed to two Vancouver-area school are also believed to have belonged to Lin. [CNN, Ottawa Citizen]
………………………………………………………………………………
6. OBAMA RAISES $60 MILLION IN MAY
In May, President Obama and the Democratic Party raised a total of $60 million to fund his re-election campaign. That total far exceeds the president's fund-raising haul for April, when he and his party brought in $43.6 million. Mitt Romney's campaign and the Republicans raised approximately $40 million in April and have yet to release figures for May. [Associated Press]
………………………………………………………………………………
7. MUBARAK'S HEALTH TAKES TURN FOR THE WORSE
According to Egypt's state-run news agency and a prosecutor's spokesman, former Egyptian President Hosni Mubarak's health is rapidly deteriorating, and he had to be placed on a ventilator five times on Wednesday. Mubarak was sentenced to life in prison on Saturday for killing pro-democracy protesters last year. The 84-year-old was already in poor health and had to attend court on a gurney. [CNN]
………………………………………………………………………………
8. NASDAQ TO REIMBURSE FACEBOOK INVESTORS
Much to the ire of the New York Stock Exchange, Nasdaq announced Wednesday that it will dole out $40 million in cash and credit to investment firms that lost money on Facebook's first day of trading because of technical glitches at the exchange. In a statement, Nasdaq's rival exchange the NYSE said "this is tantamount to forcing the industry to subsidize Nasdaq's missteps and would establish a harmful precedent that could have far-reaching implications for the markets, investors, and the public interest." [Associated Press]
………………………………………………………………………………
9. AUTHOR RAY BRADBURY DIES
Science fiction writer Ray Bradbury, known for heady works like Fahrenheit 451 and The Martian Chronicles, died earlier this week, a spokesperson announced Wednesday. Bradbury was 91 and is said to have died peacefully in his Los Angeles home. [Reuters]
………………………………………………………………………………
10. COURT CONVICTS TEXTING TEEN OF HOMICIDE
In a landmark case, a Massachusetts teen has been convicted of vehicular homicide for texting while driving and being negligent in a 2011 crash that killed one man and seriously injured another. Aaron Deveau, 18, will serve one year in prison, and his license will be suspended for 15 years. [CNN]

Continue reading for free
We hope you're enjoying The Week's refreshingly open-minded journalism.
Subscribed to The Week? Register your account with the same email as your subscription.