9 suspected criminals who got themselves caught via social media [Updated]
Sometimes oversharing on the internet does more than just annoy your friends. It can even land you in jail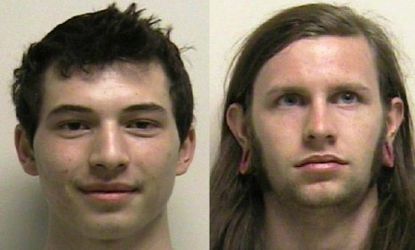 (Image credit: Utah County Sheriff's Office)
Sign up to our 10 Things You Need to Know Today newsletter
A free daily digest of the biggest news stories of the day - and the best features from our website
Thank you for signing up to TheWeek. You will receive a verification email shortly.
There was a problem. Please refresh the page and try again.
The "stupid criminal" story has long been a staple of local crime reporting, late-night talk shows, and comedy-news programs such as NPR's Wait Wait... Don't Tell Me! And now, the magic of social networking is giving ne'er-do-wells a new venue to thwart themselves, often in front of large audiences. Call it "cops-and-robbers 2.0," says Winston Ross at The Daily Beast. Driven by "a self-destructive combination of ignorance, narcissism, and generation-specific disregard for their own privacy," social-media (un-)savvy crooks are making life much easier for cops. Here, nine suspected crimes uncovered through Instagram, YouTube, and Facebook:
1. Stealing thousands of identities — and stopping for a steak
Authorities had been referring to an information-stealing couple as the "Bonnie & Clyde" of identity theft when, in January 2013, the IRS finally began closing in on them. A tipster told the IRS that a man named "Troy" had bragged about stealing some 700,000 identities. An IRS informant — who was a convicted felon — reportedly tracked down Troy and his girlfriend, Tiwanna Thomason, in Florida. The informant, convincing them he was in the same business, invited the couple to dinner where they could all scheme together. At the meeting, Troy reportedly handed over a flash drive containing the personal information of 46 individuals whose stolen identities were up for grabs. Within this drive, the IRS was able to find Troy's own information but still could not link him to the crimes. Then they caught a break when they came across a photo of a bowl of macaroni and cheese and a mouthwatering steak waiting to be carved that was uploaded to the account of @troymaye on Jan. 7 with the caption "Morton's." The date and the location placed the suspect, 44-year-old Nathaniel Troy Maye, and his girlfriend at the meeting with the IRS informant. Maye and Thomason were arrested in January and, in a judicial first, the Instagram photo was cited as evidence against the suspected identity thieves.
Subscribe to The Week
Escape your echo chamber. Get the facts behind the news, plus analysis from multiple perspectives.
SUBSCRIBE & SAVE
Sign up for The Week's Free Newsletters
From our morning news briefing to a weekly Good News Newsletter, get the best of The Week delivered directly to your inbox.
From our morning news briefing to a weekly Good News Newsletter, get the best of The Week delivered directly to your inbox.
2. 'Chick Bank robber' tells-all on YouTube
A 7-minute video called "Chick Bank robber" lives up to its name. (Watch the video below.) It opens with a young, blonde, tattooed girl sitting on the floor of a cluttered bedroom handwriting signs she shows the camera. The first says, "I stole from a car," and then the girl holds up a bag of marijuana and a pipe. The next sign says, "Then I stole a car!" She mimes "oops" and proudly swings the keys in front of the video. Her next sign says, "Then I robbed a bank!!" She smiles broadly after this reveal while the subtitles read "with a gun, a pillow case and a note." She shows off a wad of cash as "$6,256" appears at the bottom of the screen. The girl, 19-year-old Hannah Sabata, was arrested on Nov. 28 mere hours after the video was uploaded to YouTube. Police also got a call from her ex-boyfriend who said she texted him saying she had a whole pile of cash after robbing a bank. "I've been a sheriff for 19 years, and in law enforcement for 42 years, and I've never seen anything like this," York County Sheriff Dale Radcliff told The New York Times.
3. Setting up deadly human traps along hiking trails
Two Utah men were arrested on April 21, 2012, for setting crude, potentially deadly medieval-style booby traps along a popular hiking trail outside of Provo. A U.S. Forest Service ranger with military experience noticed and disarmed the tripwire-sprung traps, including a football-sized rock outfitted with sharp wooden spikes set to swing at someone's head. The police were tipped off that Benjamin Rutkowski, 19, and Kai Christensen, 21, were responsible after the two men chatted about their traps on Facebook. Once apprehended, they claimed they were targeting animals. Fat chance, said Sheriff Spencer Cannon. "There's no question these traps were set for humans and that these suspects knew their deadly potential."
4. Stealing gas from a cop car
Michael Baker, 20, got a visit from the Jenkins, Ky., police on April 16, 2012, after a photo he posted on Facebook went viral in the town of 2,000. In the picture, Baker is siphoning gas from a Jenkins Police Department cruiser and flipping the bird while smiling. After getting booked for misdemeanor theft — he appears far less ebullient in his mugshot — Baker updated his 380 Facebook friends: "Lol i went too jail over Facebook."
5. Flaunting breasts, getting busted
The FBI nabbed Higinio Ochoa of Galveston, Texas, on March 20, 2012, for allegedly hacking into four law enforcement websites. The trail that led the feds to Ochoa, 30, started with a racy calling-card photo of Ochoa's girlfriend, in which she is leaning toward the camera in a revealing swimsuit top with a taunting sign from "w0rmer & CabinCr3w." The embedded data showed the photo was taken with an iPhone at a house in Melbourne, Australia. After connecting Ochoa's name with the handle "w0rmer," the FBI read on Ochoa's Facebook page that he has a girlfriend in Australia, and matched the breast-centric photo with photos of the same woman (in more modest attire) on Ochoa's page.
6. Taunting a theft victim from his stolen laptop
In January 2011, police in Washington, D.C., arrested Rodney Knight Jr., 19, for breaking into the home of Washington Post journalist Marc Fisher and stealing a coat, cash, and a laptop from Fisher's son. Knight then logged into the son's Facebook account and posted a photo of himself wearing the pilfered coat and holding cash. "Full frontal photo," one police officer told Fisher. "That's pretty great." Another officer, Kyle Roe, described Knight as the stupidest criminal he'd ever encountered.
7. Dealing drugs, then Facebooking the getaway
Michele Grasso vanished from the Sicilian resort town of Taormina in 2008 before police could arrest him for dealing drugs, and, though he was convicted in absentia in 2011, Italian authorities had no clue where Grasso was... until he started dropping hints on his Facebook page. First came photos of snow, then snaps of himself in front of a double-decker red bus, and finally the admission that he was in London, with plenty of touristy shots to prove it. Then, in January, he posted a photo of himself working at a pizzeria, including an outside shot with the restaurant's name. On Feb. 11, Grasso, 27, was arrested on an Interpol warrant and extradited to Rome.
8. Escaping prison, tempting fate
Craig Lynch escaped from prison in Suffolk, England, in September 2009 — near the end of a seven-year burglary sentence — then spent the next four months rubbing it in Scotland Yard's face. He posted clues to his location on Facebook and plenty of photos of himself flipping off the police, and in the process developed quite a following. By the time the cops caught him in January 2010, Lynch had more than 40,000 fans on his Facebook page.
9. Picking a fight with cops who called you a 'creep'
On Jan. 5, 2012, the Jefferson County, Ala., sheriff's office put a warrant out for Dustin McCombs, then shared a "Wanted" photo of the accused rapist on Facebook captioned "Creep of the Week." McCombs himself chimed in, starting a two-hour comment tirade: "And good thing I moved out of state." A few comments later, McCombs said he believes "it just may be considered defamation of character, you know the whole 'creep of the week' title." On Feb. 3, McCombs was arrested in Ohio, thanks largely to Facebook.
This article — originally published on April 26, 2012 — was last updated on May 13, 2013.
Continue reading for free
We hope you're enjoying The Week's refreshingly open-minded journalism.
Subscribed to The Week? Register your account with the same email as your subscription.
Sign up to our 10 Things You Need to Know Today newsletter
A free daily digest of the biggest news stories of the day - and the best features from our website
Peter Weber is a senior editor at TheWeek.com, and has handled the editorial night shift since the website launched in 2008. A graduate of Northwestern University, Peter has worked at Facts on File and The New York Times Magazine. He speaks Spanish and Italian and plays bass and rhythm cello in an Austin rock band. Follow him on Twitter.