Fall TV's gender wars: 6 talking points
From an emasculated Tim Allen on Last Man Standing to an unromantic Whitney Cummings, the upcoming TV season promises to be a battle of the sexes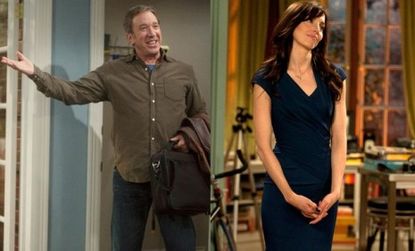 (Image credit: Facebook/Last Man Standing, Neil Jacobs/NBC )
A quick glance at the fall TV line-up, which kicks into full gear this week, reveals two clear trends. With Playboy bunnies, a new batch of Charlie's Angels, and sarcastic young women headlining a slew of new shows, it's arguably the season of female empowerment. The new line-up also features shows about the "mancession" — with confused dudes struggling to find their way in a changing world. TV critics are predictably pontificating about what it all means. Here, six talking points:
1. This fall is about the "looming male identity crisis"
From Tim Allen's he-man lost in a world of ladies on Last Man Standing to Kevin Dillon's butch mentoring of an effete magazine writer in How to Be a Gentleman, this is the season of "the emasculation of men on TV," says TV Guide. According to The Wall Street Journal, Hanna Rosin's controversial Atlantic article "The End of Men," which argued that gender roles have reversed in modern society, inspired a half-dozen network sitcoms. "In this generation of sitcoms," Rosin says, again in The Atlantic, "the wives are working double shifts or getting promotions while the men sit around confused."
Subscribe to The Week
Escape your echo chamber. Get the facts behind the news, plus analysis from multiple perspectives.
SUBSCRIBE & SAVE
Sign up for The Week's Free Newsletters
From our morning news briefing to a weekly Good News Newsletter, get the best of The Week delivered directly to your inbox.
From our morning news briefing to a weekly Good News Newsletter, get the best of The Week delivered directly to your inbox.
2. And "edgy It girls"
Of the 24 new shows on the five major networks, 14 are female-centric, says Scott D. Pierce at The Salt Lake Tribune, with the "emphasis on empowered women." From the butt-kicking Charlie's Angels to Zooey Deschanel's self-assured goofball on New Girl, the parade of confident women is "easily the season's biggest trend," says Frazier Moore for the Associated Press. It's most evident in comedies, says Alyssa Rosenberg at The Atlantic, where the success of Bridesmaids has ostensibly led to a rise in the "R-rated exploration of sex, materialism, and friendship" among women on TV.
3. But these heralded "lady comedies" may actually be sexist
For all of the talk of girl power, these female-centric sitcoms "rehash old stereotypes," says Jessica Grose at Slate. New Girl and 2 Broke Girls are not "so much about girl power as they are girl strategy" — using "stereotypical 'girl' qualities" like flirtiness and feigned innocence to get ahead, says Ken Tucker at Entertainment Weekly. And Whitney, with its deluge of jokes about biological clocks and being "whipped," is the most "unself-awarely retro-sexist show on television," says Mary Elizabeth Williams at Salon. And that in a season with Playboy bunnies, sexy stewardesses, and Charlie's Angels.
4. Fall TV's men and women would hate each other
In Whitney, New Girl, and 2 Broke Girls, the protagonists are "smart, sexually assured" women, says Willa Paskin at New York. On the other side of the coin, Last Man Standing, Man Up, and How to Be a Gentleman are about bitter men emasculated by the recent "mancession." In other words, they live "in a world that belongs to the women in the first batch of shows — and they don't like it one bit." The female-centric series are more appealing. Instead of looking back at "some golden age of clearly defined gender roles," they focus on a modern day in which there are many ways to be a man, and "even more ways to be a woman."
5. It's all about the money
"Women watch about four hours more primetime TV per week than men," says Pierce. Of course the networks want programming that appeals to them. "It's simple math." A large number of viewers all from the same demographic is like candy to advertisers, so giving the masses what they want allows networks to charge higher rates for ad spots. ABC's female-dominated line-up has led to unprecedentedly high ad rates, says network president Paul Lee. "Our advertisers know that we deliver that audience."
6. The male-centric sitcoms are all pretty bad
It's been hard to escape a billboard with one of Whitney's gender relation quips, or Zooey Deschanel's quirky smile, says Paskin. The male trend, however, has been getting less attention for a glaringly obvious reason: "The shows are not as good." Now that she's actually seen the shows that she allegedly inspired, Hanna Rosin says, "My secret pride is definitely tinged with a little terror." From Man Up's repulsive use of "vagina" as an insult to Tim Allen's impotent rants on Last Man Standing, says Grose, the shows about middle-aged men this fall are all "fairly repugnant."

Continue reading for free
We hope you're enjoying The Week's refreshingly open-minded journalism.
Subscribed to The Week? Register your account with the same email as your subscription.