BP's Tony Hayward and 6 other disgraced CEOs who cashed out
Despite being the man most associated with the oil spill in the Gulf of Mexico, BP's embattled chief executive is leaving with a $930,000 annual pension. But he's not the only CEO to be rewarded for failure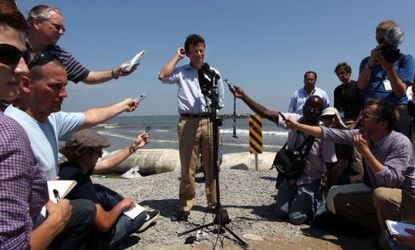 (Image credit: Getty)
Tony Hayward has finally paid the price for his widely criticized performance as the public face of BP during the Gulf of Mexico oil disaster. He will step down from his position as chief executive of the company in October, handing over responsibility to American colleague Bob Dudley. Most Americans will be pleased to see the unpopular Hayward go, but may not be quite so happy about his severance package — a deal that could land him a pension worth an estimated $17 million, plus stock options. But Hayward isn't the only disgraced executive to receive such generous parting gifts. Here's a list of other chief executives thrown off the top floor only to be saved by a golden parachute:
Mike Ovitz
What happened: Back in 1996, then–Disney President Ovitz, the talent agent previously known as "the most powerful man in Hollywood," was fired 454 days after being hired by his friend Michael Eisner. The closest explanation came when a Disney director said Ovitz was fired for his "management style," but he was understood to have fallen out with Eisner.
Subscribe to The Week
Escape your echo chamber. Get the facts behind the news, plus analysis from multiple perspectives.
SUBSCRIBE & SAVE
Sign up for The Week's Free Newsletters
From our morning news briefing to a weekly Good News Newsletter, get the best of The Week delivered directly to your inbox.
From our morning news briefing to a weekly Good News Newsletter, get the best of The Week delivered directly to your inbox.
What he got: An incredible $140 million severance package, amounting to around $300,000 a day for his time at Disney. The House of Mouse's shareholders took to the courts to claw back Ovitz's payout, but the former power agent won through — though it was 2005 before the case was settled.
What people said: "CEOs talk with great bravado about how their job is like crossing Niagara Falls on a high wire," said Graef Crystal in Slate. "But what they don't tell you is that there is a safety net 6 inches under that wire." Ovitz's "unparalleled" severance package has finally shone a "huge spotlight on that dirty little secret."
Rick Wagoner
What happened: The GM chief executive was effectively sacked by President Obama in 2009 after the failing carmaker's repeated demands for federal aid. The White House was particularly incensed after Wagoner flew to Washington in a private jet to ask for a taxpayer bailout.
What he got: Even though the Treasury Department banned GM from paying severance to Wagoner, the chief executive was set to receive a pension worth as much as $23 million. However, that amount was reduced to around $8.5 million after the firm went bankrupt.
What people said: Wagoner deserved his retirement package, said Rick Haglund in Michigan Automotive News. He can't be blamed for a "rapidly shrinking" U.S. car market and a "severe economic depression." Some of his contemporaries walked away with hundreds of millions more.
Sir Fred Goodwin
What happened: The chief executive of the Royal Bank of Scotland lost his job in 2009 after his overleveraged bank was bailed out by the British government. The man nicknamed "Fred the Shred" was the man "many blamed for the colossal mess at RBS," said the BBC's Robert Peston.
What he got: The 50-year-old received a £16 million ($24 million) pension that, due to the bailout of RBS by the government, will be funded by British taxpayers.
What people said: "Where lies the moral compass of this greedy little man," asked Carol Malone in the News of the World, who, "as the lives of his employees are being wrecked... can only think of himself and the £13,300 pension he will be drawing every week for the rest of his miserable life?"
Harry Stonecipher
What happened: The Boeing CEO was forced to retire over his affair with a colleague 20 years his junior. Stonecipher's fling with his company's Washington lobbyist led to accusations that the chief executive might have been privy to military secrets during the three-month tryst.
What he got: A $681,000 annual pension, and around $11 million of Boeing stock — somewhat mitigated by the $38 million in stock he had to forfeit after being fired.
What people said: "At least in Stonecipher's case, there was improved corporate performance during his tenure," said Rich Duprey in the Motley Fool. "All too often in CEO ouster-reward situations, boards of directors simply dole out shareholder money for poor performance."
Stephen S. Crawford
What happened: Crawford was appointed co-president of Morgan Stanley by chairman Philip J. Purcell during a power struggle for control of the bank in 2005. After the board dumped Purcell three months later, it fired Crawford — known to be a loyal supporter of his boss — too.
What he got: A $32 million dividend, plus stock options, for just three months' work.
What people said: It's the "executive-suite equivalent of hitting the lottery," said Landon Thomas Jr in The New York Times.
Richard Grasso
What happened: Confusingly, the chairman of the New York Stock Exchange was forced out of his job over the size of the retirement benefits he had negotiated and, in particular, a $48 million lump sum that he wanted to cash in while still in the job. Under pressure from then New York Gov. Eliot Spitzer, the NYSE board forced Grasso to resign — and, in the process, pick up his enormous retirement package.
What he got: After a five-year battle with the state of New York, Grasso received an "eye-watering" $137 million retirement payout, but missed out on the $48 million one-off payment. Still, said the Guardian, it's not a bad result from a "not-for-profit organization."
What people said: The courtroom battle was a "showdown between Spitzer's politics against Grasso's greed," said David Weidner in MarketWatch. "If anyone can stomach to watch anymore... they're hoping no one wins."

Continue reading for free
We hope you're enjoying The Week's refreshingly open-minded journalism.
Subscribed to The Week? Register your account with the same email as your subscription.