7 gadgets to control your worst instincts
Thanks to advances in technology, you can stop yourself from texting while drunk, swearing in emails, and spending too much money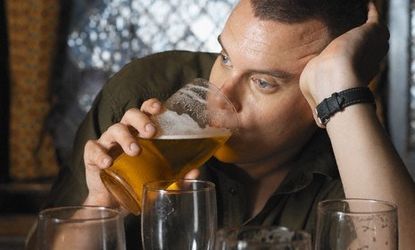 (Image credit: Corbis)
Increasingly, technology not only lets us control our lives in innovative ways, but offers to do so on our behalf. The number of products, applications, and gadgets designed to combat our baser instincts — forcing us to eat less, behave better, and otherwise live cleaner, more respectable lives — is on the rise. This week, for example, saw the unveiling of a series of wallets that will tell you if you're spending too much money (see below). Here's a list of 7 vices, and the technological gadgets that can help cure — or at least mitigate — them:
1. You spend too much money
Have trouble keeping an eye on your spending? Fortunately, MIT has designed three wallets that can do just that. Each contains a tiny computer that connects to your bank account via wireless. The Bear Wallet becomes harder to open if you're running low on funds. The Peacock Wallet shrinks and grows based on your account balance, while the Bumblebee Wallet vibrates whenever you spend money — the buzz lasting longer for larger sums. In a world of "credit card swipes" and "electronic transactions," these wallets make "purchasing once again corporeal," says Ben Popken at the Consumerist. Maybe "you'll feel the pain of spending a bit more acutely."
Subscribe to The Week
Escape your echo chamber. Get the facts behind the news, plus analysis from multiple perspectives.
SUBSCRIBE & SAVE
Sign up for The Week's Free Newsletters
From our morning news briefing to a weekly Good News Newsletter, get the best of The Week delivered directly to your inbox.
From our morning news briefing to a weekly Good News Newsletter, get the best of The Week delivered directly to your inbox.
2. You swear too much
Those who want to clean up their language might want to plug Pepper Mouth — a vigilant, if bratty, device — into their computers' USB ports. As soon as you've input a curse word, Pepper Mouth emits a foul-smelling odor. Your emails will be G-rated before you know it, says Conner Flynn at Slippery Brick, thanks to this "politically correct skunk." (No release date or price information available yet.)
3. You eat too much
Entrepreneurs have long exploited Americans susceptibility to weight-loss gimmicks — with inventions ranging from a Hannibal Lecter-like face mask to a doll that shames you into sticking to a diet. Now there's a digital variation: A 99-cent iPhone photo app called FatBooth offers users a threatening preview of what they'd look like 100 pounds heavier. Seeing yourself with flabby double (or triple) chins "may be the incentive you need" to squelch those 1 a.m. cupcake urges, says Chris Pirillo at his blog.
4. You have a tendency to drunk-dial
The urge to call your boss, your spouse, your ex, or your psychic can be dangerously powerful when you're under the influence of alcohol. Hence, a 99-cent iPhone app called the Bad Decision Blocker, which allows you to delete certain numbers from your phone for 12 hours. "It's essentially a digital babysitter," says creator John Genest.
5. You have a tendency to mail the wrong people when drunk
Neither ToneCheck nor the Bad Decision Blocker will prevent you from rapping out ill-advised emails when you're three sheets to the wind (a weakness that Jacqui Cheng at Ars Technica calls the "technological evolution of the drunk dial"). That's why Google developed "Mail Goggles," a free program that forces you to answer a series of math questions in under 60 seconds before it will let you press "send." Math whizzes given to excessive tippling can even increase the degree of difficulty.
6. You can't stop surfing the internet
We've all had moments when a pressing work document needs our attention, but we can't stop checking sports-stats websites. The solution: "Distraction software." One $10 version, Freedom, the "virtual equivalent of retiring to a remote getaway," allows you to disable internet access for between one minute and eight hours. Once you find the willpower to use it, you can only get back online by rebooting your computer. It's the "ultimate tool to ward off distractions," says The Economist, a bit optimistically.
7. Your email is too aggressive
ToneCheck is a new no-cost plug-in that "reads" your email drafts and warns you if they could be construed as impolite. It's essentially a spellcheck-like function for an aggressive or insulting tone. "Text communication is rife with misunderstandings," says Adam Pash at LifeHacker, "and often an e-mail with perfectly pleasant intentions can lead to a lot of upset co-workers." That said, the idea that the complex emotional register of human beings can be anticipated by a machine is "downright terrifying."
This article was originally published on July 27, and updated on December 7, 2010.

Continue reading for free
We hope you're enjoying The Week's refreshingly open-minded journalism.
Subscribed to The Week? Register your account with the same email as your subscription.