The making of an American terrorist
How Anwar al-Awlaki, a Web-savvy U.S.-born cleric, emerged as possibly the world's most dangerous jihadist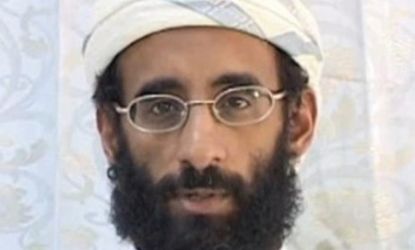 (Image credit: Vimeo.com)
Sign up to our 10 Things You Need to Know Today newsletter
A free daily digest of the biggest news stories of the day - and the best features from our website
Thank you for signing up to TheWeek. You will receive a verification email shortly.
There was a problem. Please refresh the page and try again.
IN THE WEEKS after the Sept. 11 attacks, the eloquent 30-year-old imam of a mosque outside Washington, D.C., became a go-to Muslim cleric for reporters scrambling to explain Islam. He condemned the mass murder, invited television crews to follow him around, and patiently explained the rituals of his religion. "We came here to build, not to destroy," the cleric, Anwar al-Awlaki, said in a sermon. "We are the bridge between Americans and 1 billion Muslims worldwide."
At first glance, it seemed plausible that this lanky, ambitious man, with the scholarly wire-rims and equal command of English and Arabic, could indeed be such a bridge. CD sets of his engaging lectures on the Prophet Mohammed were in thousands of Muslim homes. American-born, he had a sense of humor, and dropped references to "Joe Sixpack" into his sermons; a few weeks before the attacks he had preached in the U.S. Capitol.
Nine years later, from his hideout in Yemen, al-Awlaki has declared war on the United States. "America as a whole has turned into a nation of evil," he said in a statement posted on extremist websites in March. Though he had spent 21 of his 39 years in the U.S., he added, "I eventually came to the conclusion that jihad against America is binding upon myself, just as it is binding on every other able Muslim."
Subscribe to The Week
Escape your echo chamber. Get the facts behind the news, plus analysis from multiple perspectives.
SUBSCRIBE & SAVE
Sign up for The Week's Free Newsletters
From our morning news briefing to a weekly Good News Newsletter, get the best of The Week delivered directly to your inbox.
From our morning news briefing to a weekly Good News Newsletter, get the best of The Week delivered directly to your inbox.
Al-Awlaki's mix of scripture and vitriol has helped lure young Muslims into a dozen plots. He cheered on the Fort Hood, Texas, gunman and had a role in prompting the attempted airliner bombing on Dec. 25, intelligence officials say. Faisal Shahzad, who is charged in the attempted bombing in New York's Times Square, has told investigators that al-Awlaki's prolific online lectures helped inspire him to act.
At a time of new concern about the attraction of Western Muslims to violent extremism, there is no figure more central than al-Awlaki, who has harnessed the Internet for the goals of al Qaida. Judging him a lethal threat, the U.S. government has responded in kind. This year al-Awlaki became the first American citizen on the CIA's list of terrorists approved as a target for killing.
THERE ARE TWO conventional narratives of al-Awlaki's path to jihad. The first is his own: He was a nonviolent moderate until the U.S. attacked Muslims openly in Afghanistan and Iraq, covertly in Pakistan and Yemen, and even at home, by making targets of Muslims for raids and arrests. He merely honored a religious obligation to defend his faith, he has said.
A contrasting version of al-Awlaki's story, explored though never confirmed by the Sept. 11 commission, maintains that he was a secret agent of al Qaida starting well before the attacks, when three of the hijackers turned up at his mosques. By this account, all that has changed since then is that al-Awlaki has stopped hiding his true views.
The tale that emerges from interviews with various people who knew him is complex. All that's certain is that after Yemeni authorities, under American pressure, imprisoned him in 2006 and 2007, al-Awlaki seems to have hardened into an ideologist of jihad and a cheerleader for slaughter. His message has become indistinguishable from that of Osama bin Laden—except for his excellent English and cultural familiarity with the U.S. and Britain. "Jihad," al-Awlaki said in a March statement, "is becoming as American as apple pie and as British as afternoon tea."
TWENTY YEARS AGO, long before the Sept. 11 attacks, a shy freshman named Anwar turned up on the Fort Collins campus of Colorado State University. His American accent was misleading: Born in New Mexico in 1971, when his father was studying agriculture there, he had lived in the U.S. only until age 7. He had spent his adolescence in Yemen, where memorizing the Koran was a matter of course for an educated young man, and women were largely excluded from public life. His father, Nasser, served as the nation's agriculture minister. "I recall Anwar as a skinny teenager with brains," says Walid al-Saqaf, a onetime neighbor in Sanaa, the Yemeni capital. For boys of that generation, Afghanistan and its fight to oust the godless Soviet army was the great cause. But Nasser al-Awlaki had other ideas for his son, who was sent to Colorado to prepare for a career as an engineer and technocrat.
The young al-Awlaki, accustomed to Yemeni mores, was not comfortable interacting with women at the school. Still, he was not among the most conservative Muslim students, and ran successfully for president of the Muslim Student Association against a Saudi student who was far stricter.
Around that time, the Soviet-backed government in Afghanistan fell from power, and al-Awlaki made a vacation trip to the country that seems to have piqued his interest in the nexus of politics and religion. He came back wearing an Afghan hat and quoting Abdullah Azzam, a prominent Palestinian scholar who was later known as a mentor to Osama bin Laden. At a Fort Collins mosque where volunteers took turns giving the Friday sermon, al-Awlaki soon discovered a knack for preaching. He could boast of no deep scholarship, but knew the Koran, and had a light touch. In those days, he expressed no anti-American sentiments. But he left engineering behind for good in 1994, when, after marrying a cousin from Yemen, he took a part-time job as imam at the Denver Islamic Society.
Like many an evangelical Christian pastor, al-Awlaki preached against sin and lauded family values, winning fans and rising to successively larger mosques. In Denver, however, there was an episode that might have been an omen. A Saudi university student told an elder that he had decided, with al-Awlaki's encouragement, to travel to Chechnya to join the jihad against the Russians. The elder, a Palestinian-American, thought this ill-advised and confronted al-Awlaki in a loud argument. "I told him: 'Don't talk to my people about jihad,'" recalled the elder, who asked not to be named. "He left two weeks later."
AT 25, AL-AWLAKI landed for five years at Arribat al-Islami, a mosque at the edge of sunny San Diego. There he played soccer with younger children and took teenagers paintballing. Lincoln W. Higgie III, an art dealer who lived across the street from the mosque, recalls al-Awlaki as an engaging neighbor. On Thursdays, Higgie remembers, al-Awlaki liked to go fishing for albacore, and he would often bring over a sample of the catch. Higgie detected in al-Awlaki no hostility to non-Muslims.
In his private life, al-Awlaki was no Puritan. He was picked up twice by the San Diego police for soliciting prostitutes. He also displayed a very American entrepreneurial streak, exploring a possible business importing Yemeni honey and attending seminars in Las Vegas on investing. Eventually a regular at the mosque proposed a venture that would prove hugely successful: recording al-Awlaki's lectures on CD.
Starting in 2000, al-Awlaki would record a series of highly popular boxed sets—three, totaling 53 CDs, devoted to the Life of Muhammad alone. The recordings appear free of obvious radicalism. Still, one fan, Shakir Muhammad, a Fort Collins engineer, says that he came across one passage that gave him pause: Al-Awlaki, discussing suicidal violence, did not quite condemn it. "I thought, 'This guy may be for it,'" Muhammad says. "It bothered me."
ONE DAY IN August 2001, al-Awlaki knocked at the door of Higgie, his neighbor, to say goodbye. He had moved the previous year to Virginia, becoming imam at the far bigger Dar al-Hijrah mosque in Falls Church, and he had returned to pick up a few things. As Higgie tells it, he told the imam to stop by if he was ever in the area—and got a strange response. "He said, 'I don't think you'll be seeing me. I won't be coming back to San Diego again. Later on you'll find out why,'" Higgie says.
The next month, when al Qaida attacked New York and Washington, Higgie was shaken, convinced that his neighbor had advance warning of the Sept. 11 attacks.
In fact, the FBI had first taken an interest in al-Awlaki in 1999, concerned about ties to militants. In 1998 and 1999, he was a vice president of a small Islamic charity that an FBI agent later testified was "a front organization to funnel money to terrorists." More disturbing, though, were al-Awlaki's links to two future Sept. 11 hijackers, Khalid al-Midhar and Nawaq Alhazmi. The two young men prayed at his San Diego mosque and were seen in long conferences with the cleric. Alhazmi would follow the imam to his new mosque in Virginia, and 9/11 investigators would call al-Awlaki Alhazmi's "spiritual advisor."
The FBI, whose agents interviewed al-Awlaki four times in the days after the Sept. 11 attacks, concluded that his contacts with the hijackers and other radicals were random, the inevitable consequence of living in the small world of Islam in America. But records of the 9/11 commission in the National Archives make clear that not all investigators agreed. One detective, whose name has been redacted, told the commission he believed al-Awlaki "was at the center of the 9/11 story."
AFTER MAKING A brief trip abroad, al-Awlaki returned to the U.S. in late 2002. During that period, he visited a Virginia cleric, later convicted for encouraging Muslims to join the fight against American troops in Afghanistan, who worried that al-Awlaki might be working for the FBI and trying to entrap him. But if al-Awlaki was cooperating with the government, it would have astonished his associates. As the American authorities rounded up Muslim men after 9/11, he had grown furious, leading a chorus of public outrage. Around that time, he made clear to a colleague at the mosque that he was leaving the U.S. and seeking a bigger platform.
Moving to London, al-Awlaki soon built a rapt following. Non-Muslims were "plotting to kill this religion," he declared. Many of his new listeners had never heard a speaker who so well blended ancient scholarship with contemporary language and concerns. His fame grew, his CDs kept selling, and he traveled around Britain lecturing. Still, he had a hard time supporting himself, according to people who knew him, and in 2004 he moved to Yemen.
Al-Awlaki was imprisoned by Yemeni authorities two years later, after he intervened in a tribal dispute. By his later account on a blog, he used his 18 months in prison to study. Notably, he became enraptured by the works of Sayyid Qutb, who's considered the father of modern jihadism. Al-Awlaki blamed America for his prolonged incarceration, and he was right to. But by the end of 2007, U.S. officials, some of whom were disturbed at the imprisonment without charges of a U.S. citizen, signaled that they no longer insisted on al-Awlaki's incarceration, and he was released. "He was different after that—harder," says a Yemeni man who knows al-Awlaki well.
Al-Awlaki started his own website, reaching a larger audience than ever. But finding that he was constantly followed by Yemeni security in Sanaa, he moved to the house of an uncle in Shabwa, a rugged southern province. Last October, friends said, he heard the distant whine of a drone aircraft circling overhead. Worried that he was endangering his relatives, he fled this time to the mountains. While his role is unclear in al Qaida in the Arabian Peninsula, American officials believe he has become "operational"—plotting, not just inspiring, terrorism against the West.
By Scott Shane and Souad Mekhennet. ©2010 by The New York Times Co. The original article can be found at nytimes.com.
Continue reading for free
We hope you're enjoying The Week's refreshingly open-minded journalism.
Subscribed to The Week? Register your account with the same email as your subscription.
Sign up to our 10 Things You Need to Know Today newsletter
A free daily digest of the biggest news stories of the day - and the best features from our website