Chile grapples with the trauma of a massive quake
Chile struggled to restore order and organize relief for hundreds of thousands of hungry and homeless citizens after an 8.8 magnitude earthquake struck the country.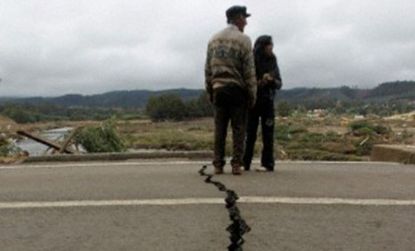 (Image credit: Corbis/Reuters/Ivan Alvarado)
What happened
Chile struggled this week to restore order and organize relief for hundreds of thousands of hungry and homeless citizens after an 8.8 magnitude earthquake—one of the largest ever recorded—killed at least 800 people last week, destroyed 500,000 homes, and obliterated coastal towns. Chilean President Michelle Bachelet sent 14,000 army troops into Concepción, the nation's second-largest city, imposing a curfew and cracking down on roving gangs that looted most of the city's markets and were terrorizing residents. "It feels like we are living in a war zone," said resident Marlene Elizabeth Franco.
The earthquake, nearly 500 times more powerful than the one that leveled Port-au-Prince, Haiti, in January, collapsed high-rises in major cities and battered Chile's lucrative wine industry just weeks before harvest. Some coastal towns were virtually wiped off the map by successive waves emanating from the tremor's epicenter in the Pacific Ocean. In coastal Talcahuano, a city of 180,000, ships littered the streets and an estimated 80 percent of residents were made homeless. Temporary shelter, phone service, electricity, and drinking water were in short supply, and the government said it needs field hospitals, generators, and satellite phones. "We have these things in our country," said Bachelet, who is set to transfer power to President-elect Sebastián Piñera next week, "but how can we get them to the people if we don't have bridges and roads?" Economic losses are estimated at $15 billion. Secretary of State Hillary Clinton promised continuing U.S. support. "We'll be here to help when others leave," she said.
Subscribe to The Week
Escape your echo chamber. Get the facts behind the news, plus analysis from multiple perspectives.
SUBSCRIBE & SAVE
Sign up for The Week's Free Newsletters
From our morning news briefing to a weekly Good News Newsletter, get the best of The Week delivered directly to your inbox.
From our morning news briefing to a weekly Good News Newsletter, get the best of The Week delivered directly to your inbox.
What the editorials said
"There's nothing like an 8.8 in the Americas to heighten the sense of urgency," said the San Jose Mercury News. Shifting continental plates may or may not mean "imminent danger" for California, but Chile "shows the difference that better building" can make in survival rates. It also demonstrates the literally lifesaving advantage of free markets, said The Wall Street Journal. With a thriving, open economy, Chile in recent years has developed "modern health care, telecommunications, and search-and-rescue capability," which helped the country to mitigate its losses. Such preparation is "the luxury of a prosperous country."
Chile's political stability also was an asset, said the Financial Times. But this happens to be a "delicate political moment" for Chile, which just elected its first right-wing president since the dictatorship of Gen. Augusto Pinochet ended in 1990. If President-elect Piñera, who got 51 percent of the vote, fails to manage the crisis in a way deemed fair by all segments of Chilean society, he "risks reopening fissures that still run deep in Chile's body politic."
What the columnists said
The contrast between the two recent earthquakes is downright stunning, said Tim Padgett in Time.com. Both Chile and Haiti straddle "large, volatile fault lines," but Haiti's notoriously corrupt government imposed few safety measures. Chile, on the other hand, "mandated earthquake-proofing for new structures," erecting buildings that "sway rather than break during temblors." As a result, Chile's death toll is a fraction of Haiti's, which has now surpassed the 220,000 mark. Nature played a role, too, said Jeneen Interlandi in Newsweek.com. The Chile quake originated 70 miles from the nearest city and "22 miles below the earth's surface—twice as deep as the Haitian quake." So "there was twice as much earth to absorb the shock before it reached building foundations."
For Chile, the real shocks may have just begun, said Jon Lee Anderson in NewYorker.com. Up to 2 million of Chile's 17 million citizens were directly affected by the quake, but the affluent got off "relatively lightly," while the poor were hit hard. How this uneven distribution of pain influences "underlying social tensions" will depend on "how the incoming Piñera government plays its hand."
"All our supposed advances seem in jeopardy" right now, said Chilean author Alberto Fuguet in The New York Times. After two decades as a "modern" country, we now hear words like "missing" and "curfew" that recall the "dark days" of the Pinochet dictatorship. "Supermarkets are full of people and empty shelves," and chaos abounds. We feel anxious and alone. "The real tremor rumbling beneath the rubble is the threat of social upheaval."

Continue reading for free
We hope you're enjoying The Week's refreshingly open-minded journalism.
Subscribed to The Week? Register your account with the same email as your subscription.