Who deserves credit for the economic recovery?
Both parties want credit. But neither really deserves it.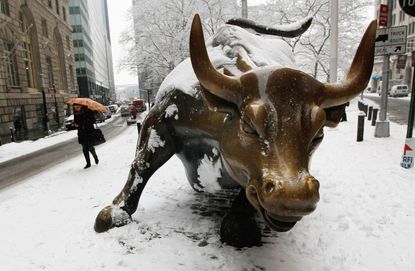 (Image credit: (Chris Hondros/Getty Images))
Banks, Bernanke, Big Government, Bush — Democrats and Republicans still don't agree on what or who caused the Great Recession. So it's no surprise the two parties also differ on what's behind America's economic resurgence.
That the recovery has strengthened is undeniable. Nearly three million Americans found new jobs last year, the most since the booming 1990s. Wall Street thinks this might be the strongest year for the overall economy since 2005. America, not China, is once again the global growth engine.
It's obvious the picture has brightened when Republicans try to steal credit for the turnaround after years of dismissing "Obamanomics." As Mitch McConnell, the new Senate majority leader, impishly said the other day, "the uptick appears to coincide" with expectations that the GOP would take control of Congress. McConnell's counterpart, Senate Minority Leader Harry Reid, responded that had the GOP "cooperated with us even a little bit, the economy would have been even stronger than it is now."
Subscribe to The Week
Escape your echo chamber. Get the facts behind the news, plus analysis from multiple perspectives.
SUBSCRIBE & SAVE
Sign up for The Week's Free Newsletters
From our morning news briefing to a weekly Good News Newsletter, get the best of The Week delivered directly to your inbox.
From our morning news briefing to a weekly Good News Newsletter, get the best of The Week delivered directly to your inbox.
Who's got the stronger story?
Well, both sides have pretty dodgy cases.
Let's start with the Dems. Reid is correct that Republicans didn't support Democratic stimulus efforts, most notably the $800 billion American Recovery and Reinvestment Act. And the weight of academic evidence suggests the stiumulus helped get the economy growing again. A 2012 survey of top economists found that 93 percent "agreed" or "strongly agreed" that the U.S. jobless rate was "lower at the end of 2010 than it would have been without the stimulus bill."
But that scholarly proof and opinion ignores the intriguing counterfactual: What if there had been no fiscal stimulus? In that case, the Federal Reserve quite likely would have undertaken even more aggressive monetary easing to lower interest rates and boost consumer and business spending. All the desired growth, but without a trillion dollars in debt added to federal balance sheets.
Either way, the Obama mega-stimulus failed to immediately kickstart the mini-boom the Obama White House had counted on. Instead of years of robust 4 percent GDP growth as Team Obama predicted back in 2009 (and then again in 2010 and 2011), the economy has shuffled along at only half that rate. What's more, nearly all the stimulus money was spent by the end of 2011. To credit the expired stimulus credit for faster growth today is almost as silly as McConnell's time-travel theory that the November 2014 midterm election caused growth to start ramping up the year before.
As for Republicans, some credit the anti-stimulus of reduced government spending — thanks in part to the 2011 budget sequestration bill they pushed — for the quickening economy. Federal spending as a share of GDP may dip below 20 percent in 2015, a sharp drop from 23.4 percent in 2011. And annual budget deficits have fallen by two-thirds as a share of GDP. As anti-tax activist Grover Norquist put it:
An interesting correlation, but is there any evidence that suggests spending cuts boost growth over the short run? A new study coauthored by Alberto Alesina, a favorite of fiscal hawks on the right, finds that debt cuts or "fiscal adjustments based upon cuts in spending are much less costly, in terms of output losses, than those based upon tax increases." But finding that spending cuts hurt growth less than tax hikes is not at all the same as finding spending cuts actually boost growth. Maybe the best Republican argument is another counterfactual — after taking over the House in 2011, they prevented even more anti-growth tax and regulatory schemes from happening. As in, no cap-and-trade plan to limit carbon emissions, or higher taxes on investment through a "Buffet rule."
But let's face facts, Democrats and Republicans: Neither of you gets much credit for the rebound. So who does?
First, there's the Federal Reserve and its recently completed "quantitative easing" bond-buying program. Monthly job growth has been 40 percent higher in the two years after "quantitative easing" started in late 2012 than in the two years previous. Compare U.S. versus eurozone economic performance in recent years. Both suffered economic shocks and fiscal austerity, but the one with the active central bank is the one that's now growing and adding jobs. It's been a powerful and persuasive natural experiment.
Second, you have massive stimulus from the 50 percent decline in oil prices since last summer, due in part to the shale oil revolution.
Third, the Great Recession ended in 2009. That's like eight Marvel superhero movies ago. The passage of time helps. At some point, Americans need to buy news cars, purchase bigger homes for their families, and upgrade their smartphones.
See, politicians, it's not always about you.

Continue reading for free
We hope you're enjoying The Week's refreshingly open-minded journalism.
Subscribed to The Week? Register your account with the same email as your subscription.