Why female filmmakers need powerful allies
Hollywood has always relied on mentorship and collaboration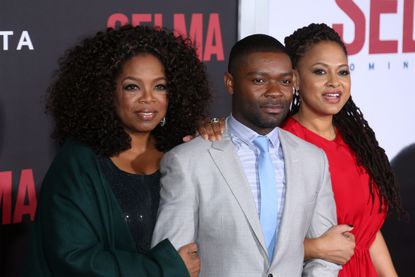 (Image credit: (Rob Kim/Getty Images))
Americans love the idea of a lone hero. The lone hero is all but synonymous with the American Dream — the idea that one person can achieve anything with work, dedication, and a little luck.
Hollywood loves this idea, too; it defines both creative output and industrial practice. The work of female pioneers — studio heads, filmmakers, and collaborators — has been erased from cinematic history, which has been transformed into the male-centric landscape we know today, from D.W. Griffith to the men who have swept the Best Director Oscars 86 out of 87 years.
Of course, their successes are not just the result of herculean solo efforts. It's the result of mentorship and collaboration. The men who have made cinematic history are the men whose vision appealed to those other men in charge of funding and production; who were showered with awards by their like-minded male counterparts; and who were kept relevant by the male film scholars who teach future generations.
Subscribe to The Week
Escape your echo chamber. Get the facts behind the news, plus analysis from multiple perspectives.
SUBSCRIBE & SAVE
Sign up for The Week's Free Newsletters
From our morning news briefing to a weekly Good News Newsletter, get the best of The Week delivered directly to your inbox.
From our morning news briefing to a weekly Good News Newsletter, get the best of The Week delivered directly to your inbox.
That means that if women in the industry want to succeed, then cannot simply "do it themselves." As director Lexi Alexander recently tweeted, female filmmakers often find themselves receiving conflicting messages:
This week, new stats reinforced what we already know: female involvement in the industry is at a dismal level. The share of female directors in the top 250 grossing films of the last 17 years has fallen to 2 percent. The statistic is far from a surprise when you look at the number of woman-directed films headed to wide release this year.
Almost every female director with a movie coming out in 2015 shares something with the men who have made history: mentors and collaborators. It's a trend that builds on the efforts of Paul Feig, Judd Apatow, and Lorne Michaels, as well as the BFI's stellar, early support of Belle director Amma Asante.
Director Ava DuVernay was a surprise choice for this year's critical hit, Selma. Prior to Selma, her biggest film was the 2012 Sundance hit Middle of Nowhere, which didn't even hit DVD and iTunes until this month. DuVernay was hired to direct Selma after star David Oyelowo had watched a parade of leading filmmakers — Stephen Frears, Paul Haggis, Spike Lee, and Lee Daniels — come and go. After fighting for his own casting, he told Deadline: "Eventually, the project culminated in this weird, full circle of the initial director not wanting me, to me being able to suggest Ava DuVernay to direct it."
When Sam Taylor-Johnson earned the director's chair for Fifty Shades of Grey, it actually followed a classic arc: a director helms an indie debut (Nowhere Boy), earns critical praise, and is handed the reins to a leading film project. Her directorial success is not linked to one particular person, but to a long history of art photography and video work in which she was known "for cultivating friendships and loyalties, and recognizing the ability of others who could help her," according to The Guardian. Her work with leading musicians led straight to Nowhere Boy and an ongoing collaboration with leading cinematographer Seamus McGarvey.
Anne Fletcher, the director behind The Proposal, is returning to screens this May with the Reese Witherspoon/Sofia Vergara comedy Don't Mess with Texas. Though Fletcher has become a go-to name for Hollywood romantic comedies, it was only after a boost from longtime friend and collaborator Adam Shankman. The pair met as dancers at the 1990 Oscars, and became a choreography duo on numerous projects as he rose through the ranks and then paid it forward, encouraging the producers of Step Up to hire her as the film's director and choreographer.
British theater director Thea Sharrock might not be recognizable by name in the U.S., but she made a splash directing Daniel Radcliffe in Equus — the press sensation that saw Harry Potter appear nude on-stage. Now she's making her film debut with Me Before You, an adaptation of Jojo Moyes' best-selling novel. MGM hired her to direct the title "after receiving raves from both Sam Mendes, who worked with Sharrock on The Hollow Crown and another British TV show Call the Midwife, and [Danny] DeVito," according to Entertainment Weekly.
After debuting as director of one of the only worthwhile segments of the comedy flop Movie 43, Elizabeth Banks is finally making her feature-length debut, jumping into the multi-hyphenate position of director, producer, and co-star for her passion project sequel, Pitch Perfect 2. Though she has collaborated with comedy directors from David Wain to Judd Apatow, her collaboration with women helped put her on the map — especially her time as Avery Jessup on 30 Rock. The role gave Banks a boost, and as she told Stylist during the release of The Hunger Games: Catching Fire, "I really can't say enough about Tina [Fey] as a mentor."
Nancy Meyers, meanwhile, is now known as one of Hollywood's leading female filmmakers, and is offering her latest, The Intern, in September. But her career started as a duo with then-husband Charles Shyer. As she shared with The New York Times, "Being part of a team helped me so much. I know the fact that there was a man in the room with me all those years made the medicine go down... I didn't have to start, like a lot of women, from ground zero. My path was not the same as a woman starting out by herself."
The same rule applies to many indie filmmakers. Maya Forbes' excellent Infinitely Polar Bear got a boost from J.J. Abrams, who was "very helpful" in getting the film financed. Kate Barker-Froyland, director of the Anne Hathaway-starring Song One, has raved about the support she has received as a female filmmaker — especially from Silence of the Lambs director Jonathan Demme, whom she calls "an incredible mentor." Before the two parted ways, Serena director Susanne Bier was mentored by Europe's leading provocateur Lars von Trier, and she still works with his production company.
The conclusion is obvious. When creatives who have been aided by their peers choose to pay it forward and champion female talent, those women become the few whose films actually make it to the screen. We can tell female auteurs to strike out on their own, but getting those projects to the audience isn't a solo effort.
Girls on Film is a weekly column focusing on women and cinema. It can be found at TheWeek.com every Friday morning. And be sure to follow the Girls on Film Twitter feed for additional femme-con.

Continue reading for free
We hope you're enjoying The Week's refreshingly open-minded journalism.
Subscribed to The Week? Register your account with the same email as your subscription.